Last month, we sent Suunto #DiveWithMe winners Anna Starup and Theresa Thorp to the Philippines for a little dive adventure in paradise at Atmosphere Dive Resort – suffice it to say the girls enjoyed themselves. Now that they are answering e-mails again (because let's be honest, we wouldn't be answering e-mails on a dive vacation either) we pinged them with a few questions about the trip – and of course, got some pics.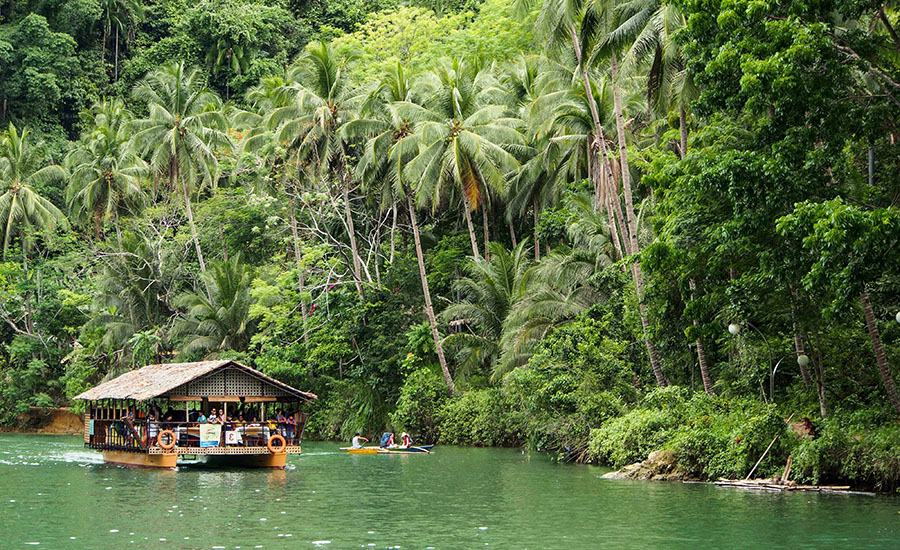 Anna, this was a learning experience for you.
Anna: Yeah – I did my final certification in the Philippines after preparing at home in Denmark using online courses. Diving just caught me right away. In retrospect I've thought about why I didn't take my open water earlier. Diving is definitely going to take me (and Theresa) to places in the world I'd never considered before.
Best single dive of the trip?
Anna & Theresa: That's actually quite a hard question! The dive sites differed a lot and each had amazing aspects about them. Perhaps a dive at Apo Island where we saw a dozen turtles that played around with us. Or a dive where a blue-ringed octopus saw its reflection in Anna's dive instructor's camera and attacked it! At the same dive we saw 4 species of Octopus' and a lot of cool frogfishes.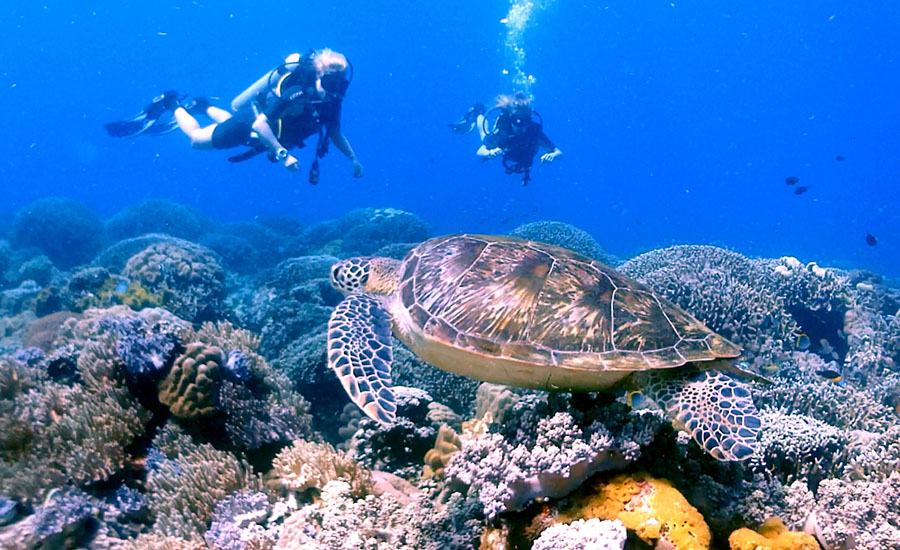 Of course, you didn't spend every moment on the boat…
Anna & Theresa: Atmosphere quite is a little piece of paradise. Rooms, dining area, dive shop, beach – just amazing. We'll have to mention the food here as well. Besides diving, eating was definitely a highlight every day! The people at Atmosphere were a huge part of the amazing experience we had. Everyone seemed like a little family, joking around, stopping for a chat, taking interest in each other's (and our) lives.
You made such good friends, you even got a nickname…
Anna & Theresa: Someone from the dive crew, jealous of our cool Suunto D4i, nicknamed us "The Suunto Girls", which kind of stuck to us for the whole trip. Not the worst nickname, right? We also have to send a special "thanks" to Ulrika, Marco and Daniel from the Atmosphere family, who were the main reasons why this trip became such an irreplaceable and spectacular adventure. We're still feeling completely and utterly high on life, thank you!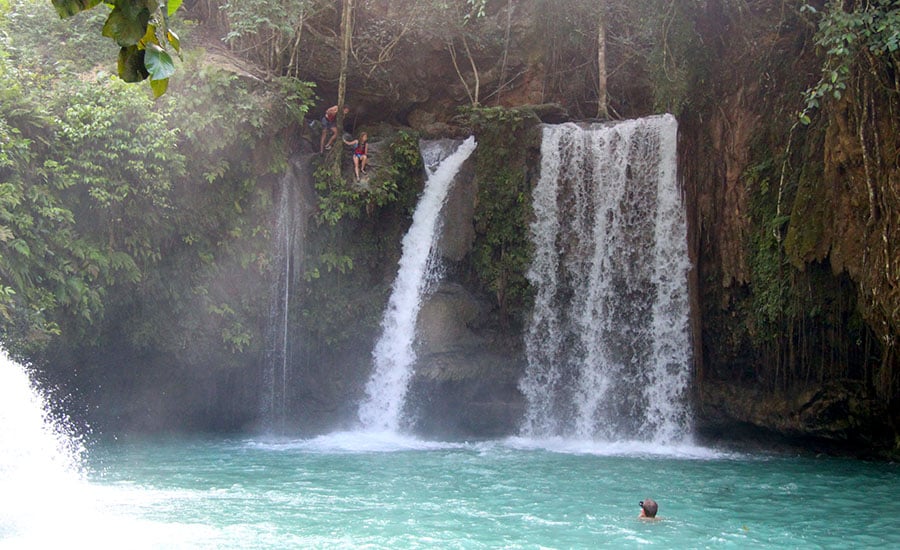 And you even got into the jungle!
Anna & Theresa: On our way to the resort we met up with Theresa's brother and friend who is currently backpacking their way around Asia. We woke up at 5AM for a short jungle hike which led us to the most stunningly beautiful, lagoon called Kawasan Falls. Being there early meant having the waterfall all to ourselves for hours! A ton of fun swimming, cliff jumping and playing around in the lagoon before we continued on our journey to Atmosphere Resort. We also got to explore the Chocolate Hills, joined a dinner cruise at Loboc River, saw the Tarsier Sanctuary at Bohol Island, and visited Osmena Peak, the highest peak at Cebu Island. All spectacular sights and irreplaceable small adventures.
Do you feel more confident underwater?
Theresa: Getting to share the incredible underwater world with Anna for the first time was magical! We had so much fun during her Open Water Course, and later during our fun dives.
Anna: I had studied quite a lot of theory, but all of it made sense when I got to try it in the water. I wasn't sure how much I was going to remember if a situation occurred where I actually needed it, but during my very first dive for instance, my mouthpiece came off. Without knowing exactly what was going on, I just grabbed my reserve. So I think some of the exercises "internalizes" pretty fast.
Can you name some of your favorite spots for future visitors?
Anna & Theresa: The "turtle" divesite at Apo Island was called Rockpoint West. The divesite where we met the blue-ringed octopus was called Secret Garden although we called it Octopus' garden, as we saw a lot of octopus there. The whaleshark spot was called Oslob.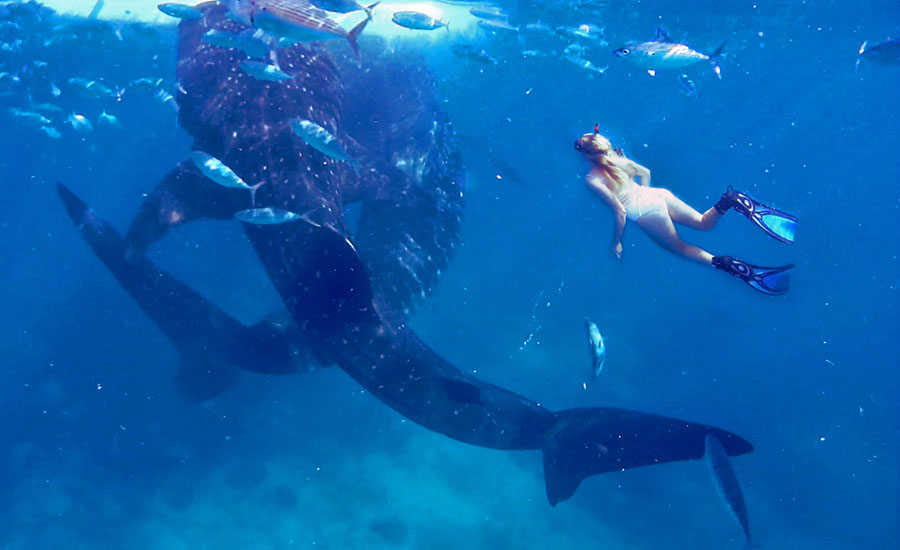 Are the Philippines as a must-go dive destination?
Theresa: Absolutely – especially if you're into muck and micro diving. It caught me right away, and I'm still in awe that critters, like the one we met, actually exist in real life! I was especially fascinated by the many different species of frogfish, nudibranch and mantis shrimp.
Would you go back?
Theresa: Definitely! The amazing dive sites and spectacular nature are sure to drag us back, and besides, we need to reunite with the amazing crew at Atmosphere Resort.
What other spots in the world are next on your must-dive list?
Theresa: Since this was my first time diving in Asia, I'll have to get back to explore some more! Right now places like Komodo, the Gili islands and the Maldives is on the top of my must-dive list. Galapagos has also been on the top of my list for quite some time now.