Will Trubridge explains the importance of psychological strength in freediving competitions – and why having a poker face is a very useful skill.

To the observer, freediving is all about serenity and calmness – a peaceful interaction with the underwater world. It is exactly all these things, which is why competition freediving presents such a unique challenge, says Will Trubridge.
"The conditions of a competition are slightly different to a world record attempt. In a competition you have an official preset time and there's a lot more people around – spectators and media. It's not as controllable as with a world record attempt," he says.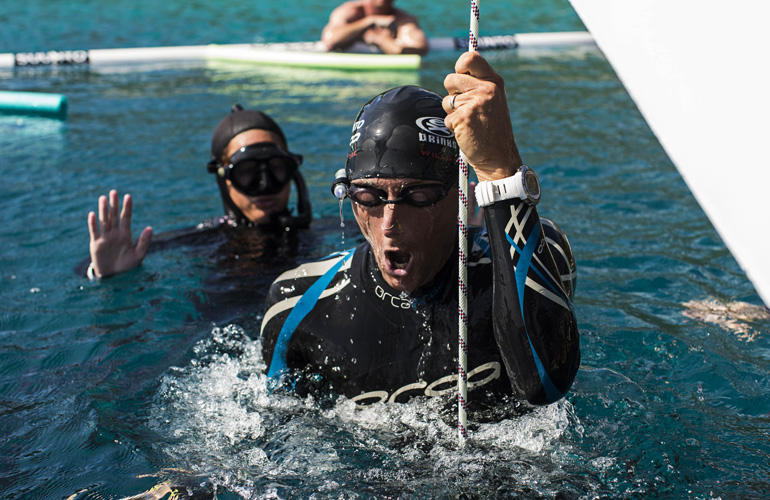 Trubridge surfaces after a competition dive at Dean's Blue Hole ©zooom.at/Samo Vidic

The key ingredient to success is to be relaxed he says, which is much harder to achieve in the contest environment. "With other sports you can use the nerves and the anxiety which generates adrenalin to your advantage. In freediving it's completely detrimental."

The reason for this is the affect it has on heart rate. Stress and anxiety raises the heart rate. To be successful, freedivers need to have the lowest pulse possible to conserve oxygen.

Trubridge is currently preparing for the AIDA Apnea Depth World Championship in Cyprus this September after a successful spring in which he won all titles and set a new competition No Fins personal best (PB) of 98m in Colombia. He says he's getting better at handling the stresses of contests.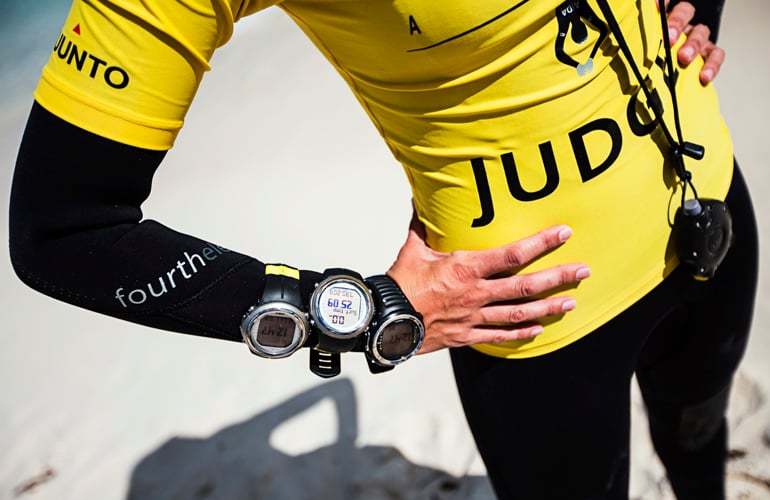 "I'm feeling really motivated for [Cyprus]. The lesson I've been learning a lot this year is the importance of being patient and taking my time and not feeling obliged to do a dive."

He also says that mind games play a part. When going for a world record or when competing at his own Suunto Vertical Blue contest, a freediver can have multiple attempts over several days. But in the world champs, they get just one chance. And that involves some psychological battles.

"You announce your dive on that day. If something goes wrong, then you don't have a second chance. It creates more of an element of chance. There is also a lot of sleuthing and spying to find out what other freedivers have done in their training to gauge how they're performing, and using that information to make pronouncements."

Watch as Will Trubridge attempts to break his own 102m record.
He says that if he underestimates a competitor's ability and sets himself a target that's too low, he risks losing, but set the target too high and the risk is to over-stretch and fail.

"It creates an element of a poker game in the announcements themselves!" he adds.

Trubridge says he's can't wait for the contest to begin. "I've never been to Cyprus. My goals are to do well in all three disciplines. I have the world records in no fins and free immersion. I would like to do my best at winning gold in those two disciplines and do as best as I can in constant weight."

We wish him the best of luck.