Ever since his 2008 record-breaking solo speed ascent of the north face of the Eiger in 2h 47m 33s Ueli Steck has been regarded as one of climbing's most spectacular talents.
Afterwards Steck declared he would dial back on the fast solo climbs that led to him being nicknamed the "Swiss Machine" but his climbing feats have continued to amaze and inspire. In 2013 he was back in the limelight after making an incredibly bold solo ascent of the south face of Annapurna (8,091 m) in 28 hours – a new record. The ascent won him the Piolet d'Or, one of climbing's most prestigious awards.
"I was at the limits of my physical and mental ability. To go to such limits changes your consciousness, " he said at the time. Climbers regard it as one of the most significant climbs in the Himalayas in a generation.
The older, smarter Steck is not the same climber he was as a daring youth, pushing the limits of human capability. "I feel a difference between now and 10 years ago," he says. "My body needs more time to recover, and I have to be more careful with training. But I'm more confident, and this gives me a lot of freedom. But the fire still burns!"
As a purist, Steck climbs without using bottled oxygen and has so far summited five 8,000m peaks without doing so. Everest is one of those peaks, which, he says, was one of the most physically demanding undertakings in his life. "It's out of the question for me to use bottled oxygen," he says. "I either make the summit without it or I turn back, go home and train more."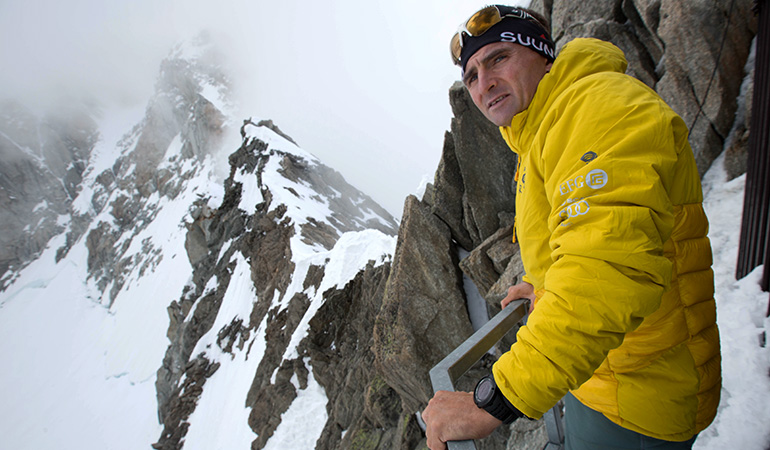 Steck is also noted for his rigorous and professional approach to training. He spends up to 30 hours a week working-out, running, climbing, cross-country skiing and doing endurance and strength work. He never travels anywhere without a pair of running shoes and is always scouting for something to get to the top of, whether a mountain in the distance or the top of a building if he's city-bound, such as the One World Trade Center in New York City.
He says the Suunto Ambit is the perfect solution for both mountaineering and training. "It's got everything I need in one package, whether I'm on an expedition in the Himalayas or on a hard one-day ascent in the Alps."
But no matter what the route, Steck's inspiration remains the same. "It's the challenge of moving on in life," he says. "I always want to try something I have not done before."
Follow Ueli Steck's #82summit project here
Pictures by Jon Griffith Photography