The latest update has come in from Greenland, with the Under the Pole team talking diving holes, science and inviting locals to join in on the experience.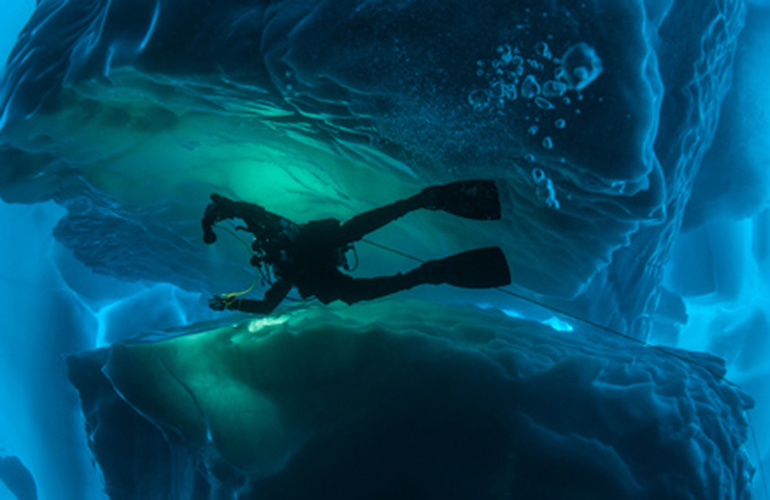 Under the ice © Lucas Santucci / Under The Pole

Much jubilation was felt amongst the team as after months of waiting they finally have sea ice surrounding them.

"The ice is moving, cracking and grinding, northern lights are dancing at night around the Why [the name of their boat] and the dives are splendid, offering visibility down to 60 and 70 meters," writes expedition leader, Grislain Bardout in his latest newsletter. "Having the boat icebound was a dream. How beautiful she is!"

Life is not easy for the crew, however, who work in temperatures falling to -30 degrees C. With ice anything up to 60 cm thick it also freezes the toilet pipes meaning these must be defrosted before every day can begin.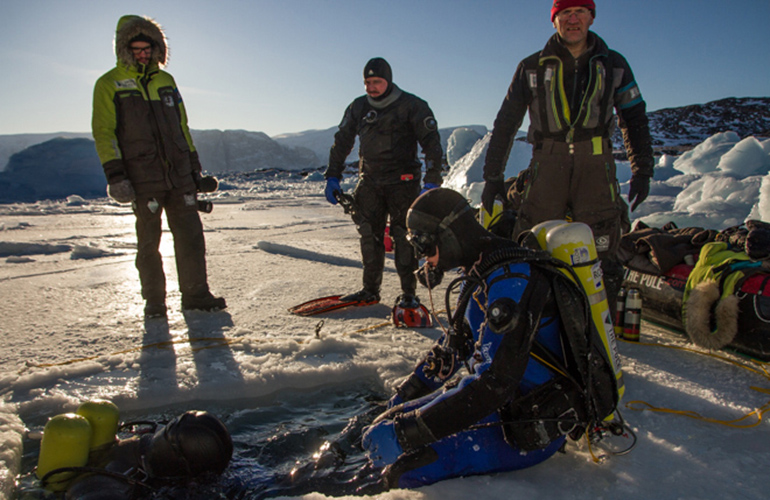 Pricila, the chef on the boat gets ready to dive for the first time © Lucas Santucci / Under The Pole

They are making headway on their scientific work, however, Ghislain says: "Science wise, we started the cryosphere program, or interaction between atmosphere, ice and ocean. Part of the boat was transformed into an efficient laboratory. This program is extremely interesting because it provides us with a real database on our environment during the ice season."

There was also a bit of fun to be had at the weekend during a visit to Ikerasak with the diving equipment to allow inhabitants to discover the undersea world. "All together we shared this event and, in spite of our languages and cultural differences, the diving hole was surrounded all day long by thirty persons or more. Twelve of them dared to immerse and went to see under the ice, although they didn't even know how to swim," adds Ghislain.

The team also plans to invite hunters and children from the Uummannaq Home to join them on the ice.

Main image: © Lucas Santucci / Under The Pole