Elegant edition of the Ambit3 Sport GPS watch, designed for women.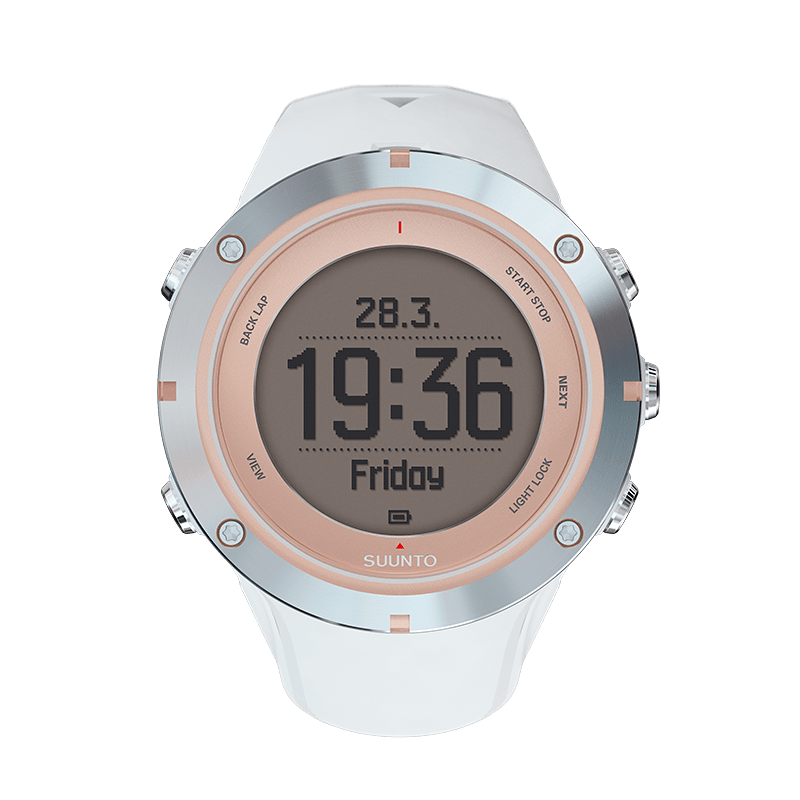 Suunto has now made available the Suunto Ambit3 Sport Sapphire, a premium sports watch in the Suunto Connected Family with Ambit3. The elegant design, inspired by feedback from hundreds of women, is unique in the world of sports watches.
Without compromising performance or functionality, the Ambit3 Sport Sapphire is the kind of watch you really want to wear all day. Not only does this high powered sports watch look great, but it also monitors your daily activity. You can check how many calories you've burned for the day and see your daily average for the week.
With the free Suunto Movescount App (currently available for iPhone, and for Android in March 2015), you can get notifications sent directly to the Ambit3 Sport Sapphire. A glance at your wrist is all it takes to see who is texting or calling, putting an end to those frantic searches for your phone.
The Suunto Ambit3 Sport Sapphire is no slouch when it comes to your fitness and adventure needs. The watch offers specific features for many sports, including running, cycling and swimming. You add even more via the Suunto App Zone.
The built-in GPS gives you accurate speed, distance and location during your exercise. A full range of navigation options includes the very handy Track Back. Go explore without worrying about getting lost – Track Back guides you back to your starting point.
With the Suunto Smart Sensor (included in the HR package option), you get accurate heart rate and calorie measurements, even when not wearing the watch! Just start the exercise recording and leave the watch behind. Go swim, join your Pilates class, whatever – the Smart Sensor stores your heart rate data and transfers it to your watch when you get back.
Comments Timo Yliluoma, designer of the Ambit3 Sport Sapphire: "This is a beautiful watch for an active lifestyle that we designed especially for women. We aimed for a design that is as striking out on the town as it is on the mountain trail. I think we achieved that with the white minimalistic look combined with stainless steel and 18 karat rose gold. A soft, silicone strap sized to fit smaller wrists along with optimized over-all thickness give it great feel while maintaining all essential features for the active woman."
Suunto Ambit3 Sport Sapphire is globally available from December 2014.
For more product details and specs, visit Suunto.com/ambit3.