With each Ambit3 Peak Nepal Edition watch sold, Suunto donates 25 € to the Nepal earthquake rehabilitation operation.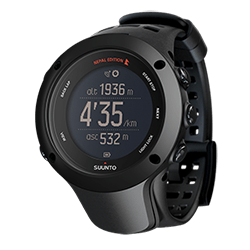 Suunto introduces the limited edition Suunto Ambit3 Peak Nepal Edition to support humanitarian and reconstruction work in Nepal after the devastating earthquakes earlier this year. For each watch sold, Suunto donates 25 € to the Red Cross, aiming to gather a total donation of 250 000 € by the end of July 2016.
Help still needed before winter sets in
The two earthquakes which struck Nepal in April and May 2015 injured more than 17,000 people and damaged or destroyed many health care facilities.
"For Suunto, taking action to support the reconstruction work in Nepal is an expression of gratitude towards the region that has offered so much to the mountaineering community," explains Suunto President Mikko Moilanen. "Suunto, as part of Amer Sports, carried out a fundraiser among our employees right after the disaster struck. However, the scale of the earthquakes was so massive we wanted to create an aid plan that would extend beyond the initial relief actions and invite our customers to join the effort," Moilanen continues.
Five months after the earthquakes, the focus of Red Cross is on ensuring that aid reaches people in remote locations in the mountains. According to Red Cross, it is a massive challenge given the scale of the needs, the terrain and the huge task of rebuilding homes before winter sets in.
Long-term support required
Suunto ambassador Kilian Jornet joined the initial relief actions in Nepal in April and witnessed the vast need of medical, humanitarian and financial support required to the rehabilitation and reconstruction work. The long-term recovery programme of Red Cross aims help people rebuild their livelihoods. Also emergency medical teams remain active, and the need for longer term psychological support for survivors is a priority. With the Ambit3 Peak Nepal Edition campaign, Suunto wishes to help facilitate this important work.
Limited edition available starting from end of September
The Ambit3 Peak Nepal Edition is available starting from September 30th. You can purchase the Nepal Edition from selected outdoor retailers in Europe, the USA and in Asia, as well as from Suunto.com. For more information, visit www.suunto.com/ambit3peaknepaledition.