The Suunto Traverse collection grows today with a new Sapphire Black watch. The newest addition to the Suunto Traverse family takes durability a step further with its sapphire crystal glass. On the inside, the Sapphire Black contains the trusted set of outdoor features and easy navigation functions introduced in the Suunto Traverse product line last fall.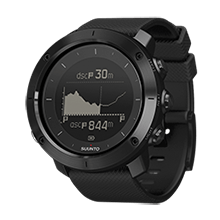 "The all black watches, such as Suunto Core All Black, are legendary Suunto designs and we wanted to continue this fine tradition in the Suunto Traverse family by introducing the Traverse Sapphire Black. For this special version, we wanted to add also sapphire crystal glass, which amounts to its robustness, creating a bold, stealth-like look for the watch", explains Suunto Industrial Designer, Tuomas Reivo.
Versatile outdoor features and GPS/GLONASS navigation
Suunto Traverse watches are easy to use with a quick access to key features. The watches support both GPS and GLONASS satellite navigation systems. Follow your progress en-route with key statistics such as altitude and distance, and save points of interest along the way. The automatic breadcrumb trail ensures you can re-trace your steps when needed.
Altitude, vertical speed and total ascent are measured accurately with FusedAlti™, where barometric pressure information is combined with satellite altitude. Alerts, such as storm alarm, are made noticeable by vibration, keeping noise disturbance to a minimum. To find your essentials or check a map in the dark, the backlight of Suunto Traverse can be activated in an extra bright flashlight mode.
All Suunto Traverse watches are tested according to military standard (MIL-STD- 810G) and are designed and hand built in Finland.
Suunto Traverse Sapphire Black is available from May 19th in the Suunto.com webshop and with select retailers, the RRP is 499 €. For more information, visit www.suunto.com/traversecollection.