Suunto donated a quarter of million Euros for the reconstruction work in Nepal from the global sales of the Ambit3 Peak Nepal Edition watch
Over 22 000 people were injured in the two devastating earthquakes that struck Nepal on April 25th and May 12th 2015. The two earthquakes also damaged or destroyed numerous homes, buildings and health care facilities. The need for humanitarian help and reconstruction work is still severe in Nepal, although a year has passed since the catastrophe.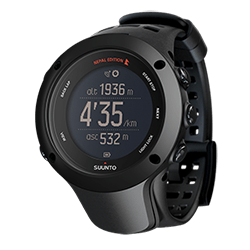 Campaign raised 250 000 Euros for Red Cross
In October last year, Suunto introduced globally a limited edition of Suunto Ambit3 Peak Nepal Edition watch in order to support the humanitarian and reconstruction work in Nepal. From each watch sold, Suunto commited to donate 25 Euros for Red Cross. These watches were sold out in little more than six months. The total donation, 250 000 Euros, was addressed to the Red Cross at end of April, one year after the first earthquake.
"We are very glad and gratefull to see our customers world wide join us in this important cause. With the Ambit3 Peak Nepal Edition watch, both we at Suunto and our customers can express our gratitude and support for the region that has offered so much to the mountaineering community," explains Suunto President Mikko Moilanen.
Red Cross aims at re-establishing people's livelihood in Nepal
With the Suunto donation, the Red Cross is able to ensure rebuilding of safe homes and health facilities, as well as access to clean drinking water in remote villages. The Red Cross also participates in securing a source of livelihood for locals by, for example, buying livestock to replace cattle lost in the earthquakes.
Suunto ambassador Kilian Jornet also estabished a campaign to support the reconstruction work in Nepal. If you wish to help, you can still do so by joining the #SOSNepal campaign via Summitsofmylife. You can also direct your support for the area through your local Red Cross organization.
The Suunto Ambit3 Peak Nepal Edition watch has been sold out from manufacturer's warehouse, but you can contact your local Suunto dealer to check for possible availablity.