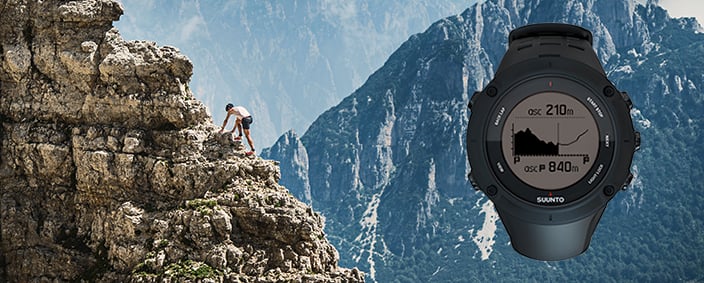 The long-awaited altitude profile navigation feature is now available for Suunto Ambit3 Peak – the new feature was brought to the watch in the 2.4.1 software update released today.
You can follow your route altitude profile directly from the watch while recording an activity. Use the real-time altitude profile, for example, to navigate mountainous terrain and see when your next plateau is coming or how many more big inclines are left. If you go too far off your route, your watch notifies you straight from the altitude profile display. You can also preview the altitude profile of a route before heading out.
After training you can review the altitude differences of your full route from the log on your watch or re-live and analyze your recorded Moves in Suunto Movescount.
Ambit3 Peak is known for its exceptional battery life, up to 30 hours with accuracy 5-second GPS fix rate. Together with a very precise GPS, Ambit3 Peak is the ultimate watch for outdoor adventures.
In addition to the route altitude profile, the daily step count and a possibility to reset your recovery test calibration, together with other features and enhancements, are available for the Ambit3 Peak via this software update.
Additionally, the latest software update brought new features, such as the daily step count and preview of a planned route also to Ambit3 Sport and Ambit3 Run.
Check the descriptions of the sofware update and learn how to update your Ambit3 watch here.