Suunto has won a Tauchen Award for the fourth year in a row. The Suunto EON Steel was voted the best dive computer by readers of the German magazine. Also the readers of the British DIVER Magazine recognized EON Steel with a 'Product of the Year' title.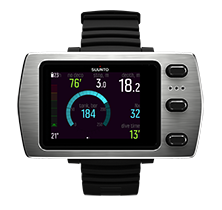 "We're thrilled to win these awards," comments Mika Holappa, Dive Business Unit Director at Suunto. "We have a heritage of pioneering diving instruments and superior product design. We'd like to say thanks to all the readers who voted for us."
These are the latest accolades for the Suunto EON Steel, which last year earned the prestigious iF Design Award for its design.
Suunto EON Steel combines advanced technology with a bright color screen and customizability to let you choose exactly what you want to see on your dive. The easy-to-use dive computer was developed in close relationship with active divers around the world. It has been extensively tested including dives in the caves of an old limestone mine in Ojamo, Finland.
Suunto, based in Finland, has developed many diving innovations over the last 50 years – including the first diving compass and early dive computers. Creating reliable products that are designed and tested for the harshest elements is a cornerstone of Suunto's 80-year heritage. All Suunto dive computers are made in Finland.
The Tauchen award ceremony was held in Düsseldorf on January 29th, and the vote results of the DIVER Magazine Awards were published on February 13th.