Success in Asian markets revealed the demand for lighter shades
In spring 2016 Suunto launched three fun shades of the popular Suunto D4i Novo dive computer for Asia markets. The attractive pastel variants Sakura, Sun and Ocean are now available globally.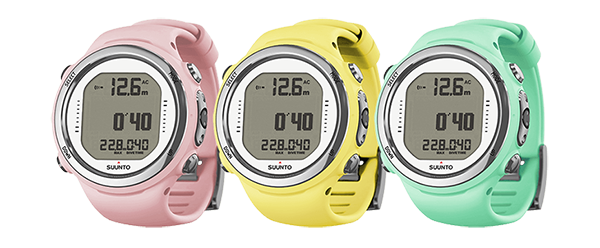 The lead designer of the Suunto D4i Novo, Timo Halko, comments: "The colors are inspired by special moments in nature: the sweet scent of cherry blossoms in spring time, the warm glow of day break and the misty greens in waves as they crash to shore. The name Sakura itself comes from the Japanese word for cherry blossom."
With four dive modes and optional wireless air integration, the Suunto D4i Novo is the choice of divers looking for a lightweight, reliable dive computer with trendy looks.
Suunto D4i – An easy-to-use dive computer and everyday watch
The Suunto D4i Novo is also available in black, white, blue, lime, pink and gray. All models feature a soft silicone strap, ensuring maximum comfort and a superb fit. Fantastic as an everyday watch, D4i Novo is always ready for your next underwater adventure.
With four diving modes, including freediving, and option of a wireless readout of your tank pressure and air time, Suunto D4i Novo is a great all-round dive computer.
Made and tested in Finland
Suunto, based in Finland, has developed many diving innovations over the last 50 years – including the first diving compass and early dive computers.
Creating reliable products that are designed and tested for the harshest elements is a cornerstone of Suunto's 80-year heritage. All Suunto dive computers are made in Finland.