Suunto is pleased to announce it has partnered with the brains behind the sophisticated weather app MyRadar to find ways to bring state-of-the-art forecasting technology to its collection of sport watches.
Suunto sport watch users live for the great outdoors where they forever chase their best performances. Suunto's partnership with MyRadar will provide them with the very best weather information so they can plan their activities and stay safe.
MyRadar has a number of weather and environmental related features that make it an ideal companion for the outdoor enthusiast, and this combined with the new Suunto 7 smartwatch ensures both the casual wearer or sports enthusiast have all the weather related info they need right on their wrist.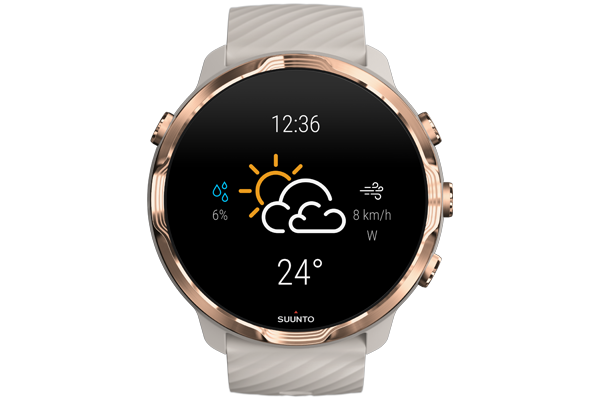 Key MyRadar features extended to the Wear OS app include real-time location-based radar view and a handy summary view of the current weather conditions. Wrist-accessible data includes the following:
Current temperature
Max-min temperatures
Precipitation probability
Wind speed and wind direction
Colorful temperature graphs
An hourly forecast with conditions for the following 13 hours
A five day forecast with data displayed colorfully

The experience for Suunto 7 users is further enhanced with the integration of MyRadar's patent-pending, industry-leading nowcasting service which provides hyper-local rain and precipitation alerts with down-to-the-minute accuracy.
"Suunto is all about equipping people in their outdoor lifestyle. To know what to expect when starting a hike in the wilderness, for example, requires good knowledge of several aspects, including local weather conditions. MyRadar gives this knowledge to Suunto 7 owners in a perfect easy-to-follow package. This cooperation illustrates the power of modern wearables and tools that leaders in their own fields, such as MyRadar, can provide for outdoor enthusiasts." said Janne Kallio Head of Partner Products, Suunto.
Suunto 7 was released to market in January 2020 and is the latest watch added to Suunto's Sport Watch Collection. Suunto 7 combines the smart watch features powered by Google Wear OS and Suunto's long standing outdoor sports expertise.
"We are incredibly excited to collaborate with the excellent team at Suunto", said Andy Green, CEO of ACME, parent company of MyRadar. "Suunto has a long history as a leader in the sport watch industry, and we are thrilled they chose to integrate our industry leading weather technology into their advanced lineup devices. The meshing of our technology with the robust capabilities of Suunto devices will allow us to create further innovations for future applications and services."