Finland – home of Suunto, the world's leading innovator of sports watches, instruments and dive computers – celebrates this year its 100 years of independence. The histories of Finland and Suunto has been interwoven from early on. Suunto's story began over 80 years ago when on orienteer and engineer Tuomas Vohlonen decided to tackle a problem that had been bothering him – the accuracy of existing compasses.


His solution was to invent a better one and in 1936 he pioneered a new technique for mass-producing the liquid-filled compass. Suunto's first product was a march compass, model M-34. The durable and reliable device was specifically designed for the needs of the Finnish army and during the Second World War, Suunto manufactured tens of thousands of them.


81 years later Suunto still makes compasses, but technology has developed and so have the devices. To celebrate Finland's anniversary, Suunto took on the task to design a unique sports watch that reflects our northern nation's characteristics: durability, ruggedness and beauty – all combined in Suunto Spartan Suomi 100 Limited Edition.


Sophisticated roughness with premium materials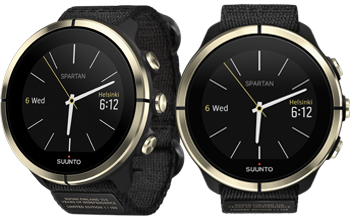 With a gold-plated titanium 5 bezel, stainless steel buttons, sapphire crystal glass and a premium textile strap, the Suunto Spartan Suomi 100 Limited Edition is both athletic and sophisticated. Hand built in Finland, the limited edition consists of 100 individually numbered watches, available exclusively in Finland.

As a gesture of gratitude to those who fought to preserve Finland's independence during the war years, 100 euros from each watch will be donated to support the Finnish veterans.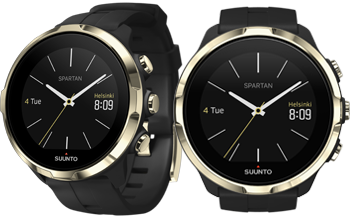 Additionally, a Special Finland Edition of the Suunto Spartan Sport Wrist HR watch is made available internationally and sold via Suunto webshop. The watch features a stylish gold-plated stainless steel bezel, matching buttons and buckle, sapphire crystal glass, and a classic black case and strap.


Both watches come with convenient wrist heart rate monitoring, full GPS route navigation, extensive sports features, and daily activity and sleep tracking. Up to 40 hours of battery life provides plenty of time for adventuring.


Released on November 30th, the Suunto Spartan Suomi 100 Limited Edition watch is sold at the Amer Sports Brand Store in Helsinki, at suunto.com (to Finland only) and by High Peak Finland, and its RRP is 699 €. The Suunto Spartan Sport Wrist HR Finland Special Edition can be ordered from the Suunto webshop at 599 €.