Pairing PODs and sensors
Pair your watch with Bluetooth Smart PODs and sensors to collect additional information, such as cycling power, when recording an exercise.
Suunto Spartan Ultra supports the following types of PODs and sensors:
NOTE:
You cannot pair anything if airplane mode is on. Turn off airplane mode before pairing. See Airplane mode.
To pair a POD or sensor:
Go to your watch settings and select

Connectivity

.
Select

Pair sensor

to get the list of sensor types.
Swipe down to see the whole list and tap on the sensor type you want to pair.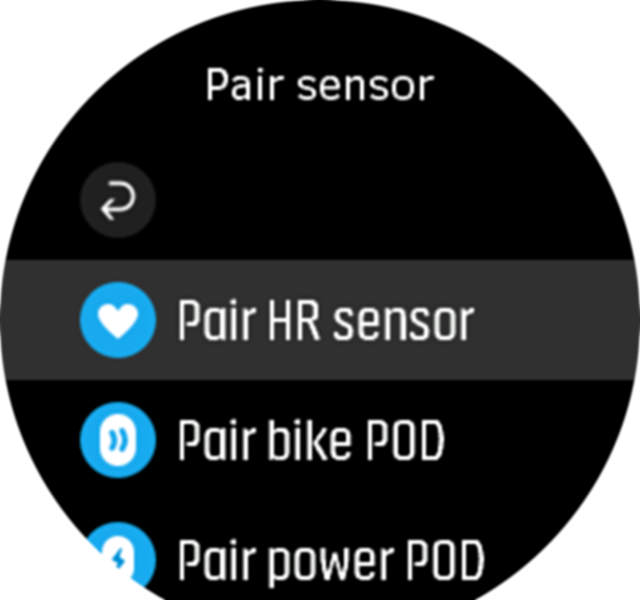 Follow the instructions in the watch to complete pairing (refer to sensor or POD manual if needed), pressing the middle button to advance to the next step.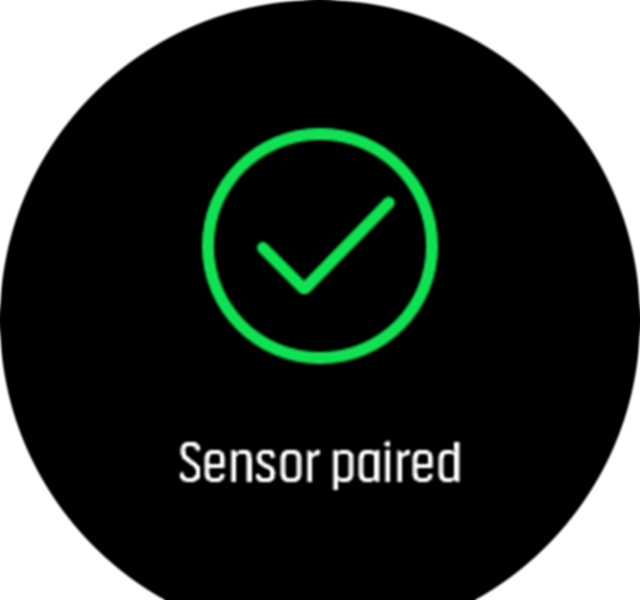 If the POD has required settings, such as crank length for a power POD, you are prompted to enter a value during the pairing process.
Once the POD or sensor is paired, your watch searches for it as soon as you select a sport mode that uses that sensor type.
You can see the full list of paired devices in your watch from the settings under Connectivity » Paired devices.
From this list, you can remove (unpair) the device if needed. Select the device you want to remove, and tap Forget.
Calibrating bike POD
For bike PODs, you need to set the wheel circumference in your watch. The circumference shall be in millimeters and it is done as a step in the calibration. If you change the wheels (with new circumference) of your bike, the wheel circumference setting in the watch must also be changed.
To change the wheel circumference:
In settings, go to

Connectivity

»

Paired devices

.
Select

Bike POD

.
Select the new wheel circumference.
Calibrating foot POD
When you pair a foot POD, your watch automatically calibrates the POD using GPS. We recommend using the automatic calibration, but you can disable it if needed from the POD settings under Connectivity » Paired devices.
For the first calibration with GPS, you should select a sport mode where the foot POD is used and the GPS accuracy is set to Best. Start the recording and run at a steady pace on a level surface, if possible, for at least 15 minutes.
Run at your normal average pace for the initial calibration, and then stop the exercise recording. The next time you use the foot POD, the calibration is ready.
Your watch automatically re-calibrates the foot POD as needed whenever GPS speed is available.
Calibrating power POD
For power PODs (power meters), you need to initiate the calibration from the sport mode options in your watch.
To calibrate a power POD:
Pair a power POD with your watch if you have not done so already.
Select a sport mode that uses a power POD and then open the mode options.
Select

Calibrate power POD

and follow the instructions in the watch.
You should re-calibrate the power POD from time to time.