Service menu
To access the service menu, keep BACK LAP and START pressed simultaneously until the watch enters the service menu.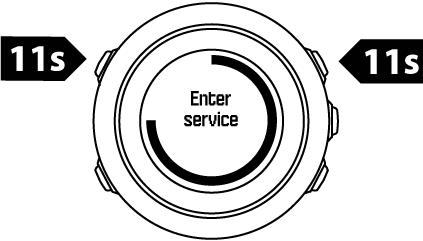 The service menu includes the following items:
Info

:

Air pressure

: shows the current absolute air pressure and temperature.

Version

: shows the current software and hardware version.

BLE

: shows the current Bluetooth Smart version.

Display

:

LCD test

: allows you to test that the LCD works properly.

ACTION

:

Power off

: allows you to put the watch into deep sleep.

GPS reset

: allows you to reset GPS.
NOTE:
Power off is a low power state. Follow the normal startup procedure to wake up the device. All settings except time and date are maintained. Just confirm them through the startup wizard.
NOTE:
The watch switches to power saving mode when it is static for 10 minutes. The watch re-activates when moved.
NOTE:
Service menu content is subject to change without notice during updates.
Resetting GPS
In case the GPS unit cannot find a signal, you can reset GPS data in the service menu.
To reset GPS:
In the service menu, scroll to

ACTION

with and enter with .
Press

GPS reset

and enter with .
to scroll to
Press
to confirm GPS reset, or press to cancel.
NOTE:
Resetting GPS resets GPS data and compass calibration values. Saved logs are not removed.