Routes
You can create a route in Movescount, or import a route created with another service.
To add a route:
Go to www.movescount.com and log in.
Sync your

Suunto Ambit3 Vertical

with Movescount using Suuntolink and the supplied USB cable.
Routes could also be deleted through Movescount.
Navigating a route
You can navigate a route you have transferred to your Suunto Ambit3 Vertical from Suunto Movescount or a track saved in your logbook.
If you are using the compass for the first time, you need to calibrate it (see Calibrating compass). After activating the compass, the watch will begin searching for a GPS signal. After the watch acquires a GPS signal, you can begin to navigate a route.
To navigate a route:
Press
to enter the start menu.
Scroll to

NAVIGATION

with and press .
Press

Routes

.
to enter
Scroll to the route you want to navigate with
or and press .
Press

Navigate

. All navigating is recorded. If you watch has more than one sport mode, you are prompted to select one.
to select
Select

Forwards

or

Backwards

to chose the direction you want to navigate (from the first waypoint or the last).
Start navigating. The watch informs you when you are approaching the beginning of the route.

The watch informs you when you have arrived at your destination.
During navigation
While navigating, press View to scroll the following views:
Full track view showing the whole route
Zoomed-in view of the route; by default, the zoomed-in view scale is 100 m (0.06 mi), but this may be larger if you are far away from the route. You can change the map orientation of the zoomed-in view in the watch settings under

GENERAL

»

Map

. The options are:

Heading up

: Displays the track with your heading pointing up.

North up

: Displays the track with north pointing up.
Ascent profile view
Full track view
The full track view shows you the following information:
(1) arrow indicating your location and pointing to the direction of your heading.
(2) the next waypoint on the route
(3) the first and last waypoint on the route
(4) The closest POI is shown as an icon.
(5) scale on which the full track view is shown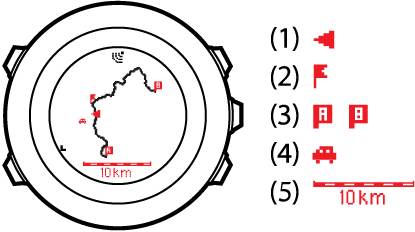 NOTE:
In the full track view north is always upwards.
Altitude profile view
The altitude profile view shows you the following information:
Accumulated ascent
Real-time profile with dotted vertical line showing currently position
Remaining ascent