Events like Vertical Blue and the upcoming Return to the Deep promote freediving to the masses. But what contribution have they made to the sport? Record-breaking freediver William Trubridge tells us, read what he has to say here.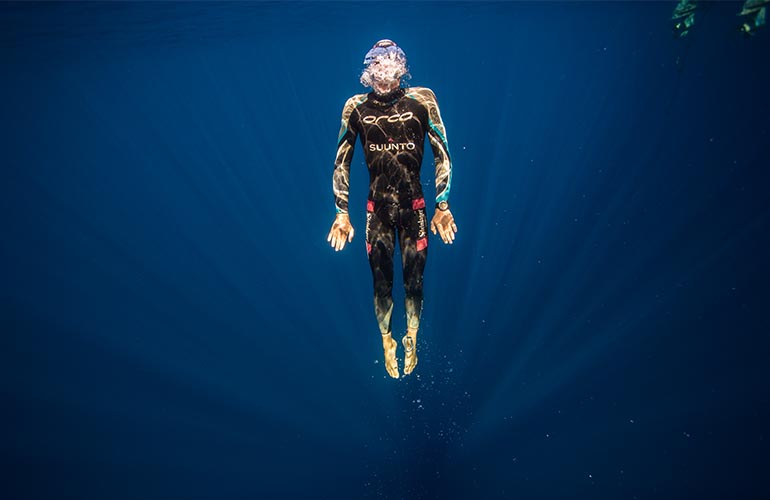 Image (and feature image) Alex St Jean
William Trubridge has been preparing to break yet another world record, he plans to dive to 102m unassisted in a single breath on July 21, 2016. He'll do this in Dean's Blue Hole, Bahamas as part of the Return To The Deep event produced by Steinlager Pure.
He's been training hard for the event, and is feeling strong having recovered from a bout of illness. He says: "Training has been going really well recently. I'm in good shape. I got dysentery while trekking in Nepal and it's taken time to get my health back. This year I've had a couple of niggles but nothing serious."
He's already broken records two years in a row at Suunto Vertical Blue and is clearly ready for this next attempt. These big events, William believes, have really contributed to the progress and development of the sport over the years.
Big events lead to revolutions in safety techniques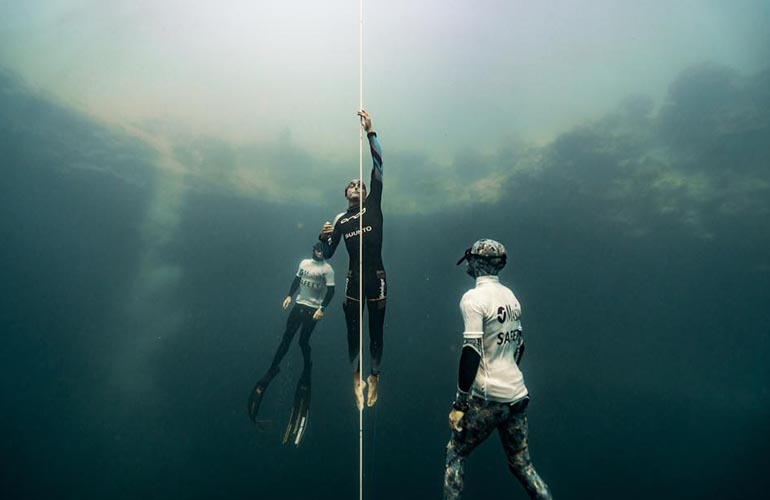 Image Daan Verhoeven
He says: "At Vertical Blue there was a lot of innovation we begun that went outside and elsewhere afterwards. Most importantly safety techniques were really revolutionised to make sure everyone in the team is trained to the highest level possible. That has set a standard that is now used in other events and at AIDA."
These safety developments and innovations are key to ensuring athletes are able to push their boundaries and reach deeper and deeper depths. It's particularly important when breaking records as it can have a big physical and mental impact on the body.
William has mentioned previously that when diving he leaves a part of himself behind. He says: "In a freedive there's a subtraction of the stimuli around you, there's no sound, very little light, no sensations of points of contact and that allows you to slow the mind through the absence of stimuli, pressure and the narcotic effects of gasses and high pressure add to that."
Freediving is more than record attempts, it frees the mind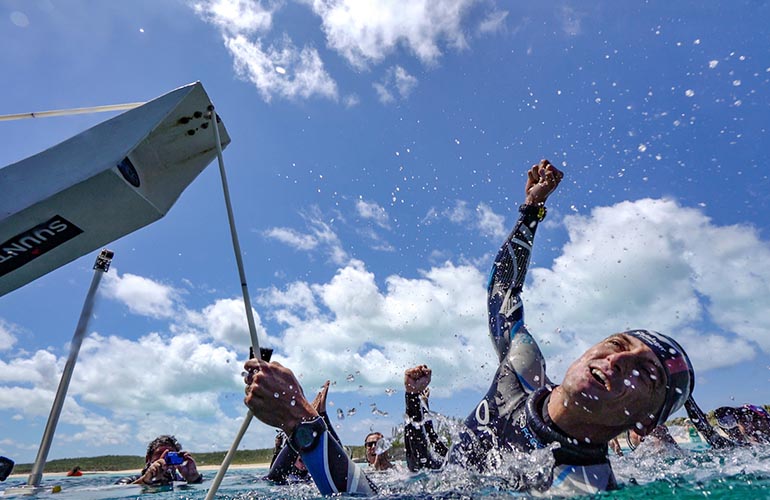 Image Daan Verhoeven
This meditative state is one of the attractions of freediving. "It almost feels like we're cheating when we freedive because we can get into a meditative flow so quickly," says William. That's one of the beauties and attractions of it. Leave the rational, reasoning mind, for sure."
This simple state, using your body, mind and not much else is also one of the reasons freediving is becoming more popular. William says: "There's definitely a movement that is putting us in more intimate contact with nature and making us able to relate to it more clearly and deeply. Which is important in this age when nature is in such dire straits. I kind of feel that every freediver I teach, or everyone who is brought into the sport becomes a steward of the ocean."
If it sounds like an all-encompassing sport, it really is, especially when record attempts are coming up. William has been dreaming about the attempt, he says: "Most of the dreams are related to the record attempts, competition or stress around the expectation and the whole event! They're not related to the sensation of being underwater because I experience that so much I guess."
Follow the event live with Steinlager. Learn more about William Trubridge on his website.