Marine biologist and pro photographer Alex Mustard shares his inside tips on the art of underwater photography!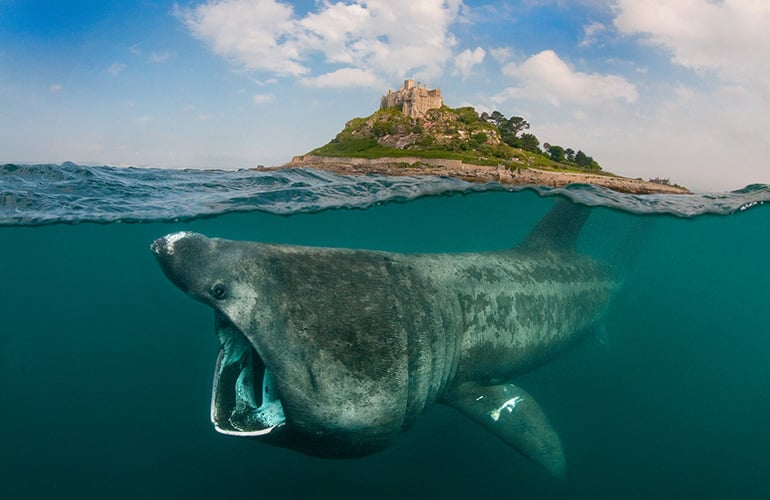 Basking Shark, UK. © Alex Mustard

Alex Mustard has been taking underwater photos since he was nine years old and began diving when he was 13. He's the author of Underwater Photography Masterclass, which distils his know-how on this challenging form of photography.
"It's the diversity of diving I love," Alex says. "One week I might be aiming my lens at a great white, and the following week I am just as excited to be framing up sea slugs back home. Then it's on to shooting in caverns, with cathedral-like light beams spilling in through gaps in the ceiling. And next, diving deep inside a wreck, searching for secrets nobody has noticed before. It's all those things that I love."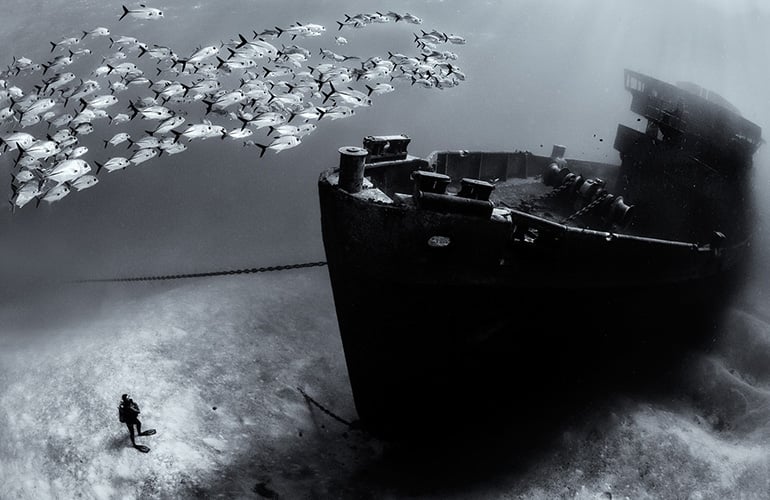 Kittiwake Shipwreck, Cayman Islands. © Alex Mustard
First things first
The most important first step is to make sure you are as comfortable and as competent in the water as possible before you take a camera diving. Cameras take a lot of your attention underwater and you may not pay enough attention to your buddy, to your dive computer and remaining air pressure. If you're an experienced diver you will be used to paying attention to all those things. By being a better diver you get better pictures.
Get a feeling for it
Buoyancy and manoeuvrability are two of the biggest challenges to diving. Taking a camera down totally changes these two things. It's good to know beforehand how this is going to feel. I always suggest people take an empty camera housing down as a good way to get used to it. Wrap a diving weight in bubble wrap or in a cloth and stuff it inside the underwater housing so it sinks. Then experiment with it in the shallows or in a pool.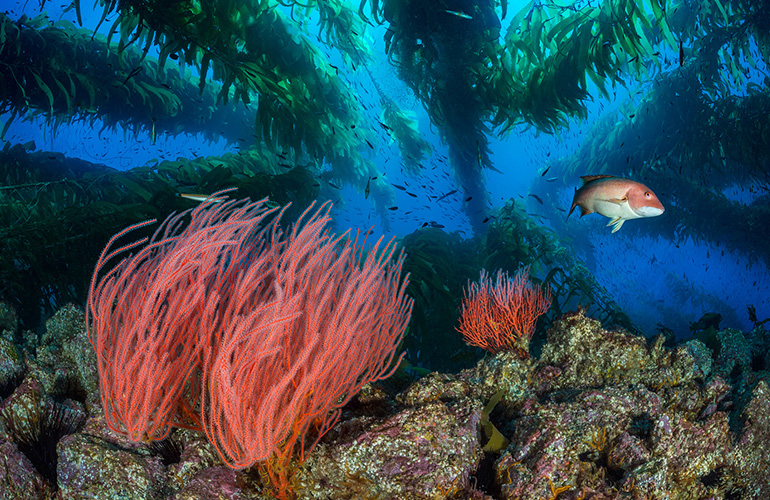 Kelp Forest, USA. © Alex Mustard
The camera isn't so important
The camera is one of the least important parts of an underwater photography set up. It's actually the lenses and the underwater flashguns that make far more of a difference to your photos than the camera. An expensive camera that's not being adapted properly to underwater photography will always take poorer pictures than a very simple camera that has the right accessories. Invest in the accessories rather than the camera.
The lenses that counts
We use two types of lenses almost all the time. One is a close focusing macro lens for taking close ups from within touching distance and the other is an ultra wide-angle lens that focuses very close. Typically we use fish eye lenses a lot because they give us the widest possible view from as close as possible.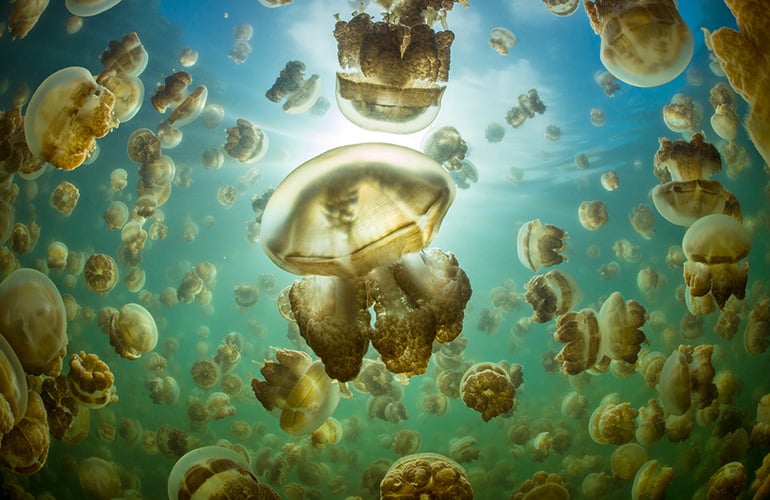 Jellyfish Lake, Palau. © Alex Mustard
Lights, camera …
Almost every underwater photo is taken with a flash. We use flashguns on short, adjustable arms on either side of the camera to light up a subject. Water as you go deeper absorbs all the colour so if you don't use a flash you'll end up with blue or green pictures. Flashguns take time and skill to get used to. That's really where the art of underwater photography lies.
Up close and personal
Almost every underwater photo is taken from within touching distance of the subject. This means you need to be able to maneuverer around a subject and in a way that doesn't scare it away. If you're thrashing about or racing around, you're only ever going to see the tails of marine life. If you're calm and at one with the environment you will get all the great encounters and that's what gives you the good pictures.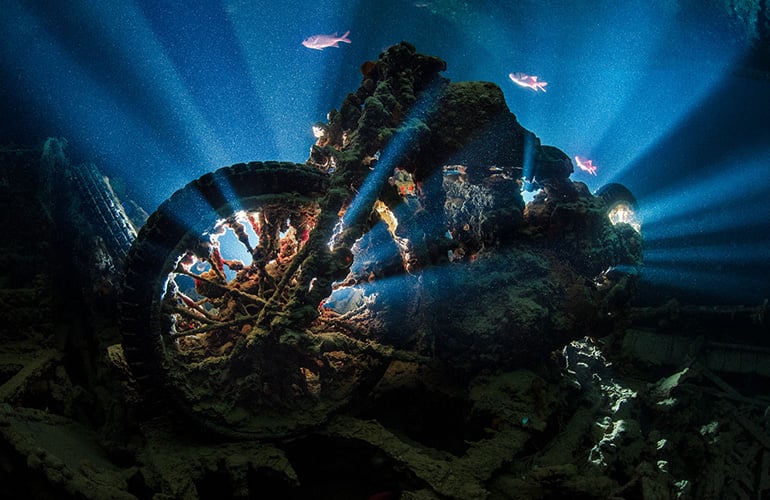 World War II Motorbike On Wreck, Egypt. © Alex Mustard
Plan ahead of the dive

If you go and speak to whomever is organising a dive ahead of time, they will tell you what you'll see and where. There's a huge amount of local knowledge you can benefit from just by asking people a few questions. Sometimes an advertisement will say it's a great shark dive, but in reality they don't come within five meters. But the coral scenery might be nice so you set up for that.
One dive, one lens
The only way to change your camera lens is to come up to the surface, change it and then go back down and that's not very convenient. Usually it's one lens for one dive. One of the big steps you make as an underwater photographer is when you realise the best photos come by realising the strengths and weaknesses of the particular lens your diving with and focusing your attention on the subjects that suit it.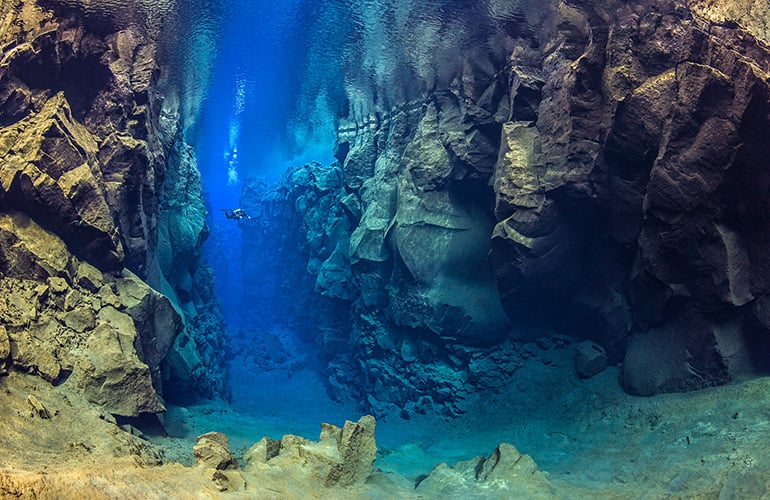 Diving Between The Continents, Iceland. © Alex Mustard
Don't be rude
Underwater most marine life doesn't fear man. However you need to get within touching distance of it. Most wildlife doesn't like heavy eye contact so try not to stare. Most wildlife doesn't like you approaching fast so take your time to approach a subject. Don't just race in as fast as you can because that's bound to scare things away. If you see a subject slowly swimming along, swim parallel to it, and slowly close the gap.
Dive with a photographer
Diving with another photographer is a really good way to dive. You've got twice as many eyes. If you're shooting scenery you can pose for each other. After the dive you have a friend who will be interested to see your pictures and talk about photography.
For more incredible images by Alex Mustard, like his Facebook page.
Lead image: © Alex Mustard