Seven-time world triathlon champion Conrad Stoltz, aka Caveman, says having a lot of hobbies has helped him stay mentally fresh as an athlete.
One of those hobbies is riding his Fatboy fatbike to hard-to-get-to places. A fatbike is a bicycle with over-sized tires designed for riding on soft, unstable terrain, such as snow and sand. Conrad's fatbike is a Specialized Fatboy Pro with 4.6inch (12cm) wide tyres, at super low pressure so he can ride just about wherever he likes!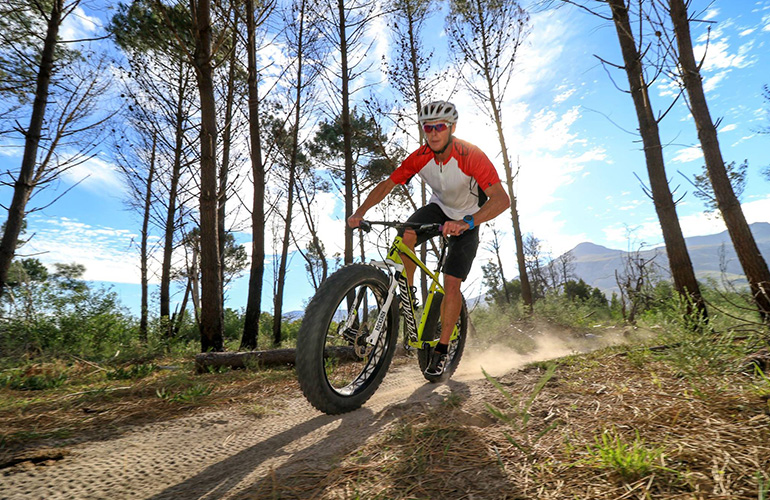 Conrad tearing up dust on his fatbike. © Conrad Stoltz

"A fatbike is so amazingly capable, you don't need a road or a path to ride," Conrad says. "As long as there's not too much vegetation, you can ride almost anywhere.
"Whether it's rocks or sand or gravel or whatever it is, you can just ride.

"I love it because it satisfies my sense of adventure and being the Caveman wanting to see what's around the next corner and wanting to see if I can ride over big rocks, domes and dunes and find really cool places."
Conrad likes his fatbike so much that he sometimes struggles to make himself train on his standard mountain bike "Once I'm less focused on training for performance and more just making it a lifestyle, I will definitely be doing more fatbiking," he says.
Check out Conrad's video of a fatbike adventure he did while attending a sporting festival on South Africa's south coast.
Main image: ©lighttrapper.co.uk