The GORE-TEX Transalpine Run across the Alps demands just as much mental toughness as endurance. For those who have what it takes, an unforgettable adventure awaits.
Suunto-supported trail runner Philipp Reiter has competed in and photographed the GORE-TEX Transalpine Run four times, including the 2016 edition that finished in September. He and teammate Iker Karrera won the 2012 edition.
The seven-stage, 247.2 km race was the 12th edition and followed a new route. It included 14,862 m of vertical ascent, rocky trail and a glacier crossing. All participants must compete in a two-person team.
Due to injury Philipp couldn't compete this year, but he was there to photograph its beauty and intensity. He tells us all about it below.
Stage one: Garmisch-Partenkirchen, Germany to Lermoos, Austria
Distance: 36.7 km
Vertical ascent: 2088 m
Vertical ascent: 1791 m
Highest point: 1634 m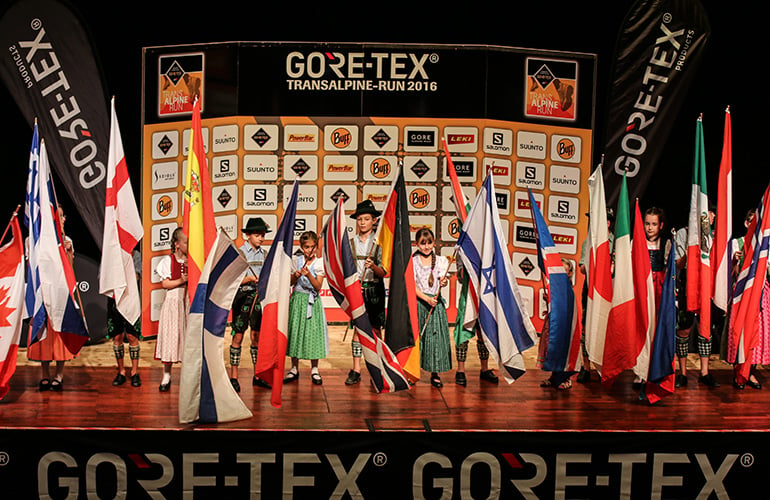 Experiencing the cultures of the Alps is part of the fun. © Philipp Reiter
I've seen the same thing every year; some of the top teams start too fast and push too hard and bomb out because one team member becomes exhausted. It's important to remember there are six more days after the mountain run on the first day. It's best to hold back.
Stage two: Lermoos, Austria to Imst, Austria
Distance: 33.8 km
Vertical ascent: 2009 m
Vertical descent: 2237 m
Highest point: 1742 m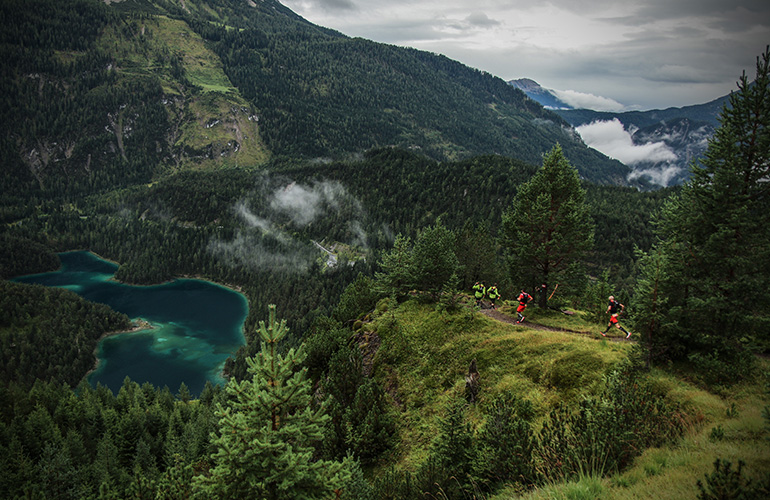 © Philipp Reiter
A lot of teams from north Germany, the Netherlands and Denmark compete. Maybe they're good runners, but they underestimate the terrain – the rocky trail and the ascent. They don't move fast enough to meet the cut off times of each stage. It's more like a speed hiking race than a running race. You have to train your muscles to climb day after day.
Stage three: Imst, Austria to Mandarfen-Pitztal, Austria
Distance: 47.9 km
Vertical ascent: 3037 m
Vertical descent: 2144 m
Highest point: 2292 m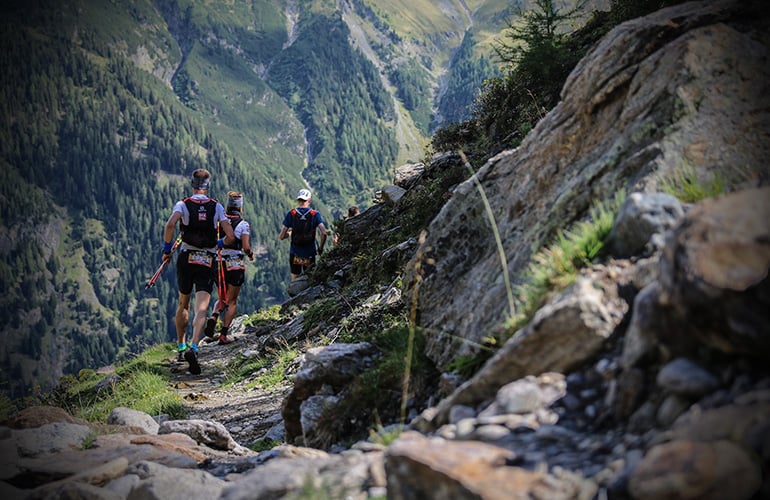 © Philipp Reiter

[To properly prepare] you have to get your body used to doing endurance workouts many days in a row. Usually people work so they only have the weekend. But you need to try to do long sessions six or seven days in a row. Your body has to know what that feels like.
Stage four: Mandarfen-Pitztal, Austria to Sölden, Austria
Distance: 25.7 km
Vertical ascent: 1887 m
Vertical descent: 2214 m
Highest point: 2982 m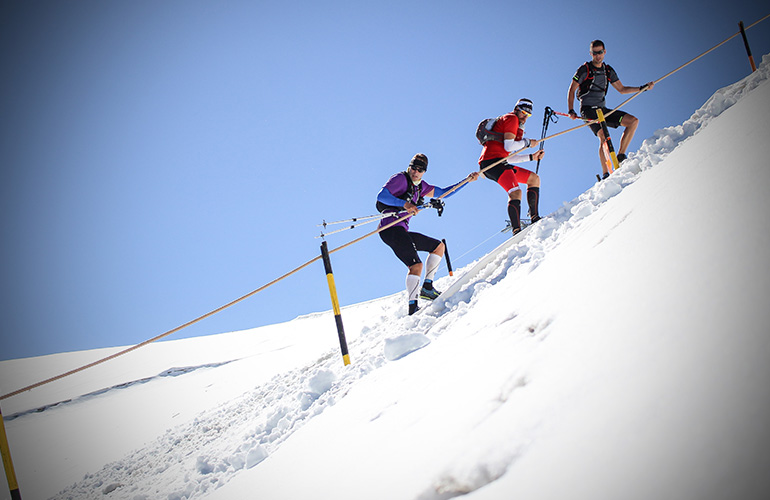 This year's race included a glacier crossing. © Philipp Reiter
[My mental strategy] is to cut the course into smaller pieces and objectives. For example, I focus on going from food station to food station or from stretch to stretch, climb to climb. Getting to that next location becomes the only goal.
Stage five: Sölden, Austria to St. Leonhard in Passeier, Italy
Distance: 33.3 km
Vertical ascent: 1453 m
Vertical descent: 2111 m
Highest point: 2492 m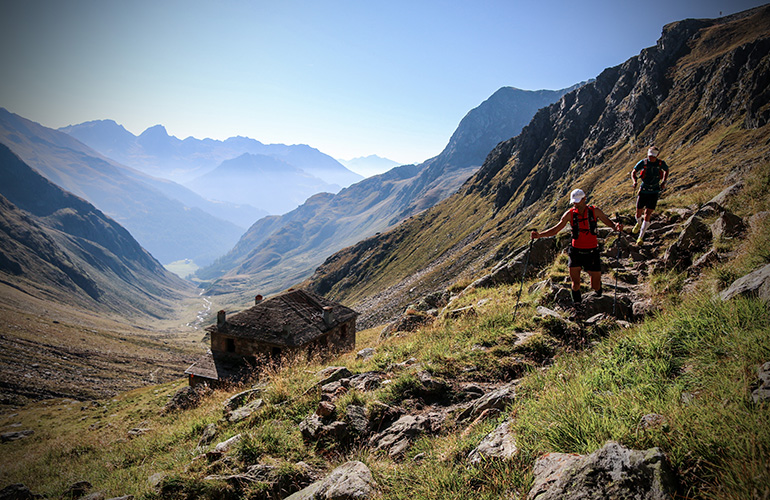 © Philipp Reiter
Everyone goes through ups and downs. If you and your race partner get along well then he or she motivates you and the other way around. Usually one is up and the other is down and you can help to pull each other along. If you work together you can equalise the weaknesses of each other.
Stage six: St. Leonhard in Passeier, Italy to Sarnthein, Italy
Distance: 33.6 km
Vertical ascent: 2440 m
Vertical descent: 2153 m
Highest point: 2683 m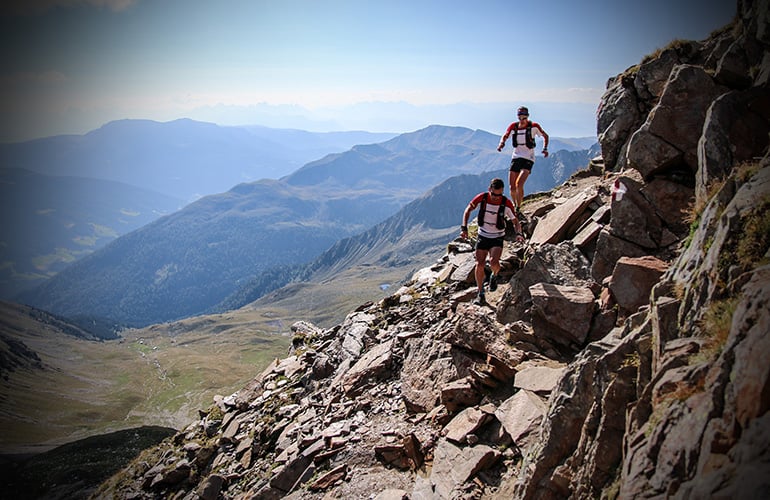 © Philipp Reiter
This year a lot of people struggled during stage six. The mood was at a really low level, with a lot of tired faces. One team took a taxi and went home.
Stage seven: Sarnthein, Italy to Brixen, Italy
Distance: 36.4 km
Vertical ascent: 1934 m
Vertical descent: 2348 m
Highest point: 2440 m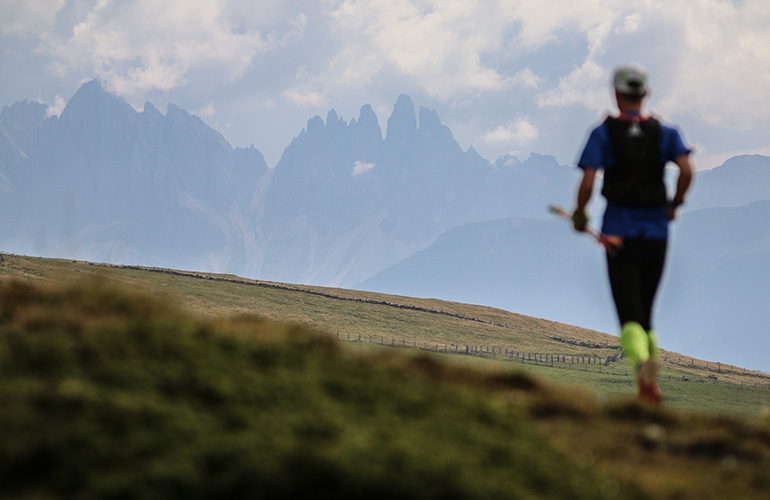 © Philipp Reiter
I enjoy this race because for the seven days you live in your own little world, with hardly any influence or contact with the outside world. You can switch off and focus on this one simple undertaking.