Underwater photographer Daan Verhoeven specializes in capturing freedivers exploring the boundaries of human potential as they drop into the deep and return on single breath.
Under the surface, it's a quiet, meditative journey freedivers go on and Daan is one of the foremost photographers at bringing this beautiful essence of the sport to the world.
We're proud to announce Daan is taking over the @suuntodive Instagram account starting Monday, April 25. He is documenting the Suunto Vertical Blue 2016 freediving competition in the Bahamas and will share images and stories to give us an inside view. Get to know Daan and make sure to follow @suuntodive this week. It'll be beautiful and exciting!

Daan Verhoeven's underwater selfie

Who is Daan Verhoeven?
I'm an underwater photographer and freedive instructor from the Netherlands, living in the UK.
Where do you dive?
Wherever there is water! I've freedived in tiny pools, medium rivers, big lakes, huge oceans, in a fjord in Sweden, in holes in Dahab and Bahamas. Now that I've moved to Cornwall, I dive a lot there, in beautiful gullies and with fantastic kelp and seals and sharks.
What is it about the underwater world that inspires you?
The freedom and diversity. I love the sensation of being free of gravity, exploring subjects much more three-dimensionally. And the diversity, as in the countless shades of blue and green and yellow water can become, the wild abundance of fish and creatures that live there, and how people from babies to geriatrics can play in water.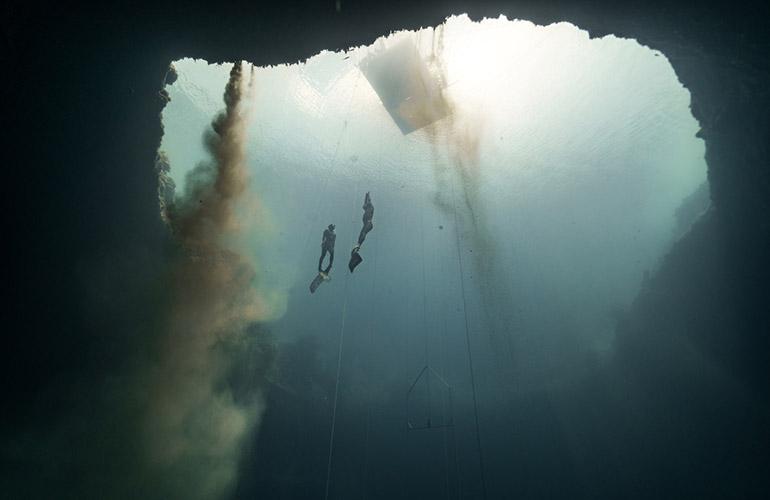 Daan Verhoeven's view of Stig Pryds during Vertical Blue training earlier this week.


How would you describe your photography style?
Wet, mostly. My father was a philosopher and said a wonderful thing about style: "Style is a voluntary restriction of available means." So I chose to photograph while freediving – that's already a restriction that influences my style.
I think I frame in a fairly classical way. I like clean compositions with strong leading lines. And I edit to bring back skin colors, which is actually not something you really see at depth, so there's a hyper-reality to it. So wet, classical, hyper-realism?
Is there a story you wish to tell with your images?
One of the things I love about freediving is how it shows people their aquatic potential – with a bit of knowledge and instruction suddenly they can do things they never thought possible. It's not just the realm of some super humans – humans ARE super. With my photography I like to celebrate the beauty and the joy of people in water, and document the grace and poetry of freediving.


Follow @SuuntoDive and @daanverhoevenfreediver to see more of Daan's work. Check out also daanverhoeven.com and go dive with him at Aqua City Freediving
All images: ©Daan Verhoeven


MORE TO READ
FREEDIVERS READY TO TAKE THE PLUNGE AT SUUNTO VERTICAL BLUE 2016
BRAD HOLLAND TAKES OVER @SUUNTODIVE FOR A WEEK