If there's one person who looks forward to the arrival of winter, it's Suunto ambassador Greg Hill. Last winter he pulled off the incredible feat of skiing 100,000 vertical meters in a month. But after breaking his leg in Pakistan this summer, he says he's looking to just hang and enjoy the mountains this winter. Below, he talks about his accident and how he can't believe he pulled off the March Madness project.

Winter is coming. Excited?
I love winter! I am apprehensive because I can't really say how it will go. I know I will need some boot work to ensure comfort with my newly healed leg. But I also know that my passion is still intact and ready for more adventures.
How's the leg?
The leg is getting better every day, but still a long road ahead. I will be 90% at the start of the season but the last 10% will take me some time. As it stands I am walking with a slight limp and can go for short hikes.

What happened?
What happened was that I was overtaken by my desire for more. We had hiked up a great 5,500 m summit, that was previously unclimbed. Our line up was a decent line and would have made for a great descent. But my desire for exploration led me to try and ski a different line down. It was also a better line for filming. I liked the backdrop and figured it would look great on video. So because they were filming I skied it with less caution, since caution doesn't look as good as confidence on video.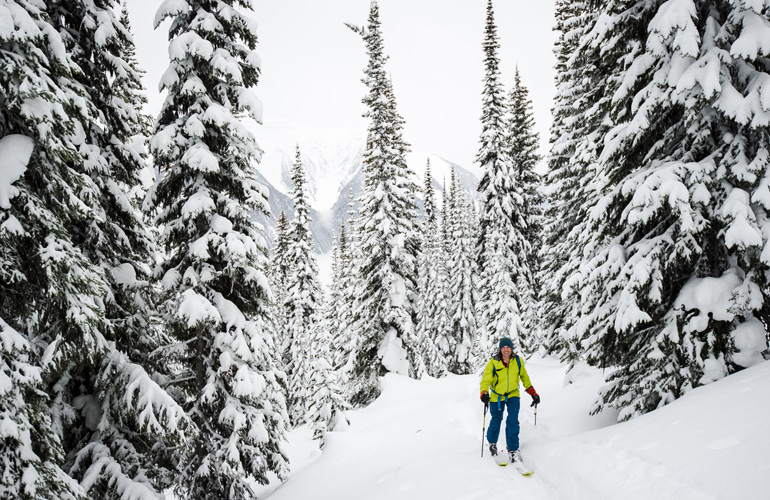 Greg Hill doing what he does best – ski mountaineering in his local hills. ©Bruno Long

And the lesson there?
To stick to my way of skiing regardless of video. Safety is always first priority, not looking good on video. I sure didn't look good as the avalanche chased me down and took me out. Lots of people would say it was the law of averages but I seriously know that had I followed my typical rules I would have been fine.
March Madness was an incredible success. I guess you'd prefer to remember 2014 for that?
Honestly, I can't believe I pulled that off, to think that I was able to average over 3,000 m up a day for a month is a little mind-boggling. Even though I did it, it's hard to imagine although I do know what drive and desire can do. Am psyched on the success of that month and can't wait to get back to 100% and onto another challenge.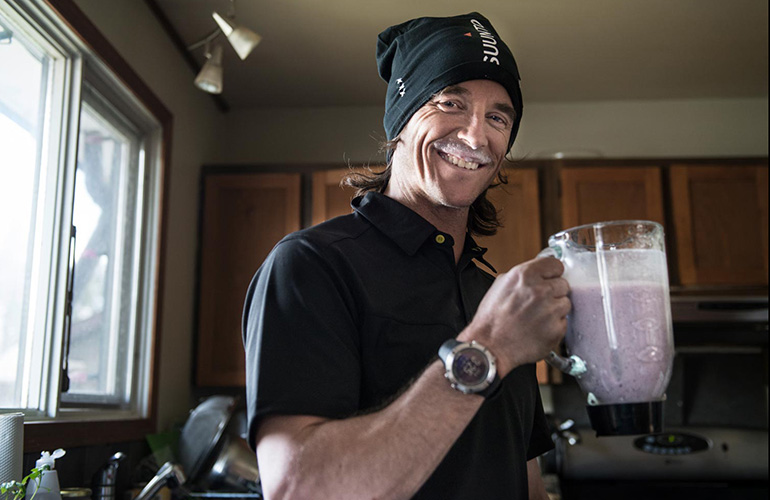 Recovery juice: Greg gets some home made smoothie down. © zooom.at/Markus Berger

What's been the recovery process?
I have had physio 2-3 times a week, plus some swimming but also I have been road biking more than anything. Road biking is the best way to get my fitness back while also working on ankle movement and leg strength. The new Ambit3 Peak is a real motivator to push my fitness.

What are your winter goals?
I probably won't be able to pull off any extraordinary feats this winter but I will still seek out mountains I have not skied and adventures where I can. This accident has taught me a lot and I am keen on taking this learning and continuing to push myself in the mountains. My passion is still as strong as ever.

Main image top: zooom.at/Markus Berger