The famous Scuba Diving Girls Margo Sanchez and Stephanie Adamson are long-time champions of exploring the ocean. The Californians constantly share images and clips of themselves diving with playful seals, baby rays, turtles and sharks. Who better to ask how to start scuba diving?
What do you say to someone thinking about diving for the first time?

Just go for it. There is so much to see and experience with scuba diving. Don't be afraid of all the gear, you will quickly get used to it and be empowered by it. There is really nothing that compares to this experience and you will not only love scuba diving, but also you will fall in love with a world unknown to you now.


"When you find a connection with the ocean and its inhabitants, it is a feeling you cannot ignore."


What do you wish every newbie diver knew?
Have fun! Diving will bring so much joy to your life so remember to enjoy it. Make sure you find dive buddies who enjoy the experience and enhance your experience. It is important to follow your instincts and don't let others intimidate you.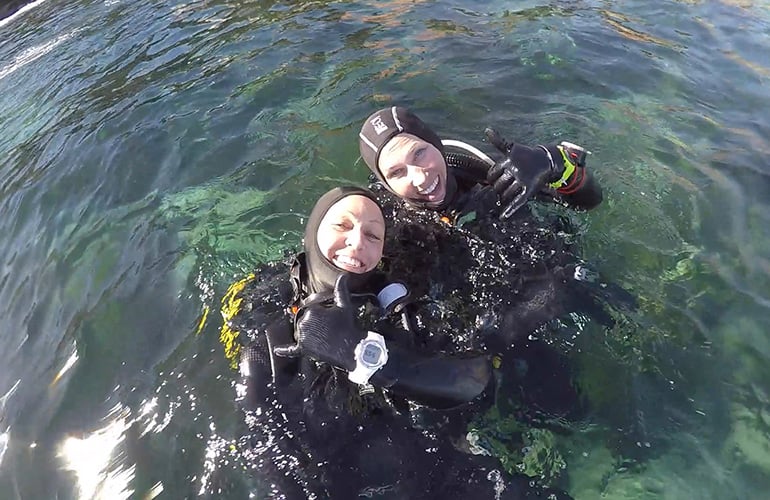 © scubadivergirls.com

What path do you recommend?

Depending on your experience in the water, it may be good to try out scuba first. There is a class offered by most dive shops and independent instructors called Discover Scuba. This allows you to get in and get some instruction and try out the equipment before committing to a full certification class. But if you know you are ready, then it is time to sign up for an open water diving course.


"There's nothing more memorizing than watching a shark glide by silently and unexpectedly or a seal who comes to pull on your fin as you frog kick your way through a kelp forest."


What are the key steps to becoming a diver?
Finding a good instructor that you feel comfortable and safe with is the first step. Learn the skills and safety procedures during class and practice as often as possible. Even after you are certified, you should continue to practice the skills on a regular basis, as this will make you a better diver. Get as much time in the water as possible. Find buddies who are more advanced than you so that you can learn from their techniques. Don't be lazy when it comes to your equipment care and maintenance. Your equipment is your lifeline.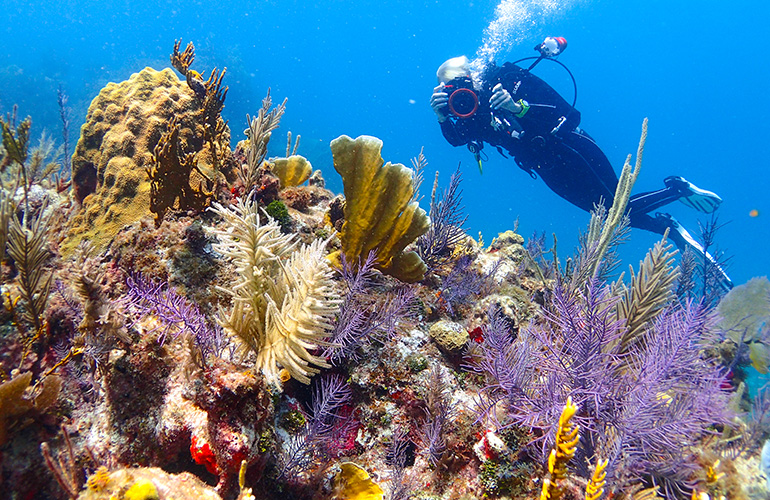 © scubadivergirls.com

What are the important things to remember?

Safety should always be your first priority. It takes many dives before you are skilled enough to deal with the many issues you can experience under the surface. Understand your limits and never dive beyond these limits. If you want to do more advanced dives, take the classes to certify in that discipline first and even then be sure the diving is within your physical capabilities. When diving a new place find a local dive expert to guide you. Be sure you understand your gear. Diving should be super fun but always be sure safety is your primary focus.
*Suunto has just released the Zoop Novo Blue, a dive watch perfect for beginner divers or people seeking new adventures. Click here for more info about this simple to use dive computer.