Want to descend mountains with the speed and finesse of Kilian Jornet? Follow his downhill running tips here.

To watch Kilian Jornet charge down a mountain is to see something that is almost beyond possible. Like a squirrel down a tree, his downhill running seems to defy the laws of gravity. How does he do it? Here, in his own words, Kilian explains:
Go to the mountain
For technique, for training, you need to spend hours in the mountain. You can go to the gym and get big quads but for the downhills, it doesn't work. You need to run downhills and downhills and downhills and then you learn the technique!
Close your eyes
It's not just about the legs and muscles, but more about the vision, about the anticipation of the trail, the obstacles. Like skiing, you need to pick your line. When you run fast you don't see where to put your feet but you see the next four to five steps ahead and you need to know where your body and feet are on the ground. Close your eyes and run for 15 meters blind to try to remember the terrain. This is also good for balance.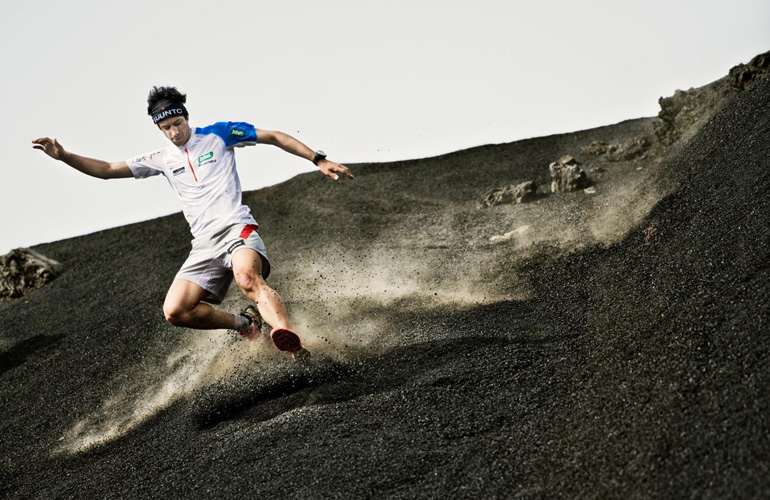 Relax
The two main things in downhill are vision and the need to be relaxed. When we run downhill we tense all the muscles and this causes tiredness. If we run relaxed we can run faster and with less energy. For relaxation, practice descending like you're dancing. For example, run down with your arms completely relaxed and every two steps do a little jump and kick your legs together.
Stretch
For running in the mountains the most important thing is to be flexible – to be able to adapt to every different situation. The perfect technique doesn't exist for hill running! You need to be really elastic to adapt for all kinds of terrains.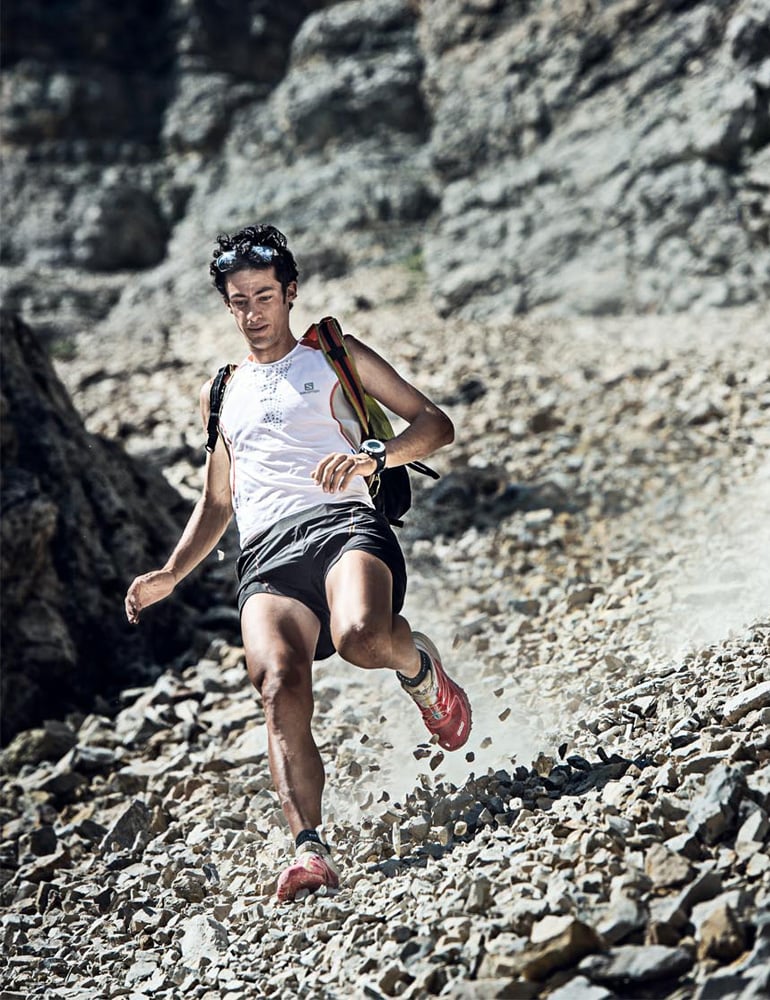 Don't think about the pain
When you run for long distances it's impossible to avoid pain — it's for everyone. When it comes you need to think of other things — the landscape, you talk with the racers, listen to music. I think about stories, like I'm a warrior being chased by an army. To not think about pain, you need to be in another world.
Don't forget the uphill
For uphill it's important to practise walking. A lot of people come from road running and as soon as it gets steep they don't know how to walk. For walking it's important to use all the body so the hands are pushing on the knees. This is a good exercise.
All images ©zooom.at/Markus Berger