"Mount Kilimanjaro is more than it's famed snows, more than it's iconic, statuesque crater that commands the landscape. It is more than the tallest "trekkable" mountain in the world. To hike Kilimanjaro is to be encapsulated into evolving ecosystems, from tropical rainforest to snow-covered peaks in a few days making for unique experience in our natural world," describes adventurer Matt Mitchell.
There are seven established climbing routes on Kilimanjaro. To trek a different route to the summit is to live a separate and entirely unique experience. In search of true wilderness, we chose Rongai, the least trafficked route and the only one starting from the North, along the Kenyan border. It is the only trek that includes the entire spectrum of habitats in Kilimanjaro's vast ecosystem, though you have to go out of your way to find it. After a two-hour drive from the park's main gate, winding through hectic, dusty villages, we arrived at the trailhead. Our journey began in a wild, tropical rainforest, it was difficult to believe that in a few days we would be immersed in freezing cold and burning sun of arctic conditions.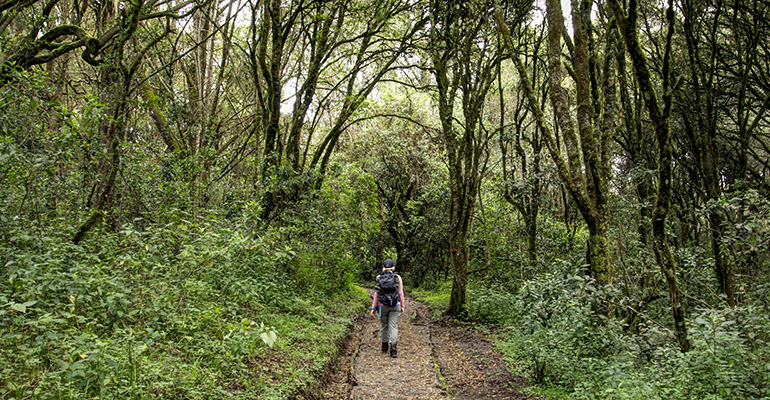 Before we left for Tanzania we plotted the route on Movescount then to my Suunto Traverse GPS watch, helping us to navigate and identify POIs (camps and highlights) as well as and track our altitude and gain each day.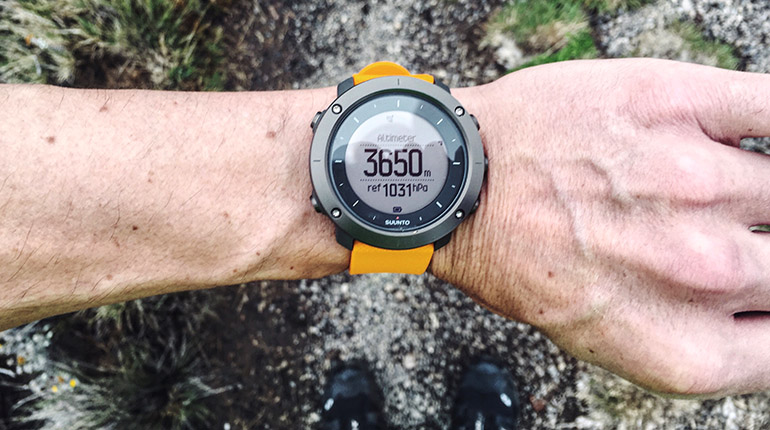 Kilimanjaro is a busy mountain year round on most routes, so when we found ourselves trekking alone we were surprised, and delighted. We felt like we had the mountain to ourselves, free to move at our pace and simply appreciate our surroundings. The mountain itself was pristine, even at camps debris or evidence of hikers was rarely seen.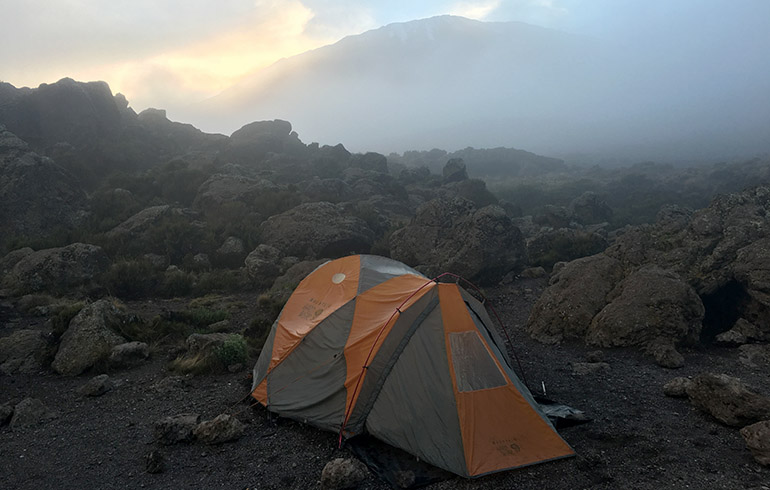 Giant, jagged crevasses created by lava flows and home to streams from another time lay hidden behind wild and unwieldy bushes. Throughout the forest and heather our path was enveloped in thick rolling fog. Wide, sloping caves that were once shelter, now help to mark the trail.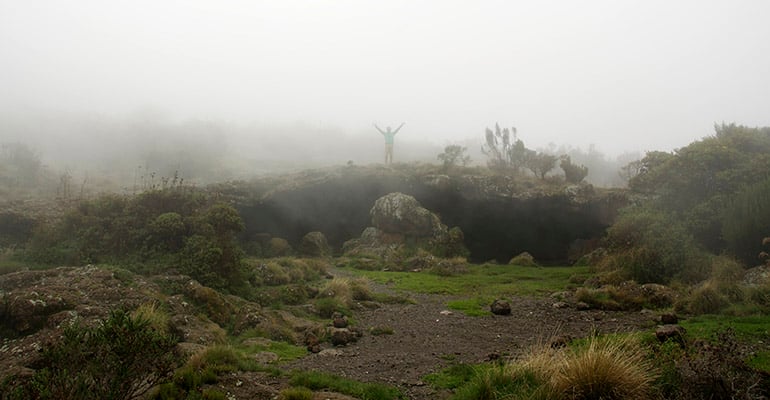 Unlike routes from the south, clear views of Kibo are frequent above 3500 m on Rongai. While our previous days were filled with fog and mist, the greyness gave way to clear and intense days in the sun. Our nights got much colder above the clouds and we started to feel the thinning air as we moved toward the alpine desert. Our only company was a pair of white-necked ravens who followed us for two days and nights.
Kilimanjaro is not simply its dominant and easily identifiable volcanic cone (Kibo), with its graceful lines. In fact Kilimanjaro is made up of three volcanoes- Kibo, Mawenzi and Shira. Kibo remains dormant, the others extinct. As we traversed alpine desert in scorching 37 degree sun, the imposing, jagged edifice of Mawenzi appeared. Hans Meyer Peak is its highest point at 5149 m (third highest point in Africa) and is separated from Kibo by 6 km of baron desert known as 'The Saddle.'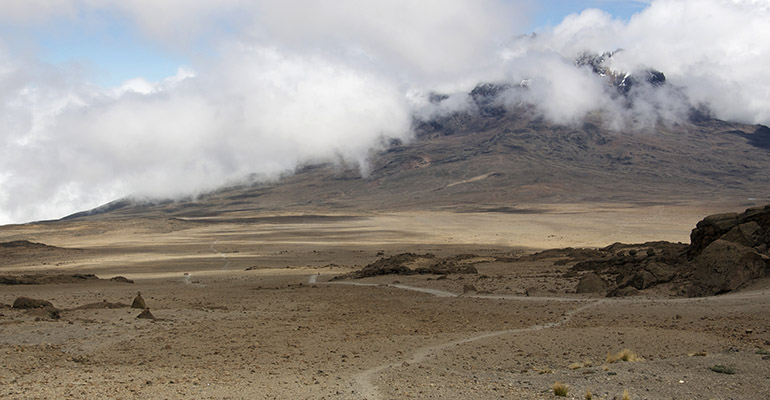 We arrived at Kibo Huts (4700 m) in the afternoon of our forth day, with a world already below us. We were paying for each moment at this altitude and higher, so at midnight under steady snowfall we climbed towards the stars. There was still a mountain above us, and all we could see were bobbing headlamps and utter darkness. We trudged across steep, scree switch-backs (up to 45 degree) for 5 hours, glancing only occasionally at the horizon for the slightest hint of the day to come. Breathing becomes more difficult with each step, relentlessly testing all faculties. Even simple recognition is not a given at this altitude. As we scrambled to the top of Gilman's Point and beyond the grandeur of Kibo is startling, its glaciers, sheer cliffs and vast expanses are unforgettable.
There is nothing like feeling the day's first light atop a mountain, invigorates your senses, and brings your body back to life. The streams of clouds and color and light made us feel like we could see all of Africa.