Kate Middleton lives on a tiny island in the Indonesian archipelago and spends her days exploring the ocean and doing yoga. The two "conscious practices" completely changed her life and her relationship with herself. Now she has nothing to prove.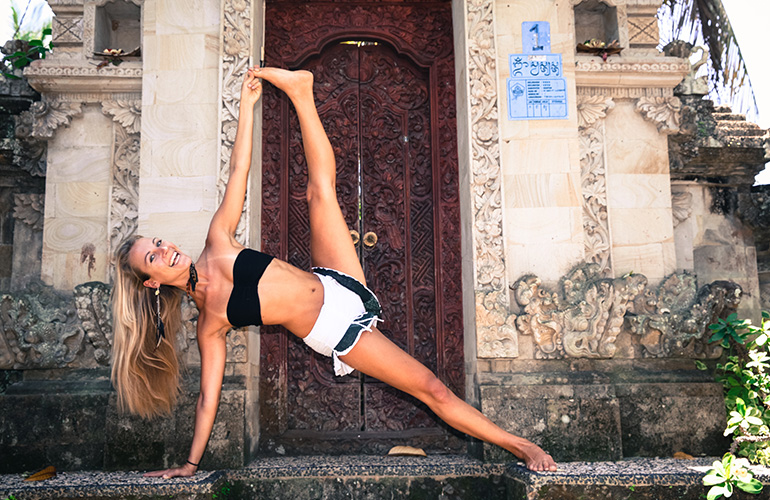 Kate teaches yoga and freediving on Gili Trawangan. © Kate Middleton
Before visiting the sun-spoilt shores of Indonesia, Kate Middleton was a hard driving overachiever. But there she became a yoga teacher and freediver, and it changed everything.
"Before, I had this drive to prove I was worthy enough by achieving different things," says the 27-year-old. "It was super exhausting and it's a vicious cycle because even when you do achieve things you always feel it isn't enough and you need to do more.
"Now, I don't do anything out of force or out of striving."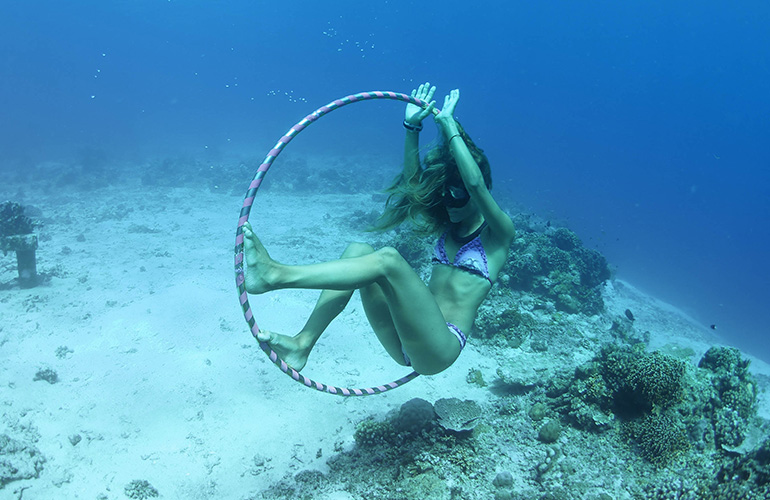 Most days Kate trains and plays in the ocean. © Kate Middleton
With parents from Canada and New Zealand, Kate grew up between the rugged wilderness of Victoria, BC and the peaceful east coast of Auckland. As a teen, she struggled with eating disorders and low self-esteem, which led her to yoga as form of self-therapy. "It was my own secret practice," she says, "and gave me a connection back to myself."
After finishing high school, Kate went travelling and while in Bali she trained as a yoga teacher. She also trained as a scuba instructor, but soon found scuba didn't satisfy a longing for a close connection to the ocean.

Press play to listen to Kate's poem about why she freedives!
While in Bali, she visited Gili Trawangan, a tiny two by three kilometre island 35 km to the east. It was there she discovered freediving – and love. She met her business partner and boyfriend, fellow freediver and 13-time British record holder Mike Board. Kate expected to stay a few weeks, but eight years later they're still there, running a retreat center, an organic café and a yoga and freediving school.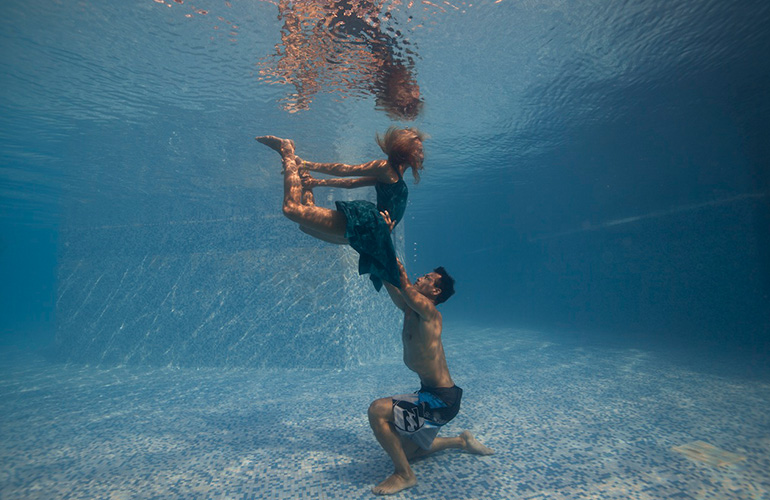 Partner Mike Board is also a competitive freediver. © Kate Middleton
Kate likes to think of yoga and freediving as two among a number of "conscious practices" that are growing in popularity, along with an increasing interest in holistic, healthy living. For her, teaching both is a privilege.
"When teaching either there is a lot that comes up for students in terms of thoughts, beliefs and emotions, it's very psychological, so it creates an intimate connection between a teacher and a student," she says. "Helping someone to learn to trust their body is such a special thing."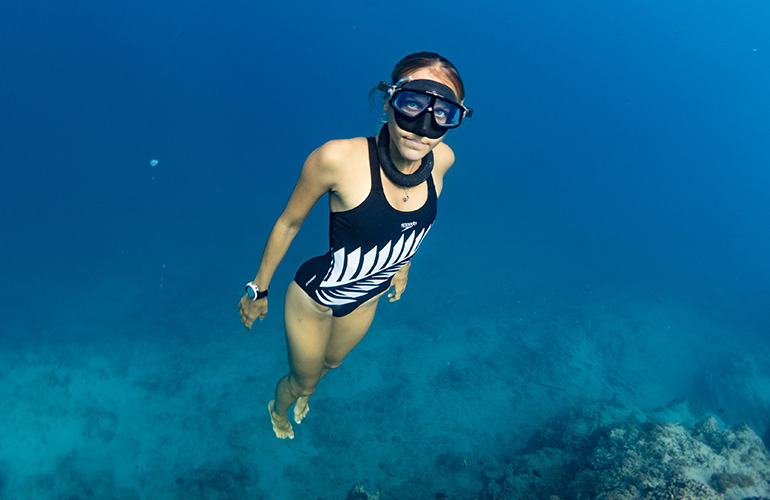 © Kate Middleton

Kate is currently in the Bahamas competing in Suunto Vertical Blue 2016, perhaps the highest profile depth diving competition in the world. This week she set a new national record for New Zealand in the Constant Weight discipline by diving to 85 m, beating her last record by 10 m. In 2015, she won silver at the AIDA Individual Depth World Championships.
Hit play to find out more about Suunto Vertical Blue!


It might sound like she's still an overachiever, but her motivation comes from a different place now.

"I still enjoy progressing and challenging myself, but I'm also happy with where I'm at now," she says. "Freediving and yoga are transformational. Both are tools that teach us to observe and return to the simplicity of the here and now, the fact there's just one breath in this moment and you can always come back to it when you're stressed.
"It's amazing to witness how they both completely transform people's lives."