Unseasonal weather has put the epic north face of the Grandes Jorasses in great condition. On hand to take advantage were Matthias Scherer and Tanja Schmitt. Check out their video below, and also in their own words their experience taking on the 4,208 m icon of the Mt Blanc range at the end of September. Their route? The classic 1,200 m MacIntyre-Colton, grade: VI 6

Due to an unstable summer with cold temperatures and a lot of rainfall many ice gullies of the big faces in the Mont Blanc massif started to build up early. By the end of summer many routes that normally only form in colder autumn or winter air suddenly stood splendidly in a fading summer light. Above all the Grandes Jorasses (4,208 m) loomed over the massif, unrivaled, her tremendous north face strewn with veins of daunting, glittering ice.
September the 25th 2014 Tanja Schmitt, Matthias Scherer and Heike Schmitt tracked along the Mer de glace and built up their tent for the night. Their objective is the MacIntyre/Colton route on the Grandes Jorasses north face. They decided to embark early, climbing the long ice fields in complete darkness to achieve the more challenging mixed parts of the climb in the oncoming daylight.
The plan worked out perfectly. The team simul-climbed the lower ice field in the dark [when parties move together to save time]. In the upper part the ice becomes steeper. The crux existed of a snow/ice mixture, and so not really hard to climb it was impossible to protect. After some more ice fields they achieved the mixed climbing parts of the route: Technical climbing with sections of thinner ice. Everyone enjoyed the climbing. The team achieved the summit late in the day and paused for a rest, melting some snow for rehydration. The fading daylight was bathing the scenery in an incomparable beauty. Says Tanja: "As we stood there, in awe at this unearthly sight, all endeavors before and others yet to come seemed of no importance: the magic of the team- spirit and the magic of the mountains were glowing above all."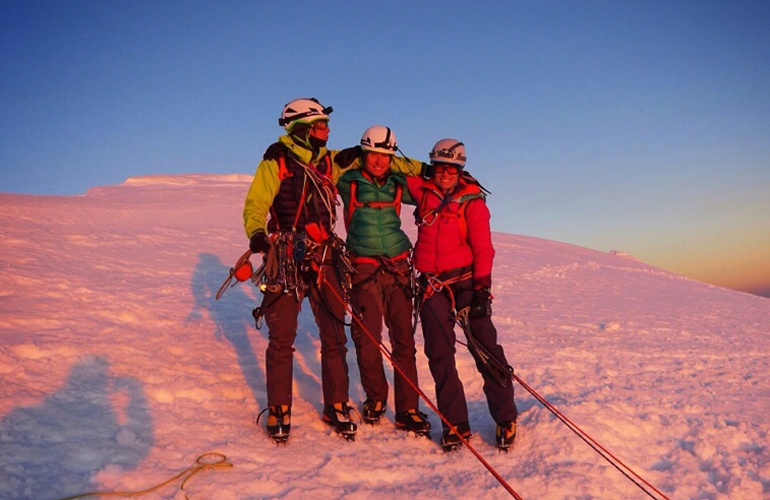 The team on the Jorasses summit

All images Matthias Scherer