It's only a couple of months since Suunto Vertical Blue but Will Trubridge is already looking ahead to his next record attempt. Here's what else the year has in store for the freediver.
So what's up in 2015?
2015 is a busy year, with Suunto Vertical Blue happening at the end of April, then the Caribbean Cup in Honduras in May and the World Championships in Cyprus in September. I would like to perform well in all of these, but it's hard to maintain peak performance for long periods, so I will have to structure my training and rest carefully.

Will you try again for another record?
Yes, I hope so! Vertical Blue in April will have the best conditions for this, and with some solid training over the winter I would like to have another attempt at the 102 m [CNF – no fins, completely unassisted] and possibly try and push the Free Immersion record out some more as well.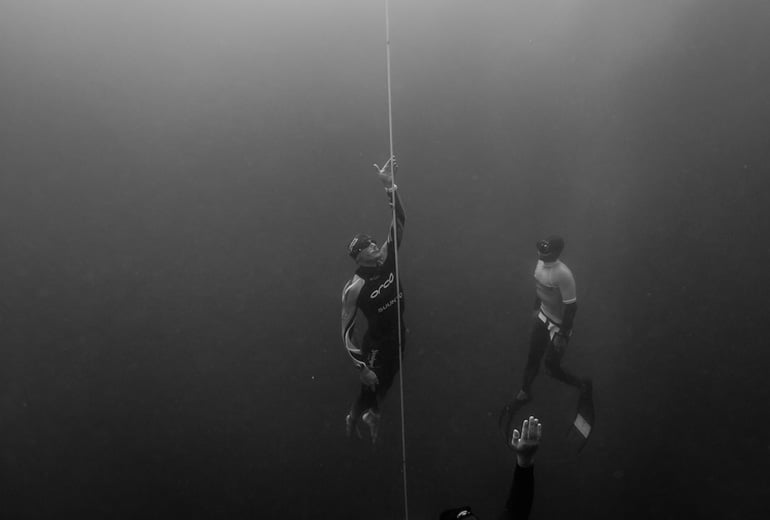 Will in action during Suunto Vertical Blue. ©Daan Verhoeven
Looking back, what was the highlight of 2014?
Winning Suunto Vertical Blue was definitely a great feeling, but I think the highlight would have to be seeing all the support for my world record attempt at 102 m, both before the attempt, when everyone was writing in with encouraging messages and leaving audio clips on the Steinlager site, and afterwards, when despite failing at my goal there was an even greater flow of support.

Is it disappointing not to get the record?
It can be a disappointment when you have trained hard for a long period, and there is a lot riding on your success. However you can learn as much from failure as you can from success, so I plan to use this disappointment as both motivation and a learning experience for the next occasion.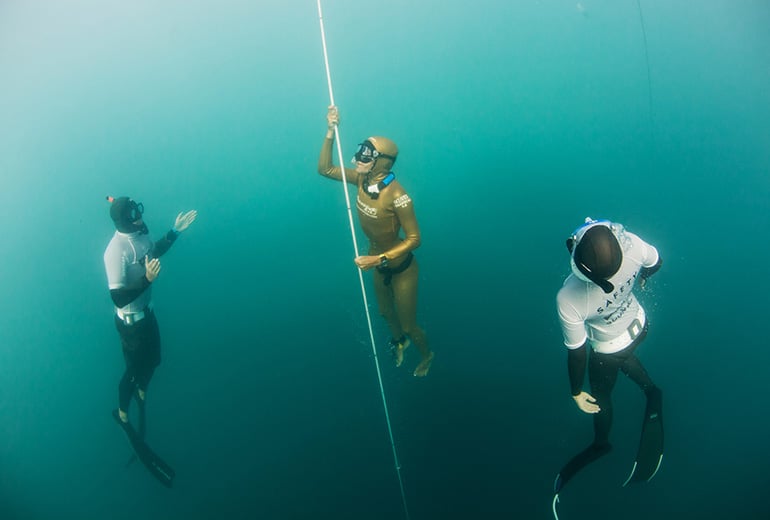 A freediver in action during Suunto Vertical Blue 2014. ©Logan Mock-Bunting

Was there a single thing that sums up the event?
After last year's incident this VB was characterised by a more careful approach from the athletes, and enhanced safety measures from the team. In a way it was inspiring to see the prudence displayed by an athlete voluntarily sitting out the entire competition because they had suffered a lung injury in training, when the previous year they might have tried to push through regardless. But rather than sulking at home, this person, and others who had similar conditions, showed up at the beach to coach their fellow athletes and support the event. I think this demonstrates the spirit of VB, where everyone is supportive of each other, and the unique environment at Dean's Blue Hole allows for a warm and intimate event.

Anything else that stands in the memory from 2014?
I heard whalesong underwater for the first time, which is a magical experience, and encountered my first tiger shark (a fleeting visit, as it was a little timid). My 97m no fins dive in the Caribbean Cup, which is the deepest dive in this discipline during a competition, was one of the competitive highlights for me.