They came from all over the world – 35 divers from 19 countries and for over a week they dived in the incredible location of Deans Blue Hole, to attempt records, to push their limits, to redefine the possible. Below we feature the full story from this year's 2014 Suunto Vertical Blue.
At 100m depth the pressure is so strong your lung volume has reduced from the size of a watermelon to a can of cola. Everything is pitch dark. At the end of a line that hangs from the surface you have a simple job: to collect a tag from the bottom plate as proof of your depth and swim back to the top. But even simple tasks are rendered complicated – your body is desperate for oxygen, hallucinations are not uncommon. You have to rely on your training, on visualisation techniques to focus on staying calm and swimming back to the surface, one stroke at at time.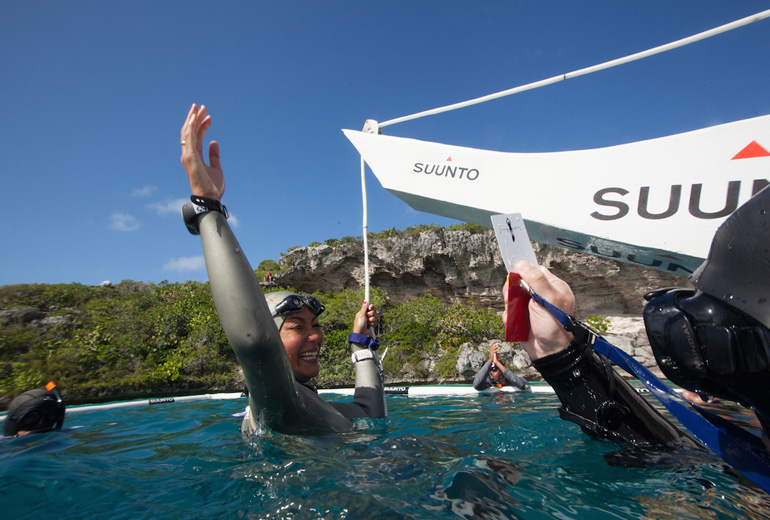 Tomoka Fukuda celebrates after a dive. ©Daan Verhoeven

For multiple record holder William Trubridge, everything was seemingly going to plan for his epic attempt to break his own record to 102m in the entirely unassisted freediving discipline of CNF (constant weight no fin) at the Suunto Vertical Blue freediving contest. This is where divers descend and ascend under their own power, with no fins and just one lungful of oxygen.

"I prepared a lot for this dive and I feel like everything went well," he said afterwards. "I spent a lot of time meditating and visualising the dive beforehand. I took my last breath and began the dive. In the freefall [descent] I was feeling good but I just wasn't quite capable.

"Two thirds of the way up I started to feel tired and that it was going to be too tight. I signaled to my safety divers that I wasn't going to make it. They grabbed me and escorted me the last 10m to the surface.

"Though I'm disappointed not to have achieved the goal, there is some content in the fact that I gave it my utmost best shot."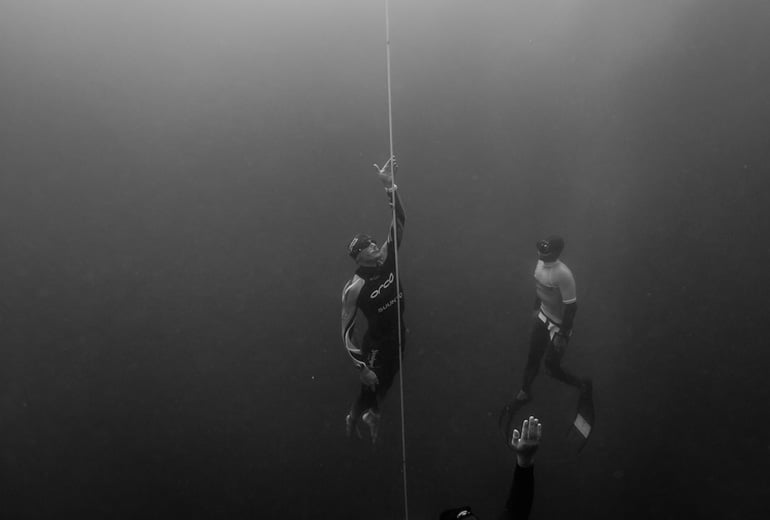 Will Trubridge makes his way to the surface. ©Daan Verhoeven

For the 34-year-old athlete, the failure to make the world record was off-set by the fact he was overall winner of the 7-day contest, in which divers accrue points over six dives. In second place was Russia's Alexey Molchanov and in third was Samo Jeranko from Slovenia.

Overall female winner was Marianna Krupnitskaya from Russia. She said: "I knew I could do it. I'm pretty happy with my performances and I feel strong that I can go further next year."

To achieve overall first, Trubridge made a flawless CWT (constant weight) dive to 117m. "It turned out to be one of the fastest ever CWT dives I've ever done to that depth which is suprising to me because I haven't done CWT in a long time, as I've been focusing on the no fins discipline."

"I was really happy to have a nice comfortable dive and to win the competition with it," he added.

Now in its eighth year, Vertical Blue has been the venue for the breaking of dozens of world records. Competitors had six official dives to challenge themselves and their rivals to obtain the coveted Suunto Vertical Blue Championship title, which is awarded to the freediver who has accrued the most points. Prizes included the Suunto D6i and D4i, which both feature a freediving mode for easy recording of dives.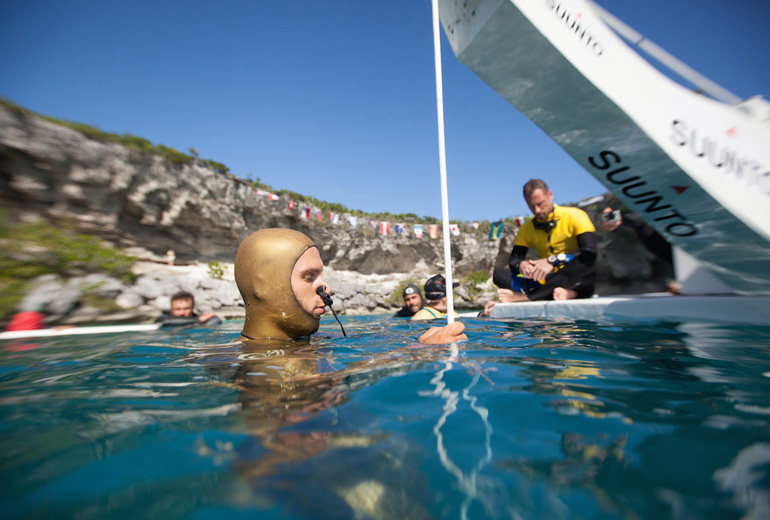 Alexey Molchanov. ©Daan Verhoeven

Suunto Vertical Blue 2014 also saw the introduction of the "Apnea Games" – a day of fun and alternative underwater events such as underwater somersaults, blowing oxygen rings and diving in tandem in memory of Nick Mevoli, who tragically lost his life in 2013. The contest takes place at Dean's Blue Hole, Bahamas, the deepest known blue hole in the world.

"Over the years we've grown to attract more of the world's top freedivers," adds Trubridge. "They're going deeper, more national records are getting broken. The average depth in this competition was in the mid 70s. It just shows you how deep we're going! I plan to keep on holding it every year. It's really a great event."

"These are all friends, we're a big family," says Austrian freediver Jakob Galbavy. "Everyone has a great attitude. Everyone is cheering with everyone. It's really great."

For now Trubridge is content to relax but he has vowed to come back with another record attempt. "I'm definitely going to attempt the CNF record again. This was just a plot twist."