Find out who came out on top for Suunto World Vertical Week 2021
After a very complicated and challenging year, 2021 was perhaps one of Suunto's most special editions of World Vertical Week. The results show how much athletes from every corner of the globe want to push themselves in the outdoors – the number of participants more than tripled to over 48,000 athletes joining the challenge in search of vertical glory this year.
The reigning champ 
Austria has done it again: it's the country with the highest average climb per activity, 421 m. The country of music and mountains has again retained the position that it's accustomed to, number one, which it has held in four of the last five years. It only lost its crown in 2019, falling to fifth place. Austria is followed by Slovenia (2nd, 401 m), Italy (3rd, 378 m), Switzerland (4th, 348 m), and France (5th, 292 m). These nations have regularly featured in the World Vertical Week top 10. Special mention goes to Hong Kong athletes, with their 254 m average, taking eighth place. 
Austria 421 m
Slovenia 401 m
Italy 378 m
Switzerland 348 m
France 292 m
Slovakia 280 m
Spain 275 m
Hong Kong 254 m
Norway 239 m
Canada 233 m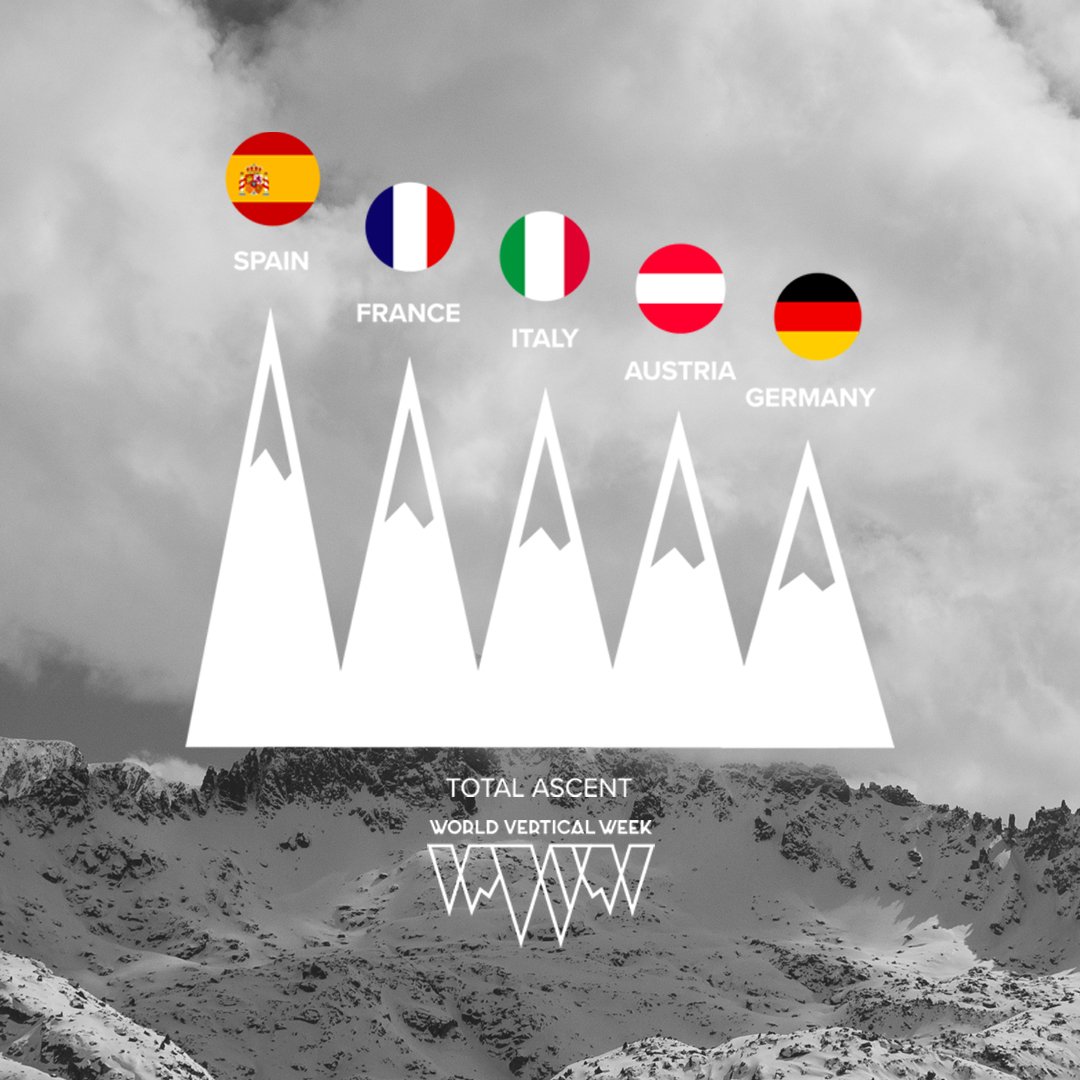 Spain, France and Italy always consistent
Add, add, add. Based on many diverse efforts, Spanish athletes made Spain the nation with the most climbed meters overall. Spain has snatched back the title, which landed in French hands last year. Italy comes in as third again. Suunto has been providing total data by country for three years, and these three countries have had a place on the podium each time.
Spain
France
Italy
Austria
Germany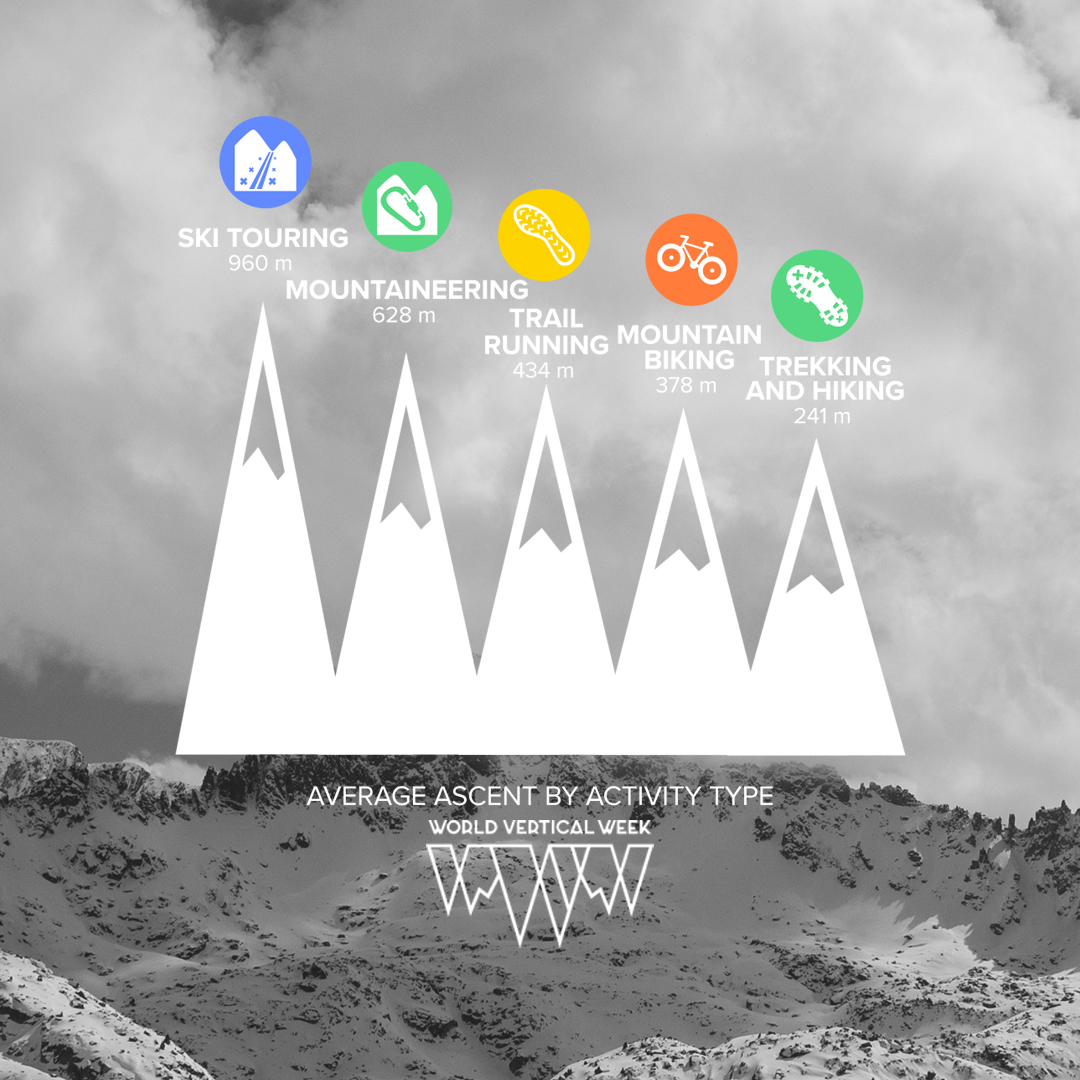 Don't say vertical climb, say skimo
Once again, ski touring looms large as the sport with the most vertical meters clocked: up to 960 m on average per activity. And its companions also repeated on the podium: mountaineering (628 m) and trail running (434 m). The average accumulated climb in each sport increases year after year, but these three disciplines remain top dogs.
Ski touring 960 m
Mountaineering 628 m
Mountain biking 378 m
Trekking and hiking 241 m
Cycling 198 m
Nordic skiing 173 m
Running 92 m
10,000 m... in one week!
Each year, Suunto World Vertical Week generates unique stories of athletes who go above and beyond, surprising and inspiring the entire community. This time, the efforts of nine athletes stands out. Faced with an invitation to tally vertical meters, they managed to accumulate more than 10,000 meters in one week. That's brutal!
In addition, 89 were able to tally 10,000 feet – or 3,500 meters – during a single activity! 1,000 meters of total ascent during an activity was broken 4,240 times during the week. Respect!
Top nations by sport
Italy is multiskilled
The transalpine country is ranked in third place for collecting the most average and overall vertical climb meters, and in addition it leads the mountain biking ranking and is among the top three countries in three more categories: ski touring, mountaineering and cycling. Italy is present in six of the seven classifications by discipline. Bravo!

Ski touring (avg. ascent by country)
Over 1,000 meters on average? Why not? The first four countries in the ranking, Germany, Italy, Switzerland and Austria, are all above the 1000 meter mark this year. The ranking offers surprises and changes compared to 2020, perhaps due to the constraints and limitations arising from the pandemic. Germany deserves special mention; last year it didn't make the top 5 and in 2021 it is on top! Spain, on the other hand, was first in 2020, but has disappeared from the 2021 top 10.
Germany 1076 m
Italy 1050 m
Switzerland 1043.3 m
Austria 1042.9 m
United States 957 m
France 940 m
Slovakia 927 m
Slovenia 926 m
Poland 876 m
Japan 844 m
Trail running (avg. ascent by country)
For years, Japan and Hong Kong have reflected the passion trail running inspires in Asia: they captured the top positions here once again, accompanied this time by Slovenia.
Japan 839 m
Hong Kong 628 m
Slovenia 626 m
Italy 594 m
Norway 502 m
Hungary 486 m
Portugal 485 m
Spain 476 m
Switzerland 472 m
Greece 464 m 
Mountaineering / avg. ascent by country
Switzerland returns to the top five and comes out on top, showing that it is passionate about seeing the world from way up high. It is accompanied by Italy, France, Germany and Austria... forming a classification dominated by Central Europe, the territory of the Alps and high mountains.
Switzerland 1019 m
 Italy 993 m
France 856 m
Germany 755 m
Austria 688 m
Mountain biking (avg. ascent by country)
Italy is synonymous with variety, but according to data from the Suunto World Vertical Week it tallied the most vertical meters of all on two wheels. There are few changes from 2020, with the main one being that Slovenia has entered the top 5.
Italy 547 m
Spain 475 m
Austria 473 m
Slovenia 471 m
Switzerland 440 m
Trekking and hiking (avg. ascent by country)
Thai athletes racked up the most vertical meters in trail running last year. This time, it would seem they have chosen to continue, only at a different pace.
Thailand 567 m
Japan 503 m
Slovenia 411 m
Italy 399 m
Slovakia 396 m
Cycling (avg. ascent by country)
It seems like climbing mountain passes by road bike in Portugal is close to becoming a tradition. The country won top position once again, and Colombia returns to the ranking after last year's absence.
Portugal 432 m
Colombia 383 m
Italy 382 m
Spain 340 m
Greece 271 m
Running (avg. ascent by country)
Traditionally this is one of the closest categories, with just a few meters of difference separating countries. This time Slovenia, which regained the top position that it had back in 2018, has pulled away a little.
Slovenia 196 m
Norway 164 m
Switzerland 150 m
Hungary 143 m
France 129 m
Thank you to everyone for participating in Suunto World Vertical Week 2021. We'll be back with another edition of Vertical Week!
READ ALSO