Accept this challenge from a guy who's travelled the earth.
Staying in one place for long doesn't come naturally to Suunto-supported adventurer Denis Katzer. He's used to being on the move in far flung places, which he's been doing for 30 years, covering 444,000 km by camel, elephant, horse, bicycle, e-bike, on foot, or with local transport. That's the equivalent of traveling around the planet 11 times.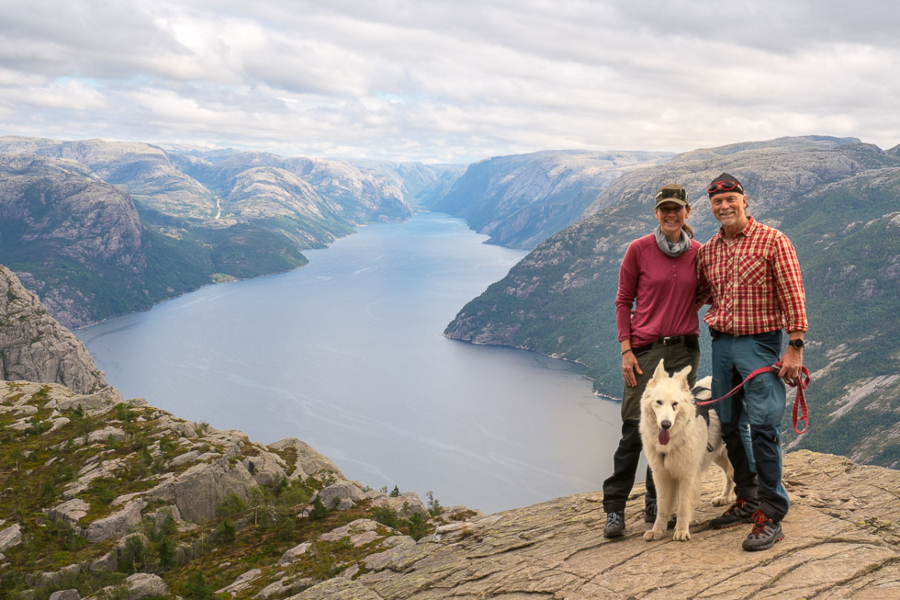 Denis and Tanja on their recent journey in Norway. 
The COVID-19 pandemic might have momentarily slowed down Denis and his partner Tanja, but it hasn't stopped them from continuing what they say is the "longest documented expedition in human history". Moving slowly across continents, through diverse cultures, isn't about sharing pretty pictures on Instagram for them. The motivation is much deeper.
"As ambassadors of our mother earth, it is our goal to build bridges of understanding and acceptance between different cultures and religions with our experiences," Denis says. "We want to be the eyes and ears of today's society, in order to leave humanity a piece of contemporary history, but also tell future generations what state our mother earth is in. That is why we travel by bike, horse, camel, elephant and local transport. A way of traveling that allows and encourages precise and sensitive observation."
Denis and Tanja have just released a new book about their most recent adventures up through Norway to its North Cape. Once the pandemic is behind us, their plan is to continue stage two of their epic e-bike expedition.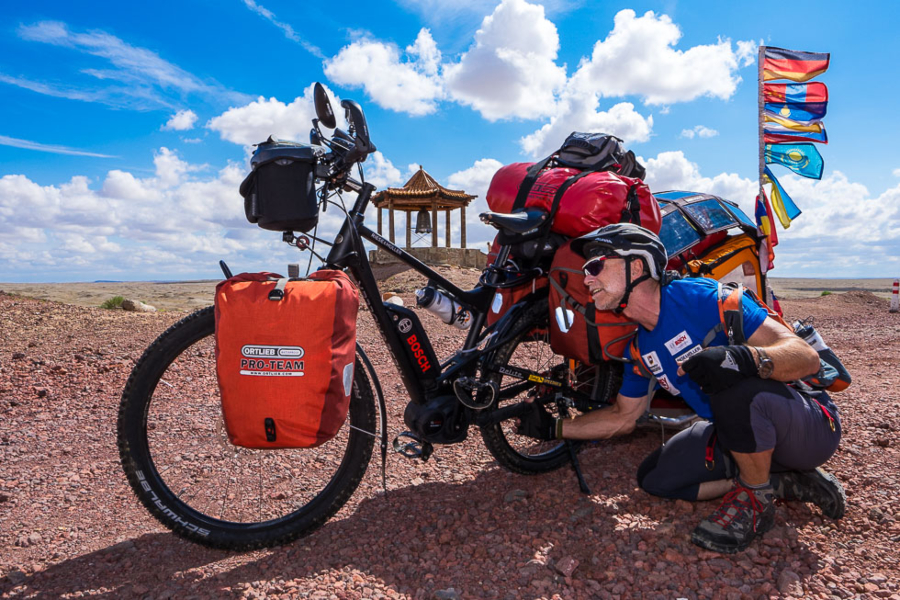 Denis and Tanja took the Trans-Siberian train to Lake Baikal and then cycled 17, 000 km across Siberia, Mongolia, China, Vietnam, Cambodia and Thailand.
Bavarian beginnings

Denis had an unconventional start to life. He lived with his parents in a small wooden forest hut with no electricity, running water or central heating on the edge of a forest. Life was simple, and Denis discovered early he was happiest wandering and climbing trees. Even then he had the spark for adventure.
His father blew on this smouldering ember by sharing his ideas on environmentalism, colonial history and the value of indigenious wisdom. "He was a nature man, and was always for indigenious people and protecting the natural world," Denis says.
Special training

By his own admission Denis wasn't a happy kid. He struggled at school and didn't want to conform to society's expectations. After making up his mind to focus, he eventually aced his school exams and did an apprenticeship.
However, as a sporty and athletic guy, it was when he entered the German army in 1979 that the foundation for a life of adventure really began to get laid. "Since I had graduated with top marks in all areas, I had the choice in which form I wanted to serve in the military," Denis says. "I decided on the special paratrooper unit. Adventure, action and freedom were finally ahead of me."
But it wasn't to last because Denis, a pacifist at heart, realised his training as an elite soldier, and his training of younger soldiers, was incongruent with his deeper values. Staying true to himself he left in 1981.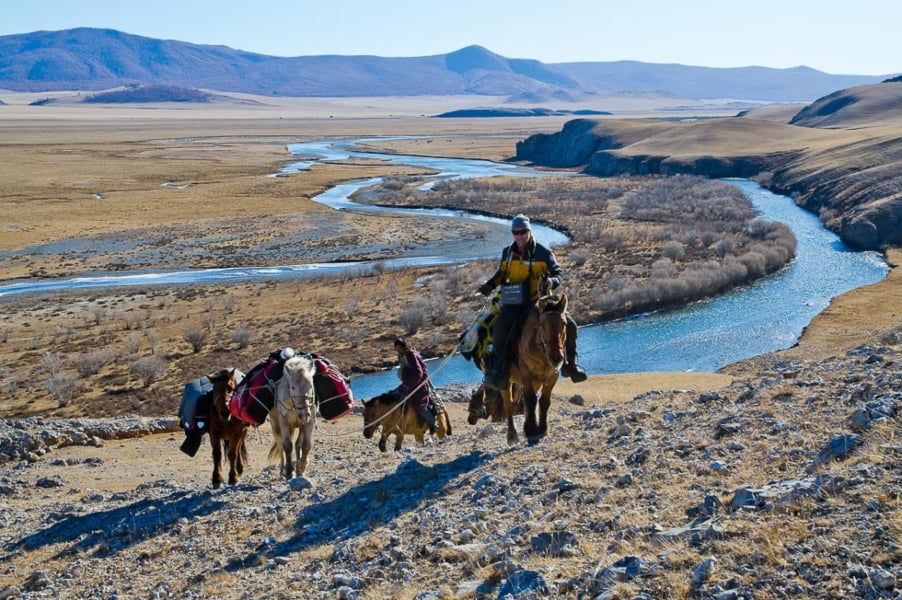 Denis and his friend Bilgee cross steep slopes on a 3000 km horse expedition to northern Mongolia to meet reindeer nomads. 
The expeditions begin

It all began with an unplanned journey into the heart of the jungle. Denis was on a trip to the Galapagos Islands in 1987 and met someone with connections to indigenous people living deep in the Amazon jungle. He had the opportunity to travel there and meet the feared Auka tribe.
"The encounter with the Aukas changed my life and opened my eyes," Denis says. "I came to the conclusion I had to save money to leave my home for a couple of years. I wanted to live with indigenous peoples, get into their world, understand them. I wanted to know what it means to be able to travel without time pressure."
The grand journey

The 40-year slow travel odyssey around the world really began in earnest in 1991, just after the fall of the Berlin Wall and the collapse of the Soviet Union. Starting in Germany, travelling through Austria to Italy, they went by ferry to Greece and Egypt where they had their first encounter with camels and crossed the Sinai desert with them.
"Camels are fantastic, intelligent and persistent pack and riding animals," Denis says. "Also, they are for me a combination of horse and lion. They can be extremely dangerous, but if they are trained with love, they can be your best friend. For me they are the true kings of the desert. Without them we would not have survived many expeditions."
In 1992, they travelled by a smugglers train from Iran to Pakistan, where they again acquired camels and rode them the country, along the border of Afghanistan and through the Peshawar tribal area, at one point escaping gunfire.
Since then, they have travelled through 72 countries, from Germany, through Europe, Central Asia, Asian, through to the Americas. They travelled by camel, horse, elephant, bike, local trains, ferries, and avoiding air travel wherever possible.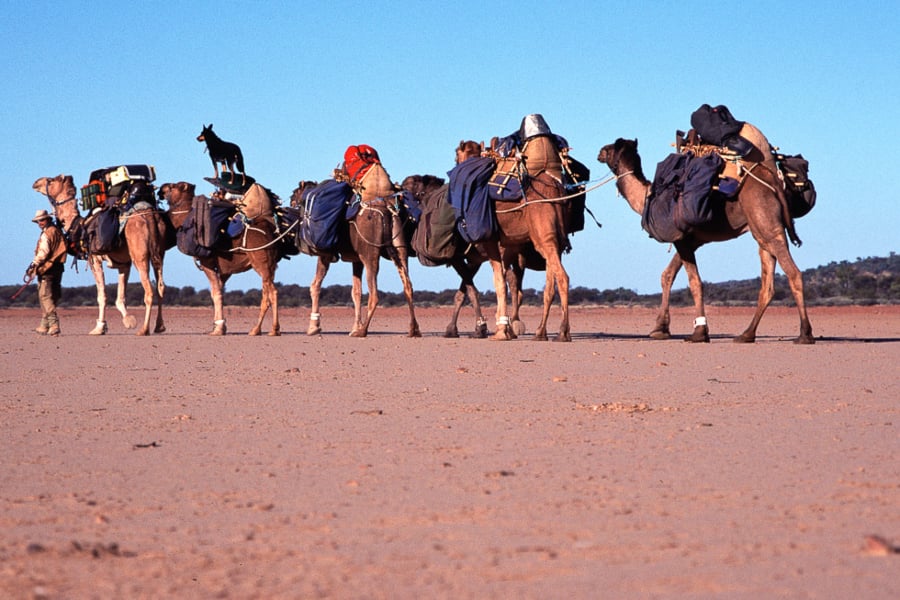 Denis and Tanja travelled 7000 km by foot with a camel caravan across Australia north to south, and west to east. 
Around the world by e-bike

Between 2015 and 2017, they completed the first stage of what they say will be the longest unsupported e-bike expedition in the world. The four stage adventure will take them through South East Asia, down through Malaysia, Indonesia, across to Australia, New Zealand, through the South Pacific and on to South America.
"We obtained the required energy, among other things, from solar panels mounted on wheel trailers and charged a second battery while driving," Denis says. "We decided to use the e-bike as a means of transport because we want to show the world what can be done with alternative energy."
Denis' challenge: go slow & log out

Since Denis' early days of globetrotting adventure, the world has radically changed. Once upon a time, when Denis went on an expedition the only way to communicate with people back home was by post or telephone, when they were available. A three minute phone call could cost $3USD.
Now, with the internet, smartphones and social media, Denis says the experience of solitude, of being alone on an adventure, is almost unheard of. We are always connected. This, along with cheap air travel, has resulted in a hyper connected, fast travel world.
Denis' challenge to adventure lovers is to go against the stream, and to disconnect and slow down whenever possible. Mother earth is in decline, he says, and when we slow down and disconnect from all of our devices we will be better able to pay attention to what really matters.
"Slow travel for me means to enter the depth of a country," Denis says. "Those who travel slowly, look more, hear more, smell more, live more intensely and feel more and for longer."
All images: © Denis Katzer