These 3 tips and our pick of training services will keep your training on track.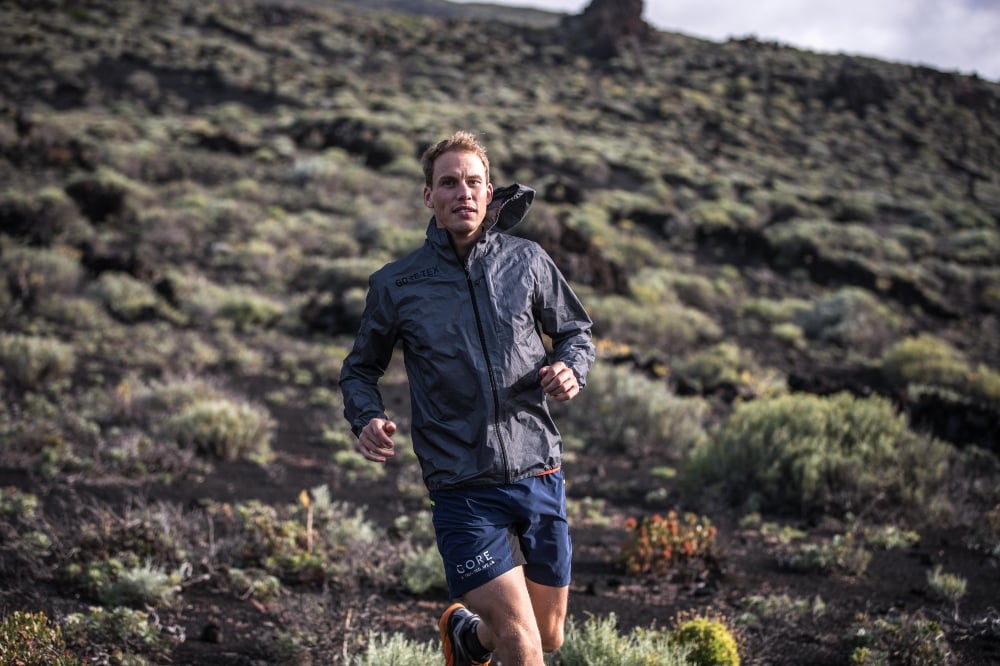 Michael Arend coaches ultra and marathon runners, as well as triathletes and ski mountaineers.
With much of the human population currently confined to their homes because of the coronavirus, our online connections have become vastly more important. Everything from meeting with friends and family, to yoga and exercise classes, and faith group meetings, all the way to dance parties have moved online.
For runners, triathletes and cyclists meeting a coach face-to-face is no longer allowed or advisable. But working with a coach online and managing your training via one of the many digital platforms now available can keep your training on track.
We talked to professional endurance coach Michael Arend, a former officer in the German Mountain Army, semi pro runner and host of Germany's most popular running podcast, Fat Boys Run, and asked how to work with a coach online.
We also did a stocktake of all the awesome online coaching services Suunto partners with and have provided a list below. And check out the Suunto Value Pack to see the additional benefits provided to Suunto watch owners by these partners.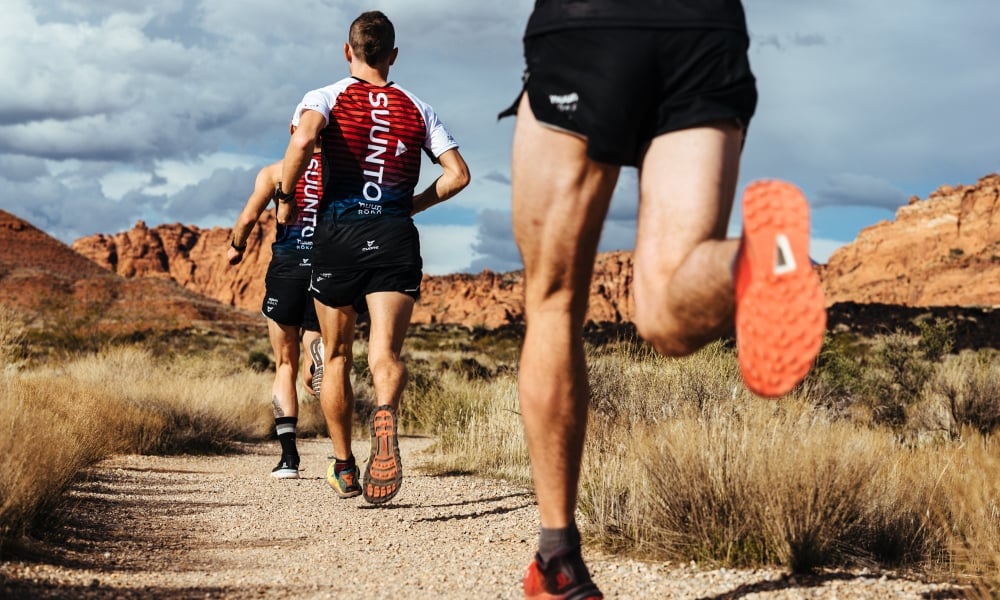 Find a a coach now
Michael says now is a good time to work with a coach because things are so uncertain and many of our plans are out the window. A good coach can help steady the ship and adapt your training so you still reach your goals.
"Some athletes need help to stay optimistic and to prepare for the races in autumn," he says. "Others need creative suggestions on how to arrange the training. Working with a coach online can help with long term planning, macro planning and how to rearrange the goals. In times of uncertainty a coach can provide a lot of experience and I think that's the greatest demand in this time."
Here are his three tips for a successful coach-athlete relationship!
Trust is a must
It's difficult to trust someone you've never met in person, right? Michael says this is the one con of working with a coach online. "Online coaching has a lot of pros, but one big con is establishing trust," he says. "That's the most important thing. Of course a coach has to know his or her physiology and science, and should have proven experience and the soft skills, but if the athlete is suspicious from the start on, it is hard to work together."
The upshot? Make sure you choose a coach you definitely trust. That way you can let him or her lead the way without doubting or questioning his or her suggestions.
"Try to trust your coach at least for a fews months," Michael says. "Even if you think you know better, that's rarely the case."
Honesty first
For a coach to help you he or she needs to know where you are really at with your training and how things are going for you. Don't hide where you are at from you coach. You'll only cheat yourself.
"First of all, be honest," Michael says. "Of course I cannot speak for every coach, but for my coaches I can definitely say that they all want to help the athlete inact in their dreams. There are a lot of topics which are not enjoyable to discuss, but your coach should know about your stress at home and about your digestion problems."
Eye level and informed
You don't want to have a coach who calls all the shots with little concern for your input, or a coach who gives into your whims and excuses.
"It has to be a relationship at eye level," Michael says. "Your coach should be able to tell you the meaning and goals of your training and of every workout, without using stock standard phrases. He should use your experience and let you participate in his or her decisions. In addition to our regular conversations, we send an analysis video to our clients once a month in which we explain the progress and justify our decisions. That is very important."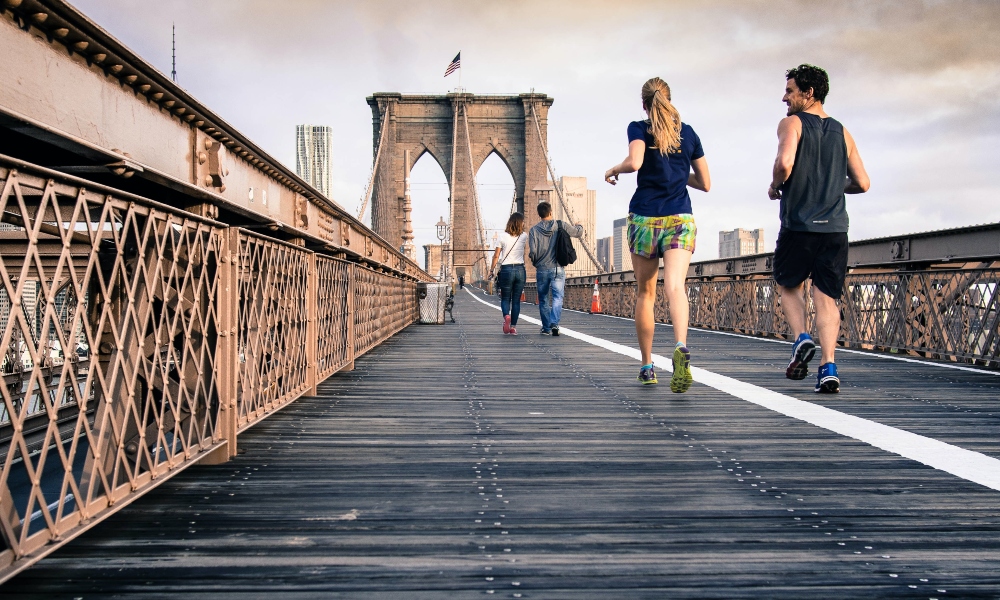 Photo by Curtis MacNewton on Unsplash


Digital training services and apps
You're still looking for a coach and training service and now need to pick a service to help you hold and analyze your workouts? Read on – we've put together some options for you.
There are various online apps and services that you can use with your Suunto watch. Many of these help to match you with a coach and allow your coach to monitor your workouts and keep you on track. The services have different pricing models, and different benefits because some are focused on different sports. The Suunto Value Pack offers Suunto watch owners additional benefits and special deals.
TrainingPeaks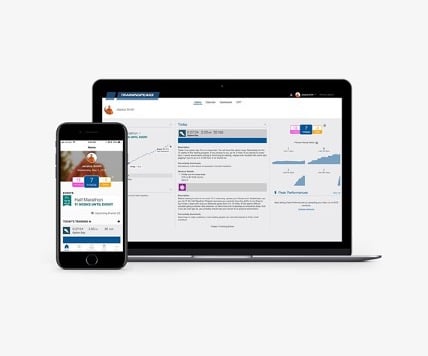 TrainingPeaks is probably the most well known coaching platform for endurance training in the world, especially among the cyclists and triathletes. TrainingPeaks provides in-depth training analysis tools, the possibility to buy training programs and be connected with your coach via the platform.
It gives you analysis and overview tools with parameters, such as training stress score (TSS). If you don't have a coach, there is a coach matching service where you can try to get a coach that fits your needs. Coaches can monitor several athletes via Trainingpeaks and also sell their training programs for athletes who don't need one to one coaching.
Pricing:
Limited free version
Premium account: 9.92€/month
Coach's account: basic, $19USD/month; unlimited, $49USD/month
Trainingpeaks here.
Today's Plan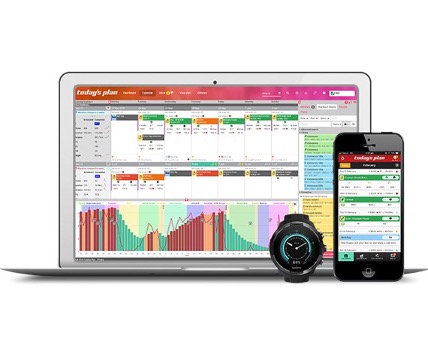 Today's Plan is an online training and analytics platform suitable for coaches and athletes from beginners, self-trained enthusiasts or fully coached professional athletes. The platform has been gaining popularity in the cycling and triathlon communities.
The system includes a range of powerful online training tools that allows athletes to enjoy the quantifiable benefits of structured training. You can also choose to use the training plans generated by the platform.
Today's Plan offers free tools for coaches. They can also create their own branded coaching site on the platform.
Pricing:
I train myself: 16.00€/month
I have a coach or structure my own training: 11.00€/month
More about Today's Plan here.
PKRS.AI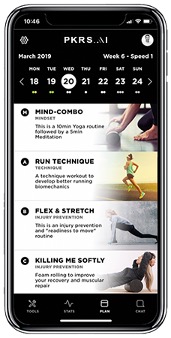 PKRS.AI provides 24/7 coaching for its members. Built by Olympic Gold medalists, world champions and their coaches, PKRS.AI is the perfect marriage of A.I. technology with a human touch.
When you start using PKRS, you will be matched with a coaching team based on your preferences. PKRS then builds a personal training plan based on your goals and the time you have to train. There are real coaches that follow your training and your plan will adapt based on your actions. PRKS.AI also provides a video library for strength training as well daily stats from your lifestyle.
Pricing: 90€/month
More about PKRS.AI here.
Staminity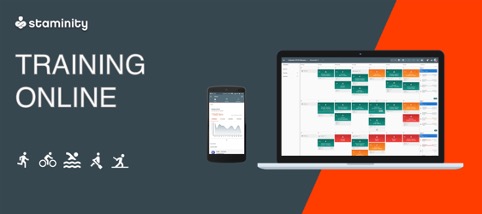 Staminity is a professional service for online training in cycling sports and most popular in Russia. It's made for athletes, coaches and clubs. For athletes, Staminity helps to find a coach or get the best training plan to reach your goals. For coaches, Staminity provides the planning and analysis tools. For teams, Staminity provides coaching and athlete management. Staminity provides in-depth analysis tools, workouts summaries, training plans and templates, and the ability to manage other activities such as sickness or diet.
Pricing:
Athletes Basic: free. Premium: 5€/month
Coaches: 5€/month
Clubs: 5€/month
More about Staminity here.
PWRlab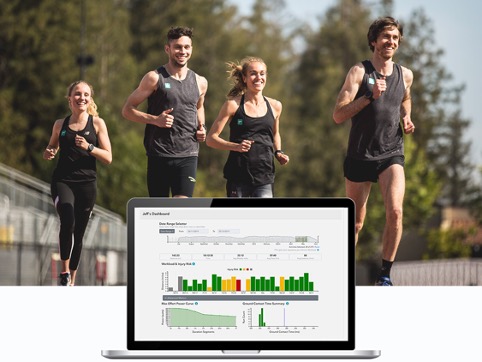 PWRlab is designed for runners and provides insights into how much training load they are getting from their daily workouts.
PRWlab provides coaches with the ability to monitor the runner's resilience, and to identify if they are over or under training. This can be also used to determine if the athlete has a greater risk of injury. PWRlab uses easy to understand traffic lights to illustrate the risk of injury; this is based on training load and stride characteristics.
Pricing: $15.99USD/month
More about PWRlab here.
SportTracks
SportTracks is a complete solution for planning, tracking, analyzing, and sharing your workouts and other fitness performance data. It's particularly popular among cyclists, runners and triathletes.
Coaches can use it for free as long as their clients have the unlimited version of SportTracks. They also have the option to pay a monthly fee and switch this between athletes. For example, a coach subscription for five athletes would cost $39USD/month.
Pricing: $59USD/year
More about SportsTracks here.
Coach4Pro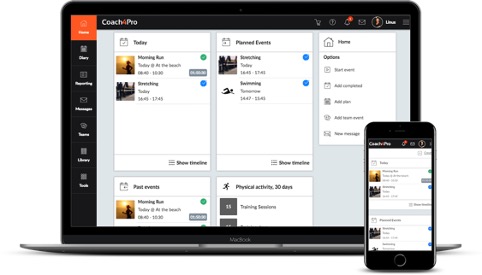 Coach4Pro is a customizable platform for coaches and well-being professionals. It's designed to help coaches run their business, and can also be used with corporate wellness programs and to manage a team of athletes. For coaches the platform has training planner tools, integrated messaging between the coach and athlete, and content libraries to share with clients.
Pricing: The pricing is based on the number of athletes the coach is managing. Each athlete costs 0.33€/day+VAT so four athletes would cost 48€/month.
More about Coach4Pro here.
XHALE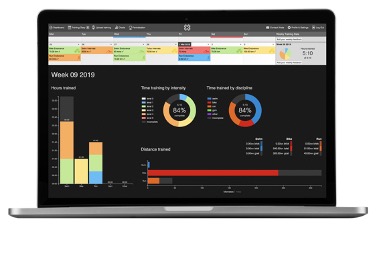 Xhale is a specialized triathlon coaching platform. It's training diary simplifies tracking, planning and connecting the training to the overall plan. It helps athletes to plan their week, stay consistent and build motivation. With Xhale you and your coach analyse workouts, create new splits, overlay and compare laps and sessions as you progress towards your training goals.
Pricing: The pricing is based on the number of athletes a coach has. For up to 10 athletes it costs 5.99€/ per athlete/month.
More about Xhale here.
RunningCoach
RunningCoach is an online training platform designed for runners. The toolset provides runners with a dynamic training plan and various parameters to calculate and shape your personal training plan. The platform also offers coaches to support you.
Pricing:
Freemium version
Bronze: 10€/month; Silver: 15€/month; Gold: 69€/month
More about RunningCoach here.
Go-Heja
Go-Heja provides a full club and athlete management service. For clubs, Go-Heja provides athlete management system with sports, communication, payments and your own club store. For coaches Go-Heja provides planning, athlete training analysis, monitoring and direct communication tools. And for athletes the Go-Heja platform can be used with or without a coach for training planning and analysis.
Pricing:
$1.5USD per athlete, per month.
More about Go-Heja here.
To get connected with these services first register with the one below that fits your needs, and connect it with the Suunto app. Once you select Suunto, you will be asked to authorize the tool's access to the data stored by your watch and Suunto App. Do this by giving the Suunto app your username and password. From then on all your workouts will automatically sync with your chosen coaching platform. You can connect to several tools and find your data in each one. Your data will also remain in Suunto App.
Read more articles