Just in case last week's piece about diving with Stellar Sea Lions wasn't enough to make you go 'awwww!', we're back with this week with even more adorable aquatic animals: in this case, the Hector's Dolphins and Maui's Dolphins – found only in New Zealand, and more importantly, one of the world's smallest and most endangered cetacean. Just like world champion freediver Will Trubridge , they're native to New Zealand – so he finds it a fitting mission to help raise awareness to protect their habitat.
How did you get involved?
It's actually a bit of a quirky story – I became involved in the effort's to save the Hector and Maui dolphins during the attempt to be the first man to free dive 100m in free diving. We called it Project Hector because 100m is a 'hectometer' – and to raise awareness of what's happening to Hector's Dolphins. We did the project, and it was a huge success, but my dedication to the cause didn't end – so I've kept on campaigning.
How endangered are they?
Extremely. There's only about 7,500 left worldwide – down from a population of 29,000 in the seventies. The Maui's Dolphin sub-species of Hector's Dolphins is thought to have only about 50 left in the population.
You've only had one chance to swim with them…
I've swum with other dolphins in the wild many times – where I live in the Bahamas, you see the Atlantic Spotted Dolphins, and Bottle-nosed Dolphins as well. But the swim with the Hector's Dolphins was a really magical experience. It was in early 2011 when I was in New Zealand, and went to a place close to Christchurch – only a short encounter. Five or ten minutes. But even that was something I'll never forget. They're the 'Mickey Mouse' of the cetaceans – the dorsal fin is shaped like Mickey's ear. They're all soft curves with colored shapes, gray and white, all over the body.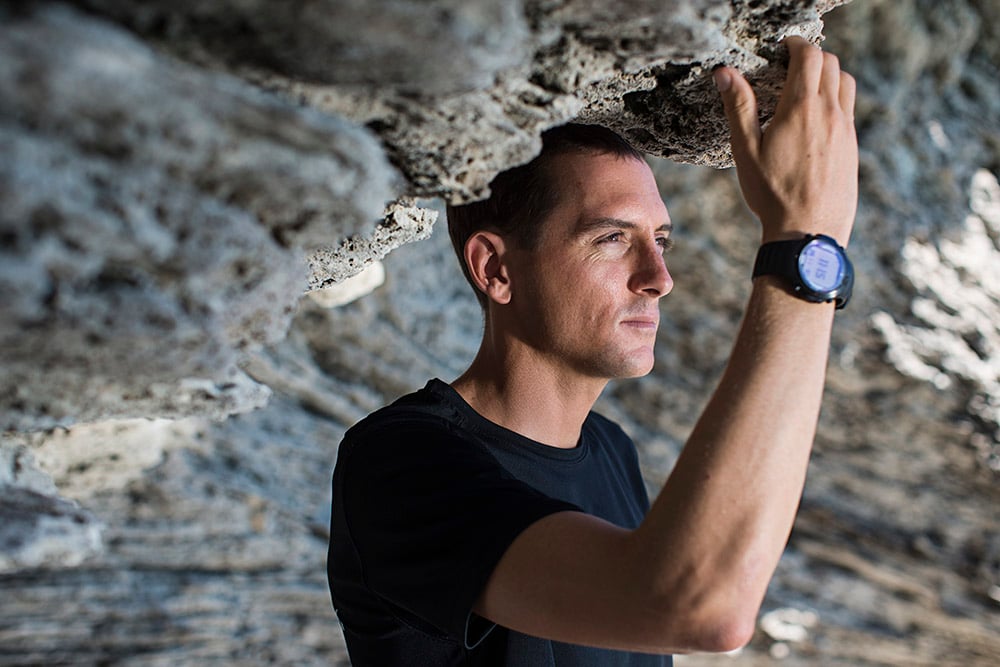 World champion freediver Will Trubridge wants to raise awareness to protect the endangered Hector's Dolphins.
It's much different to swim with a dolphin than any other marine life, no?
Or even terrestrial life. Alongside them, watching them and watching you, it's very apparent from just the look in their eyes that they are aware of you, studying you, curious about you. It's a look you don't get from other animals even cats and dogs. Maybe some monkeys. They're very present, very aware creatures. Being alongside that and encountering that is a very incredible experience.
Any other marine life you've bumped into down below?
All the interactions I've had with big marine life were dolphins, sharks and manta rays. I've never actually swum with whales yet, never had the opportunity! That's something I'd like to do. I've been in the water when humpbacks were close, just haven't spotted one. In my childhood was with a dubong – it's like a manatee – in Vanuatu. We didn't know about him, although he was quite famous – the locals had been feeding it for years, and it was living all alone in the harbor. We jumped in to go snorkeling, we almost got blown out of the water by a bus-sized hunk of flesh trying to mate with anything it found. As a kid that was quite intimidating!
How can we help the fight to save them?
The organization NABU is leading the fight to save the Hector's Dolphin – the goal is a complete ban on trawling or gill nets in their habitats. But we are up against a very stubborn and short-sighted government. You can learn more at hectorsdolphins.com
Diving offers a unique chance for humans to observe marine animals in their native environment. Stay tuned to for even more incredible stories of divers and the denizens of the deep sharing space beneath the surface of the sea!
What is your favourite marine animal and why?
Share your story on Instagram by April 23 and tag your post with #suuntodive
The three most inspiring posts will win easy-to-use, nitrox-capable, large-displayed Suunto Zoop Novo dive computers. For the terms and conditions click here