World record breaker, commercial diver and Suunto tester Johan de With has countless hours of all types of diving under his weight belt and now his work in the field aims to improve your diving experience.
Well known now for his higher-level training of professional and technical divers, along with a wealth of experience Johan began life in Netherlands and completed his first dive in Tunisia with CMAS in 1996.
Immediately impressed he purchased all his own equipment and rose to instructor level in a short time. He concentrated on specialising so he could broaden his knowledge which is where Johan developed his passion. After divng on the wrecks in the North Sea he found his calling and continued training in wreck diving and Trimix so he could explore deeper sites that hadn't had their treasures pillaged like the wrecks at shallower depths.
"At greater depths I found the wrecks were more intact. I am talking about wrecks 80 meters and these wrecks are less exposed and also in better condition because they are not so exposed as those at shallower depths."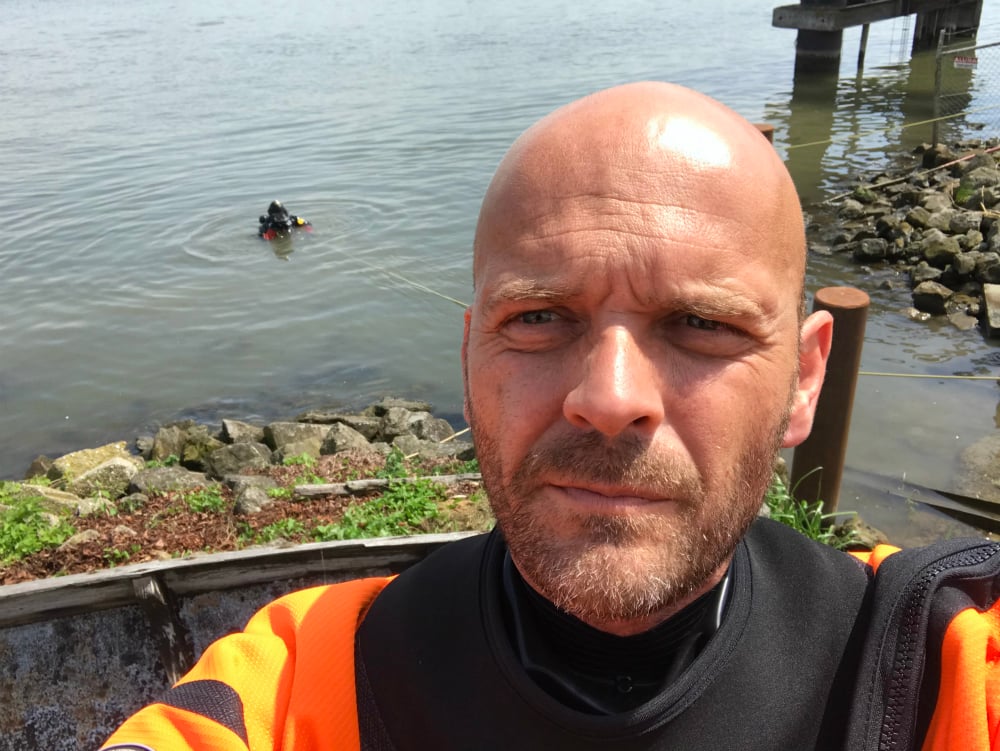 Johan de With selfie.
To help him explore even more depth, his dive training led him onto rebreathers. He realised the limitation of many of his open circuit dives was the number of cylinders he could carry it seemed only natural for him to transition from open circuit.
"In 2015, together with Markku Diedrich, I dived a world record mixed team in Lake Thun, Switzerland (fresh, cold water) I was on OC and Markku on CCR where we travelled to a depth of 166.5m."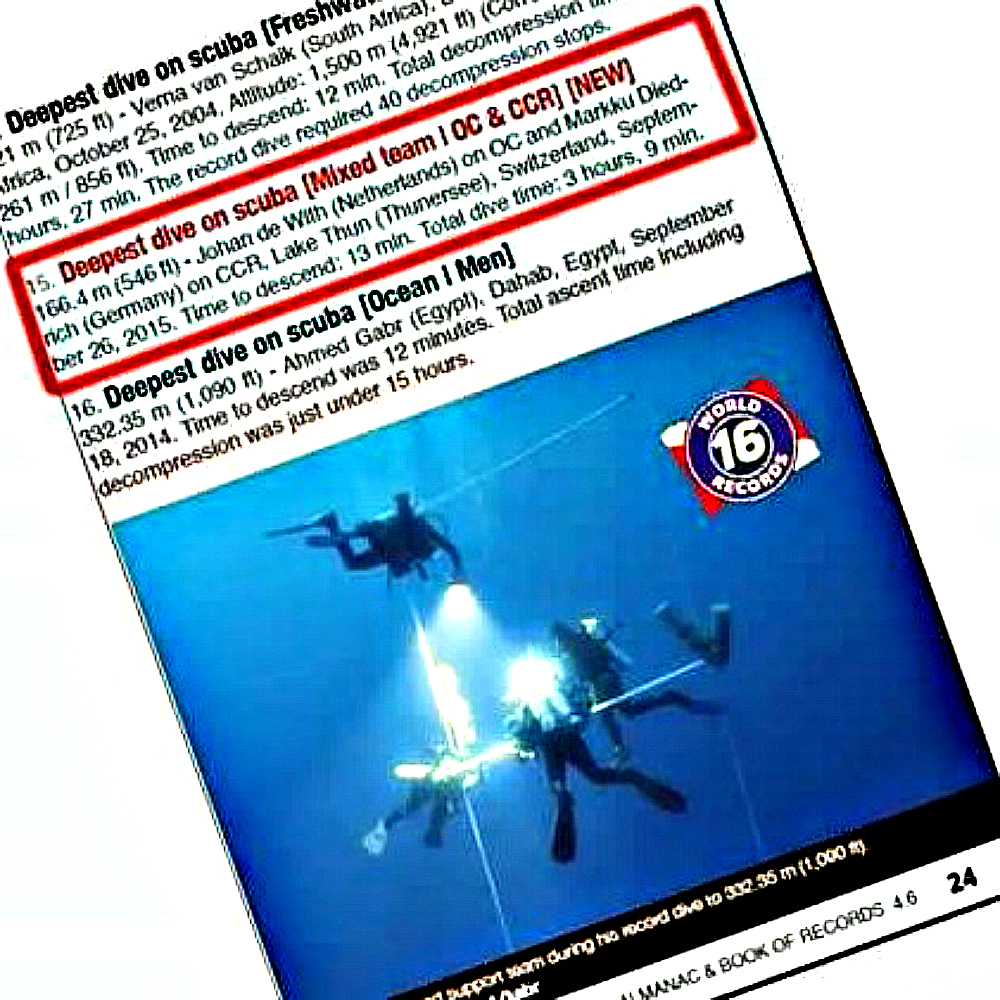 Recording of the team's deepest dive in a book of records.
Johan's deep accolades do not end there.
"On the rebreather I dived into caves to a depth of 14m.
On open system in the caves up to 103m.
On the rebreather in open water up to 183m.
Open water on open system 166.4m."
Johan now works as commercial diver and an instructor at the only private institute of commercial professinoal diving in the Netherlands. He also teaches deep technical diving and has his own gas filling station, Techduikschool Nederlands.
An important part of his diving is communicating information to the dedicated team of Dive Engineers at Suunto HQ as he puts computers to the test in the field and ensures they meet strict performance targets.
The infomation Johan feeds back allows the engineers to improve and fine tune devices allowing for the best user experience and in turn lets divers focus on the action and rely on their rohbust companions in the toughest conditions.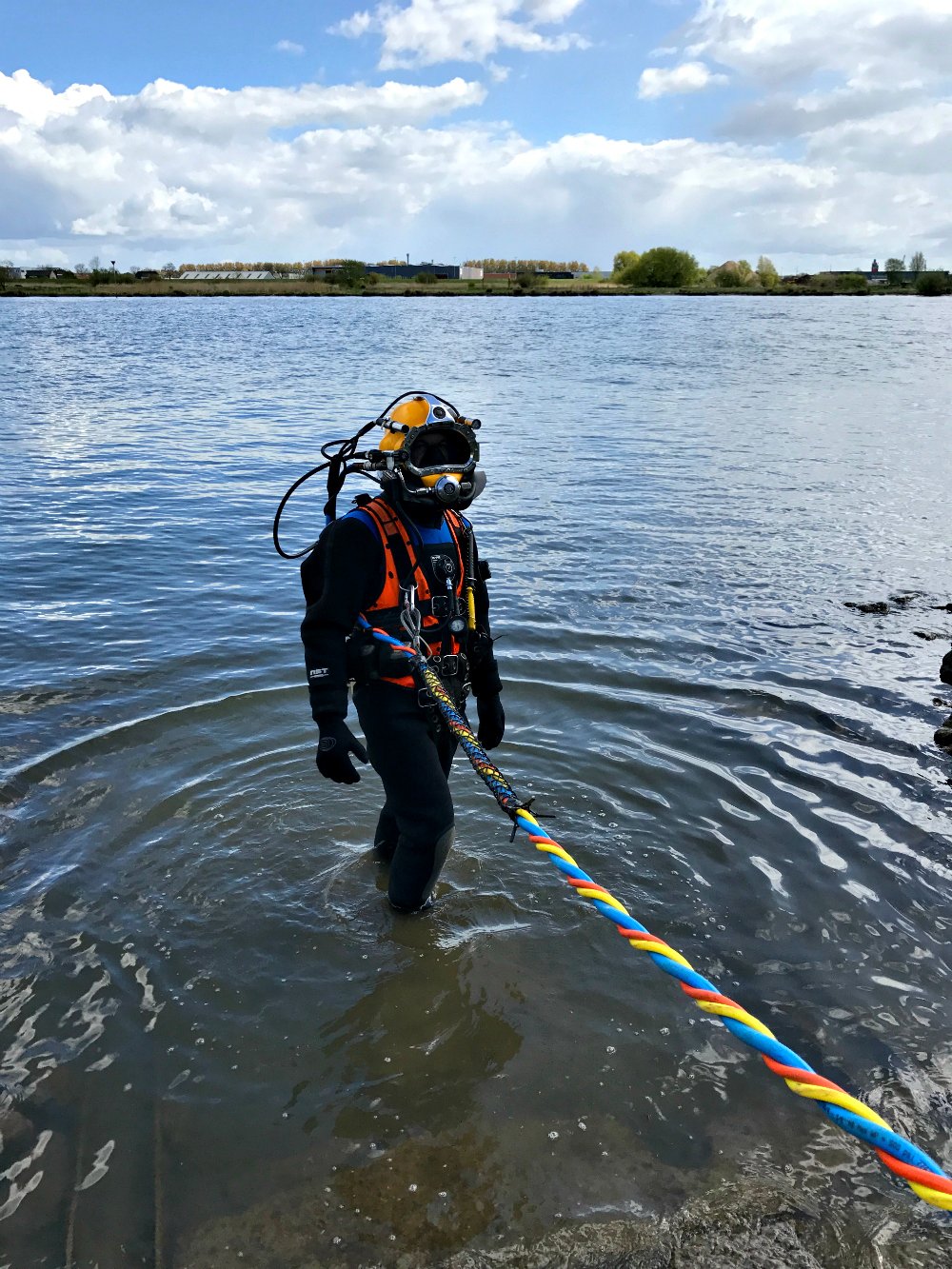 In action training professional divers in the Netherlands.
"I dive and test a lot for Suunto and share as much information as possible and give feedback about these computers both positively and negatively. I currently dive with the EON Steel and the EON Core and with the also since its release, the Suunto D5.
I use this during all my dives both OC in open water and caves and CCR in open water and in caves. As a backup I have my bottom timers with wet-note, and a spare computer in my pocket.
Everywhere and always, even with commercial diving I take the Suunto D5 into the water. I do this so that I also have a digital log of all my commercial dives."
Suunto Dive computers stand the test of these extreme adventures alongside Johan.
Johan is not just an Ambassador for Suunto Dive, he represents brands incuding Ursuit and Bare drysuits, Tecline, Ammonite for lighting and Paralenz to capture the action on camera also with great satisfaction and pride.
"Regardless of environment depth or length of the dive or type of dive OC or CCR, technical diving must be feasible for everyone regardless of their financial status. These are brands that certainly think of the customer with price quality. I notice these companies listen and do a lot with the feedback given by us as Brand Ambassadors and testers of these materials."
Jyri Vehmaskoski, Suunto EON Steel product team: "You don't dive if you don't trust your equipment. Everything we build is tested by real-world divers like us. Our gear is functional, accurate, and built to take a beating – and has hundreds of test dives to prove it."
Learn more about Suunto Dive products at suunto.com