Suunto introduces today a Special Edition of the Suunto Spartan family. The Suunto Spartan Ultra Copper is a premium multisport GPS watch with a classic, urban look. The Spartan Ultra Copper delivers the same, growing set of training and outdoor features as its predecessors introduced earlier this summer, but features a stylish copper-plated titanium5 grade bezel with matching copper-plated stainless steel pushers and buckle, creating an elegant presentation whether you are at work or sweating it out in your next race.
Suunto Spartan Ultra – the GPS watch for athletic and adventure multisport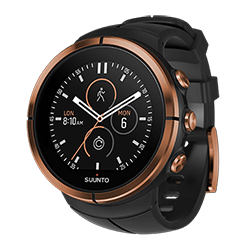 Suunto Spartan Ultra watches are hand-made in Finland and built to last in any conditions. Water resistant to 100 meters, the watches sport an extremely durable color touch screen with a wide viewing angle and great visibility in bright sunlight.
For demanding adventures, Suunto Spartan Ultra offers guided route navigation, barometric altitude with FusedAlti™, a digital compass, as well as a battery life up to 26 hours with good GPS accuracy.
Sports expertise and training insights
The Suunto Spartan Ultra is a true multisport watch. With 80 pre-defined sport modes, GPS, FusedSpeed™, heart rate measurement and built-in accelerometer, you can track your training and get valuable insights on your progress, both on the watch and through Suunto Movescount. For popular sports like running and cycling, dedicated sport modes such as interval running and treadmill are also available.
New peer-to-peer coaching platform and growing solution
You can now invite your coach to access your Suunto Movescount training diary to see all your training history and insights. Based on this information, the coach can give you online advice and create training plans for you to use.
The Suunto Spartan solution and Suunto Movescount continues to add new features and improvements over the coming months. Check the latest update news at www.suunto.com/spartangetsstronger.
The Suunto Spartan Ultra Copper Special Edition will be available at select retail stores and from the Suunto webshop, starting from October 4th with or without the Suunto Smart Sensor for heart rate monitoring. The RRP price of the Spartan Ultra Copper Special Edition is 869€ with a HR sensor.
Read more about the Suunto Spartan Ultra Copper Special Edition at www.suunto.com/spartanultracopper.