Suunto Core Ultimate Black and new Suunto Core Crush colors spice up your adventures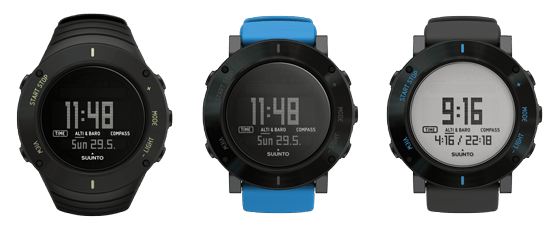 The renowned Suunto Core Classic series gains a new member with Suunto Core Ultimate Black. Its black steel top ring breathes durability while the streamlined design brings out the key functionalities. Fluorescent bezel graphics illuminate in the dark, making the watch even more versatile in tough conditions.
Comments Ewa Pulkkinen, Product Manager for Suunto Core: "The inspiration for the new Core Ultimate Black draws from the original Core All Black, which has been one of our most sought after watches since its introduction in 2007. The new rugged steel bezel construction of the Ultimate Black features diamond-like carbon coating, reinforcing Core's legacy as the outdoor watch."
The Suunto Core Crush line-up will be joined by two new variants – Blue and Graphite. Both have a coated steel bezel for increased robustness and an elegant look. The contemporary colored straps are a statement of your style and blend well both with colorful outdoor apparel and as well as more subtle every day wear. Users can choose between the negative display of the Graphite Crush and the positive display of the Blue Crush.
The award-winning Suunto Core packs all the essential features you need for the great outdoors. Keep an eye on the weather with its barometer, see how much you have left to the summit with the altimeter, or use the compass to quickly orientate yourself in the backcountry. The Suunto Core also features a depth meter for snorkeling.