We want to provide a holistic user experience by partnering with the world's leading sports services.
Today, Suunto deepens its partnership with Strava, the social network for athletes. Strava has been a key partner for Suunto since 2014 and today the number of athletes connecting to Strava is growing faster than ever before. We are thrilled to announce the integration between the Suunto app, our digital service of the future, and Strava.
All Suunto watches now compatible with Strava
The Suunto app was launched in early 2018 as the companion for Suunto 3 Fitness. It is now the digital solution for our new flagship watch, Suunto 9, as well as Suunto Spartan watches. Suunto app integration with Strava will ensure that our community can share their activities automatically with Strava and can receive the additional benefits of the service, including kudos, segments and Summit features. All other connected watches of Suunto are also compatible with Strava via Suunto's Movescount service.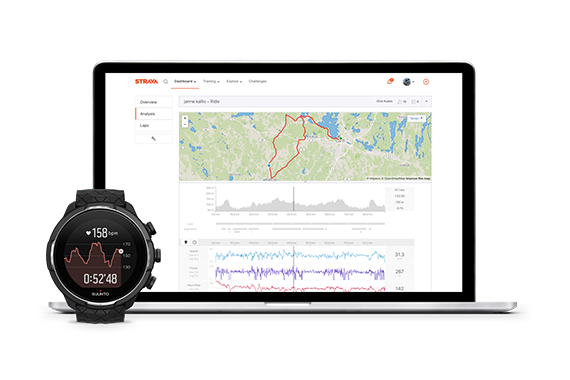 As part of our customer-centric strategy, we want to be compatible with all the leading sports service providers to bring the best-in-class solutions and insights to our customers. The partnership with Strava is also an important action in growing the digital ecosystem of Suunto.
Common values and commercial benefits
Suunto and Strava users share the same passion towards goal-oriented training and sports, especially running and cycling. Together we can provide the best tools for analyzing and measuring the activities to enhance the user experience for our like-minded users. By providing the compatibility with Strava for all Suunto watches, we answer our consumers' needs.
"We want to provide our consumers the best possible solution. By providing the compatibility with the whole Suunto product range is one of our key steps in growing our connected ecosystem", said Janne Kallio, Senior Product Manager of Suunto.
"Suunto has long been a valued partner for Strava and the Suunto presence has rapidly grown in our
community. We're thrilled that all Suunto devices will now be able to connect to Strava through the Suunto app to make the Strava experience available to even more Suunto athletes," said Mateo Ortgea, Director of Integration at Strava.
The collaboration also includes commercial benefits with great value. The users, who connect their new Suunto watch with Strava for the first time via Suunto app, get a 60-days free trial of the Strava Summit All Access membership, while Strava will be soon offering Suunto benefits to their Summit members.
Collaboration as part of the Suunto's growing digital ecosystem
Strava integration plays an important role in the growth of Suunto's digital ecosystem strategy. As part of our customer centric approach, we want to be compatible with the world's leading digital services to provide our users a holistic experience with best-in-class tools and solutions.
In addition, we want to give opportunity for all the digital services to connect with the engaged sports enthusiasts of Suunto. Our aim is to grow the amount of the compatible services from the current 200+ in the future, by opening our API for new potential partners.
We are also providing collaboration and marketing possibilities for the potential partner companies e.g. by offering the Movesense sensor platform for open development of movement based solutions and services.
For more information:
www.suunto.com/Strava
www.suunto.com/suuntoapp
www.strava.com