Declinatiewaarde instellen
Om te zorgen dat u juiste kompasuitlezingen krijgt, moet u de juiste declinatiewaarde instellen.
Papieren kaarten wijzen naar het geografische noorden. Kompassen wijzen echter naar het magnetische noorden, een gebied boven de aarde waarheen de magnetische velden van de aardbol hun kracht uitoefenen. Omdat het magnetische noorden en het echte noorden zich niet op dezelfde locatie bevinden, moet u de declinatie op uw kompas instellen. De hoek tussen het magnetische en echte noorden is uw declinatie.
De declinatiewaarde wordt weergegeven op de meeste kaarten. De locatie van het magnetische noorden verandert jaarlijks. De nauwkeurigste en meest recente declinatiewaarde kunt u op internet vinden (bijvoorbeeld op www.magnetic-declination.com).
Oriëntatiekaarten worden echter ten opzichte van het magnetische noorden getekend. Wanneer u dus oriëntatiekaarten gebruikt, moet u de declinatiecorrectie uitschakelen door de declinatiewaarde in te stellen op 0 graden.
Hoe de declinatiewaarde in te stellen:
Houd
ingedrukt om het optiemenu te openen.
Druk op

algemeen

te openen.
om
Blader naar

Kompas

met en selecteer met .
Blader verder naar

Declinatie

met en selecteer met .
Schakel de declinatie uit door

–

te selecteren, of selecteer

W

(west) or

O

(oost).
Stel de declinatiewaarde in met
of .
Druk op
om de instelling te accepteren.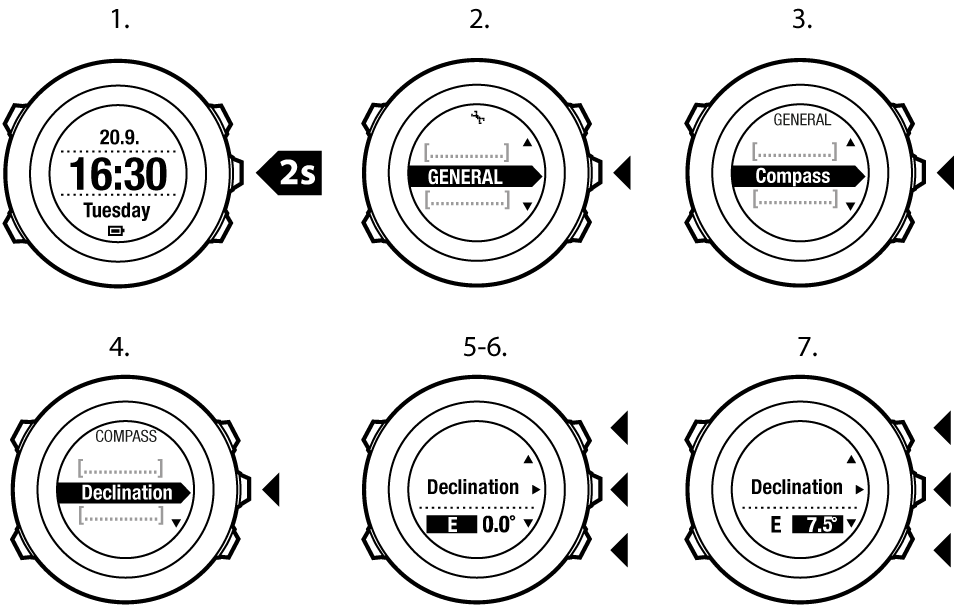 TIP:
U kunt ook de kompasinstellingen invoeren door View ingedrukt te houden in de Kompas modus.