Terugvinden
Door de middelste knop in te drukken komt u in het scherm 'Terugvinden'. Met de functie Terugvinden kunt u aanwijzingen en afstanden krijgen vanaf een Point of Interest of uw thuislocatie.
Zowel GPS als het digitaal kompas worden gebruikt voor het Terugvinden. Indien u het kompas nog niet eerder hebt gebruikt, dient u dit eerst te kalibreren voordat het navigatiescherm verschijnt.
U kunt naar uw thuislocatie navigeren (indien u dit hebt ingesteld, zie Home-locatie) of naar een Point of Interest dat u heeft gebaseerd op de huidige locatie.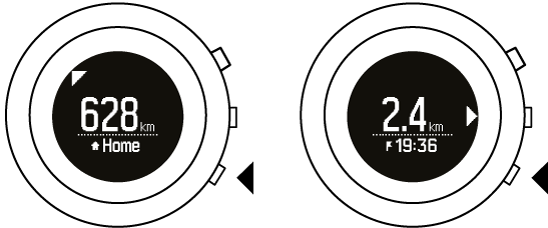 Druk op de onderste knop om de weergave van het Point of Interest of het kompas te bekijken.
Point of interest (POI)
Suunto Kailashkan twee Points of Interest (POIs) opslaan. De een is uw thuislocatie en de andere is een POI die u op elk moment kunt opslaan en gebaseerd is op uw huidige locatie.
Om een POI op te slaan, zoals b.v. een hotel in een stad dat u voor de eerste keer bezoekt:
Druk op de middelste knop om naar het navigatiescherm te gaan.
Wanneer u bij de locatie komt die u als POI wilt opslaan, drukt u op de 7R-knop.
Wacht tot het horloge het GPS-signaal heeft gevonden en bevestig dat de locatie is opgeslagen.
Het tijdstip van opslaan voor de POI wordt naast het POI-pictogram in het navigatiescherm getoond.