The Suunto EON Steel dive computer owners will have added value from new features introduced in the software version 1.3. The update will bring the following new features and functionalities;
MOBILE CONNECTIVITY WITH SUUNTO MOVESCOUNT
With the Suunto Movescount App, you can wirelessly transfer your dive logs from Suunto EON Steel to Suunto Movescount where you can collect and share your diving adventures, building an all-inclusive dive history. In Movescount you can also enrich your dive logs and other sports activities with stories, photos and videos.
Once you have paired your EON Steel with the Movescount App, your dive logs are automatically transferred to Movescount (via Bluetooth). The Suunto Movescount App is available for iPhone and Android.
NOTE: Log transfer to Movescount requires an internet connection over Wi-Fi or cellular. Carrier data fees may apply.
MODIFYING GASES DURING DIVE
In emergencies, divers using multiple gas mixtures can now modify gases during the dive. For example, you might lose a gas mixture and can now adjust to the situation by deleting that gas mixture from the gas list on your Suunto EON Steel. This allows you to continue the dive and get correct decompression information on your dive computer.
In another case, if you run out of gas and need to use a gas mixture from your dive buddy, it is possible to adapt Suunto EON Steel to the situation by adding the new gas mixture to the list. Suunto EON Steel re-calculates decompression and shows you the correct information.
This feature is not enabled by default – it must be activated and creates an additional step in the gas menu during the dive. It is only available if multiple gases are selected for the dive mode.
BATTERY LIFE IMPROVEMENT WHEN DEVICE IS NOT USED
Deep sleep is a new function that lengthens battery life when Suunto EON Steel has not been used for a while. Deep sleep is activated automatically if the dive computer is not used for two days. Suunto EON Steel wakes up again when it is connected to a PC/charger, when a button is pressed, or when the water contact gets wet.
You can also adjust the time (between 1-5 minutes) after which Standby mode turns off the screen. This allows you to further optimize the battery life of your EON Steel.
CUSTOMIZATION IMPROVEMENT
You can now choose to have more data in the same view and still maintain good readability. With custom field pairs, for example, ten variables could be defined for two fields. To browse all these values you need to press the button only 5 times (compared to 10 times as previously).
The other benefit is that the data often forms natural pairs. Field pairs are easier to organize on display and to see exactly the information you want to see during the dive. Natural pairs, for example, could be:
Gas mixture (Nx32) and it's tank pressure (200bar)
Gas mixture (Nx32) and it's available gas time (20')
Gas mixture (Nx32) and it's real time consumption (18)
Dive time and max depth
CNS% and OTU (Oxygen limit meters)

LOGBOOK IMPROVEMENT
Dive logs can now also be browsed by max depth and dive time (in addition to date/time). This makes it easier to find a certain dive log.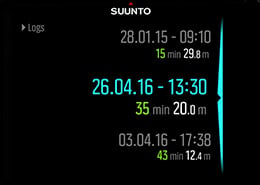 ALGORITHM LOCK IS DISPLAYED DIFFERENTLY
Suunto Fused™ RGBM algorithm is locked for 48 hours if you omit decompression stops for longer than three (3) minutes. When the algorithm is locked, no algorithm information is available and "LOCKED" is shown on the screen instead. It was previously indicated with "ERROR", which was not precise enough.