Mountaineer Luka Lindič has been climbing one of the toughest peaks on the planet – Gasherbrum IV in Pakistan.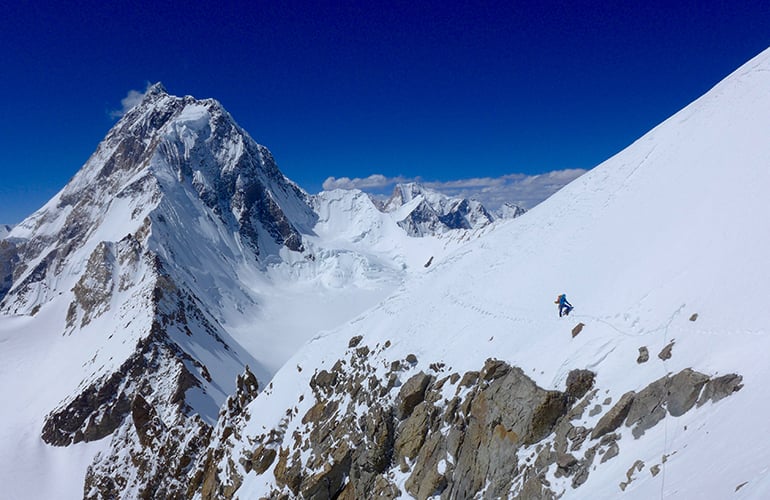 Climbing Gasherbrum IV © Luka Lindic
He and Aleš Česen made it to the North Summit, around 20metres below the 7932-meter-high main summit, after battling fierce weather that made reaching the summit impossible. Of course the guys are pleased with how far they reached on this treacherous route, in difficult conditions.
They originally planned to take a new route, via the North West face but that was completely impossible in bad weather. Before tackling the G4 they scaled Broad Peak, making them the only team to successfully summit that mountain this season.
This climb was used to acclimatise, and got the guys in the right frame of mind mentally for the big route, Luka says: "Some people might think using a climb like Broad Peak to acclimatise might take away a lot of fitness, but I think if you plan to climb a route like we did on G4 then it shouldn't be a problem. If it makes you tired, then you are not prepared enough! It took away a bit for sure, but we benefited lots more than we lost. A climb like that is also important from a mental point of view, as a final check."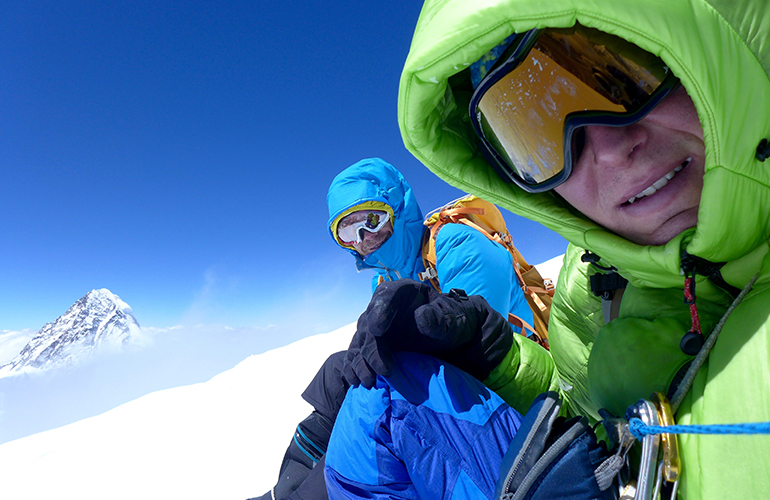 Luka Lindič and Aleš Česen © Luka Lindic
The weather in the area meant the Alpine style of climbing the pair used gave them an advantage over other teams climbing differently. Luka says: "The other teams were climbing in a classically Himalayan style and spent lots of time and energy preparing. Now, it seems this is how it will be in Pakistan. The weather is not stable and you get a window of maybe two days. If you climb Alpine style like we did you are flexible and it's easier to get up and go when there is a good weather window. With Himalayan climbing that's a lot more difficult to try. That was our advantage this time."
Feeling strong after Broad Peak they started on G4, dubious they'd make it far in bad conditions. However, they managed to climb through the weather and pushed on until they made the North Summit.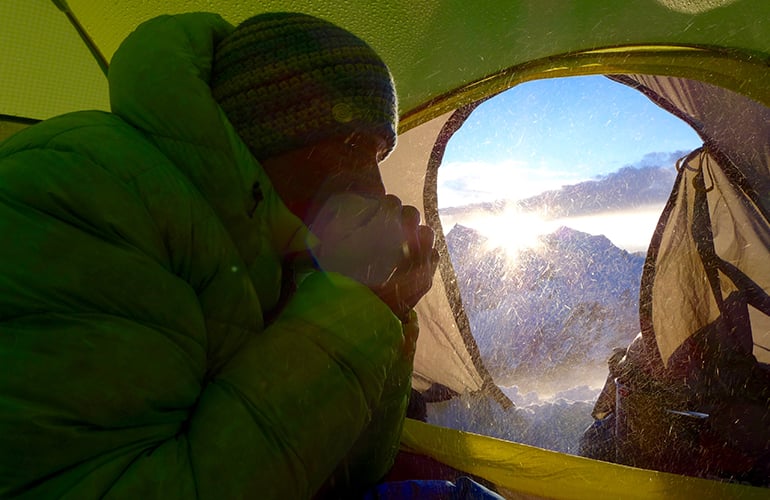 The guys tried to wait for bad weather to pass © Ales Cesen
Luka says: "It was pretty bitter sweet. On one side you know you will not climb G4 but you know inside you did the maximum you could. It was a cool experience after struggling all day to reach the North summit we had sun for a few minutes, we could even see the summit for a few minutes. We had pushed hard already and decided the summit wasn't possible, but were happy with what we did."
The guys had to rappel back down to avoid being swept away by avalanches. Now back from the trip he can contemplate the attempt, and he knows he'll go back. He's got some technical climbing planned in the meantime, he says: "I will go climbing in China for one month in September then my plan Is to spend some longer time in the Alps. I've been on expeditions this year so I feel like I have missed some technical training in the Alps and I want to get back to the level of climbing I want to be at, as doing expeditions you lose a bit of that."
Main image ©Luka Lindic