Suunto UK has partnered up with the Columbia Threadneedle World Triathlon Leeds in England. Amongst the 5,000 professionals and amateur triathletes competing, there is one that caught our eye – Jim McKellar – who just so happens to be the same age as us. Both Jim and Suunto turned 80 this year! We got in touch and found out a little more about what makes him tick.
As a veteran of 120 marathons and ultras alongside being a member of the Great Britain Age-Group Team at the ITU World Championships, Jim McKellar, or 'Old Bullet' as he is known by his running friends after his multiple exploits at the Comrades Marathon in South Africa, is no stranger to pushing the boundaries of our self-imposed limitations. But what makes his achievements particularly impressive is that he only took up running at 51 after being made redundant from his workplace of 25 years.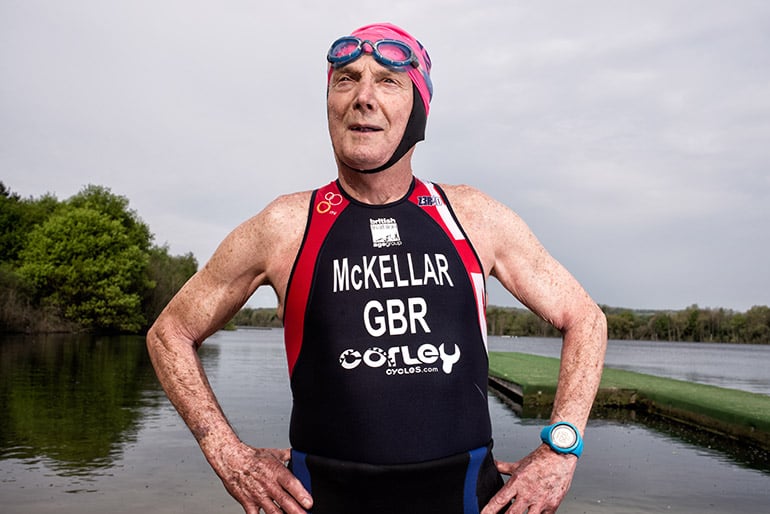 "I lost my pride and became a bit of a mess," Jim tells us. "My doctor told me that if I carried on like I was, I'd be dead in five years. So I entered the London Marathon. That was back in 1992." Twenty consecutive London marathons later, and it's fair to say he'd got the bug.
You're never too old to take up triathlon
But it wasn't until the ripe old age of 74, shortly after completing his 120th marathon, which happened to be the 89 km long Comrades (for the third time), that he took up triathlon and in the following year entered the 2012 Windsor Triathlon, even though he didn't know how to swim.
"Triathlon training is horrendous," he laughs, "but I'm getting there".
The following year, in 2013, he qualified for the ITU World Championship at Hyde Park and competed in the 75–79 age group, coming 3rd in the country and 10th in the world, one of his proudest achievements. He had hoped to return the following year, but it wasn't meant to be.
Overcoming setbacks
Sadly, not long afterwards Jim suffered a major setback. Out cycling with his club, he was involved in a collision with a car, suffering injuries to his pelvis and a chipped bone in his right leg that required specialist treatment and skin grafts. For 18 months walking was hard enough, let alone running or cycling.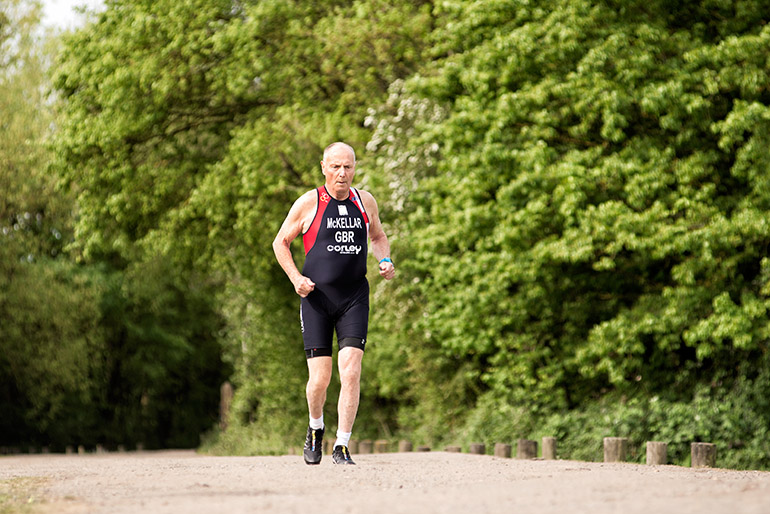 Now, most people under the circumstances might decide to call it quits, but not Jim. Indeed, if ever a man embodied the spirit of Suunto, a determination to win and to never give up, Jim is it.
"I need that challenge of getting up in the morning," he continues. "My wife had myeloma cancer and for the past three years, I looked after her 24/7. We battled on. I'm battling on now – I will not give up." Sadly, his wife passed away in March, making him even more resolved to compete in this year's Columbia Threadneedle World Triathlon Leeds.
However, Leeds won't be without its challenges if Jim is to achieve his goal of winning gold in his age group (M80-84) as a tribute to his late wife Lily – and in the process raise money for MacMillan. "My leg injuries have curtailed my training a little," he says with a wry smile. "I'm not bothered about the swim or bike – I'm riding a hundred miles a week – and my swimming's come on a treat, but I've had to adopt a let's get round job in the run element."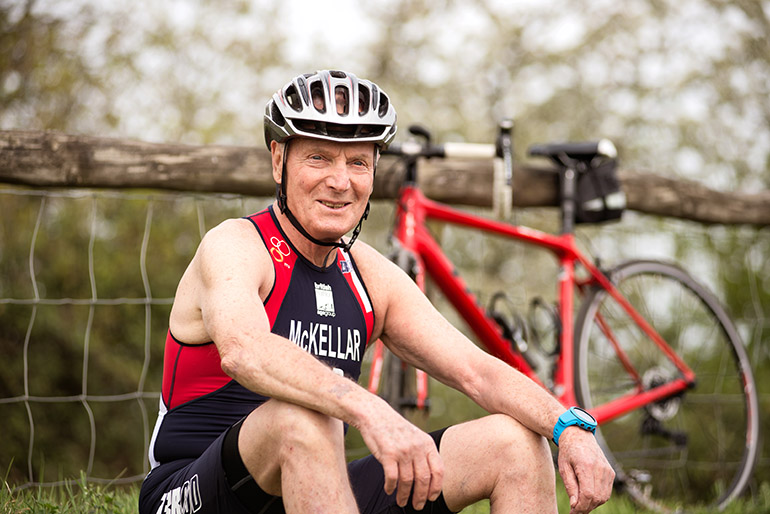 "Every morning I do exercises up lampposts to get rid of all the stiffness in my leg. But I'm up to six to eight miles of fast walking and jogging, which I'm pleased with considering three months ago I couldn't go 100 yards."
And so he should be pleased. Because as Jim points out, people don't use their full potential and simply compete in their comfort zone. So perhaps we should follow his example, and learn to push ourselves beyond the norm. We never know, we might just surprise ourselves.
Images by James Carnegie
Read more triathlon stories:
10 Ambit3 hacks for triathletes
How to use the power of commitment