Suunto's hill training screen is your friend on those gruelling uphill sessions.
Hill repeats are an essential part of an outdoor athlete's workout repertoire. To make the hard work pay off, pacing is key. The new Climb SuuntoPlus™ feature does just that: it gives you real-time insights on your effort and motivates you to keep going.
The same goes for longer hikes, too: once you learn what kind of ascent speeds are sustainable for you, you can use this feature to pace your way up accordingly.
To use SuuntoPlus™ features on the Suunto 9 or Suunto 5, activate them before starting an activity: Select your preferred activity type and – before hitting start – go down to the options menu and select your preferred SuuntoPlus feature, like Climb. The SuuntoPlus feature you chose, will be added and available as an extra screen during the session.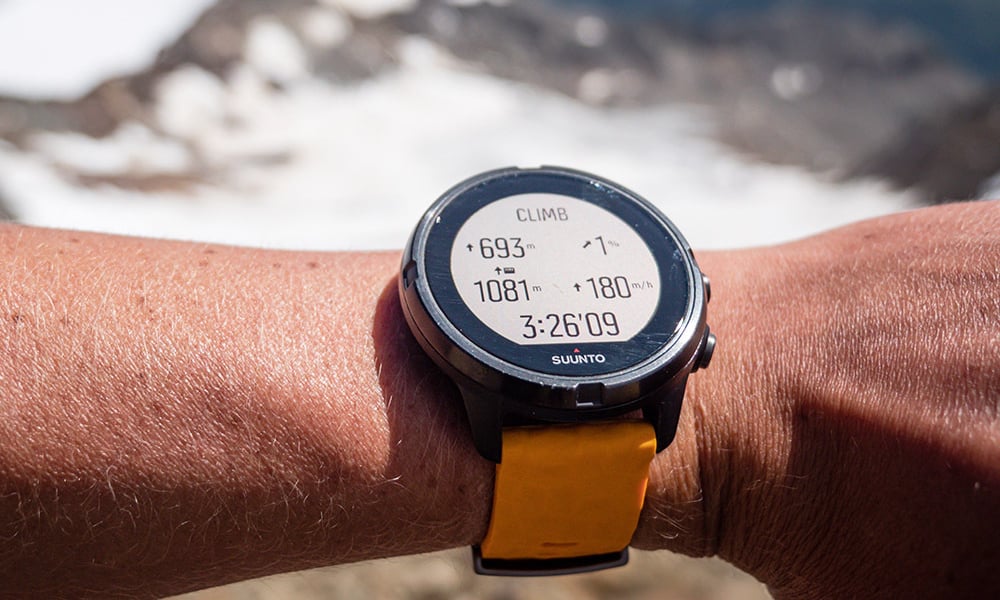 © Philipp Reiter


Top left: Ascent and climb counter
After you have activated SuuntoPlus Climb your watch will automatically detect the uphills and also create laps of them. The first climb is triggered after ascending for 10 meters.
During the climb you will see the ascent you have covered during that particular uphill on the top left on your screen. Once the climb ends, the ascent number will switch to the total number of climbs you have covered. When the next climb starts, you will again start to see the vertical meters for that individual climb.
Top right: Grade %
On the top right you have the grade of your uphill in percentages. The same goes for the downhill, too. The arrow shows the direction of the hill. The grade is based on your progress during your recent efforts.
Bottom left for running: Normalized Graded Pace
During trail running and running your running speed is shown as Normalized graded pace (NGP). Normalized graded pace is the adjusted pace, that reflects the changes in grade and intensity that contribute to the physiological cost of running on varied terrain.
Bottom left: Total vertical meters
For activity types other than running this view shows the total vertical meters covered during the activity.
Bottom right: Vertical speed
Vertical speed is a great way to pace an effort in an uphill lap. This also helps you estimate how long the climb will take for you – if you know the total ascent. The vertical speed is shown as meters per hour.
Note: SuuntoPlus Climb works best with watches that have a barometric sensor, like Suunto 9. Products without a barometer rely on GPS based altitude. This will require longer climbs as small changes in elevation may not be identified.
Lead image: © Philipp Reiter


Read more about hill repeats
7 tips to accelerating your uphill speed
Improve your running with high intensity hill repeats