Suunto ambassador Mel Hauschildt started her athletic career as a runner, but switched to triathlon and became fast on the bike, too. Here's how she made that transition.
Melissa Hauschildt started running cross country and track and field when she was 11, earning her a place on the Australian team when she was only 15. At the 2006 Commonwealth games she came second in the 3000 m steeplechase.
Her promising running career took a hit in 2010 when an injury forced her to skip the Commonwealth Games. Denied her sport, she quickly improvised and got herself a bike.
"My original goal was to keep fit because I could not run at that time, but I fell in love with cycling," Hauschildt says. "I was actually thinking of moving to cycling, but I still liked running as well. In triathlon I could do both!"
Cycling came quite naturally to her.
"I jumped on the bike, joined a cycling club and started riding with all the guys. I was keeping up with them."
Transitioning to triathlon turned out to be the right decision; that year she came second at the Ironman 70.3 Asia Pacific Championships, in Phuket Thailand, and the following year won every race she entered.
We recently caught up with Hauschildt and asked her a few questions about the transition to triathlon.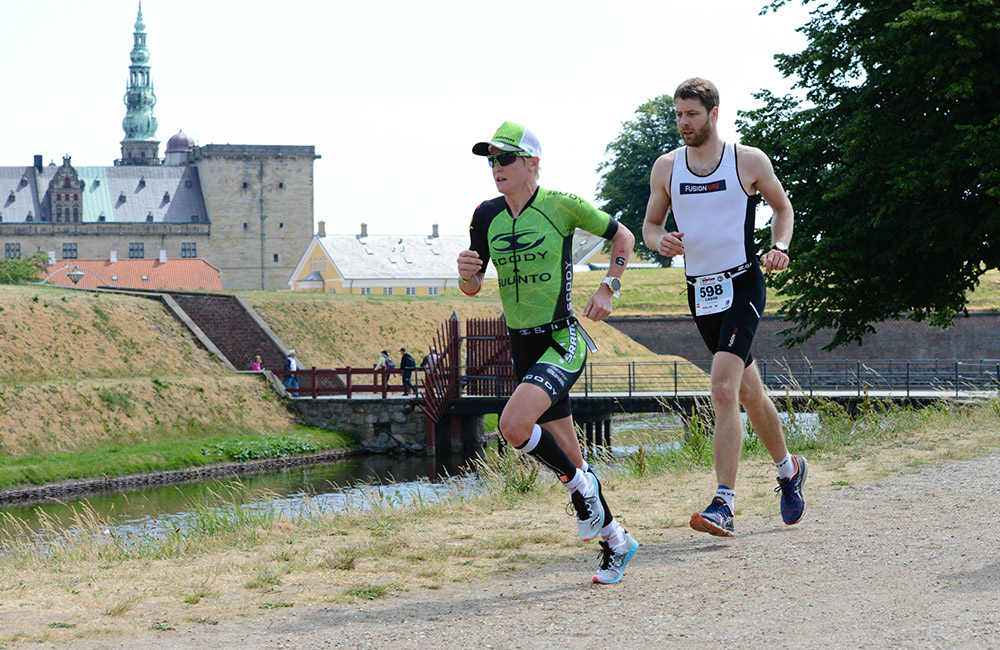 Mel Hauschildt on her way to winning the Ironman 70.3 European Championship title in Denmark in June 2018.
Is running still your strongest discipline?
"I tend to think I am a stronger cyclist than I am a runner because I base my running on what I did when I was a runner. But in comparison to other triathletes I guess it's still in running where I make the biggest gains on them."
Do you have some advice to runners who start cycling?
"It seems that my running transferred across to the bike. I know that is not the case for all people. Some runners can't ride at all."
"One thing I did very early in my triathlon career is that I rode a lot and really backed off the running because I had running injuries. Getting all that base on the bike helped my running as well: there's a lot less injury chance on the bike."
A big challenge in triathlon is running well off the bike. How have you approached that?
"Practice it in training! The first time I ran after the bike, and only for half an hour, I was like, 'I cannot do this!'" My legs were heavy and I was fatigued. But the more you do it, you just get used to running with heavy, fatigued legs and it starts to feel normal and you get better at it.
"You don't need to do a race-like transition. Your legs will still be fatigued for quite a while. I just put my bike away, some running shoes on and go.
"I do three brick sessions a week and run off the bike. That really helps. Sometimes I get out the door and bolt off like it is a race. Other times I'll just jog out and it's just time on my legs off the bike."
Hauschildt's husband and coach Jared Hauschildt gives his advice: "We practice each different stimulus: a long bike and a short run, but also a long run off a short bike so you get used to running a long time off the bike. The third one is usually a hard bike followed by a hard run."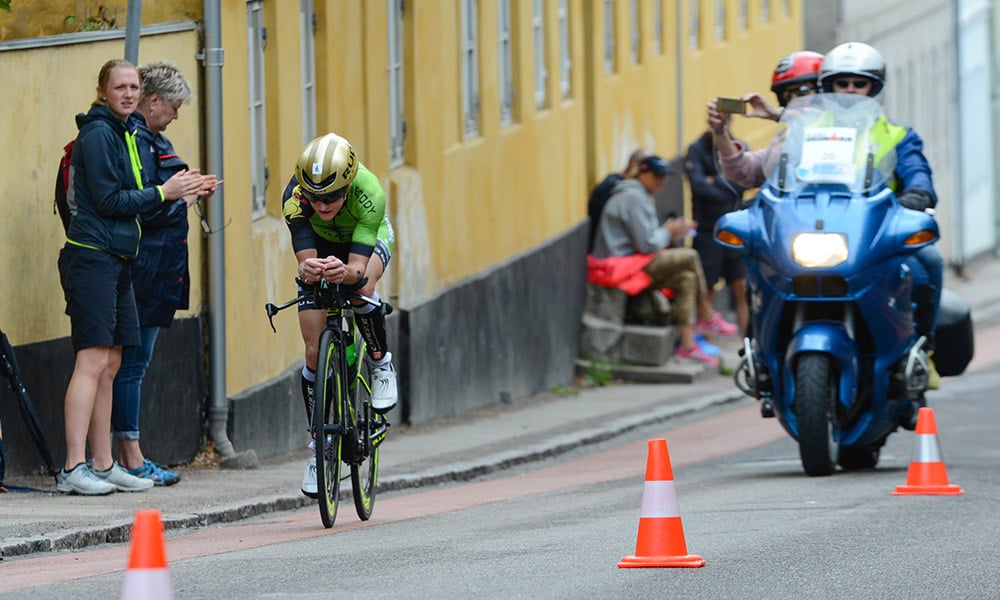 Mel says that she has played quite a bit with her position on the bike recently.
Do you have some bike set up tips that makes running easier after the bike?
Jared: "There are so many different schools of thought, but generally if you go too far forward your quads get drilled and if you go too far back your hamstrings cramp on the run,"Jared explains. "Everyone is so different. Some people can adapt to really aerodynamic positions and still be fine, others will feel terrible and even on the bike they can't push and breathe properly because they are all cramped up.
Melissa: "I think comfort is the most important. Aerodynamics plays a part, but if you are not comfortable you are not gonna ride fast, and if you are too cramped you are not going to run well."
Do you ride on the road bike too or mostly on your tri bike?
Melissa: "I ride a lot on my road bike, probably four to five times a week. "Only the specific time trial sessions I do on my triathlon bike.
"I did some bike racing before I switched to triathlon. It's fun, but such a different sport. It's so tactical. The fastest person doesn't always win and that's what turned me away from going to cycling. I want an individual sport where the strongest person wins!"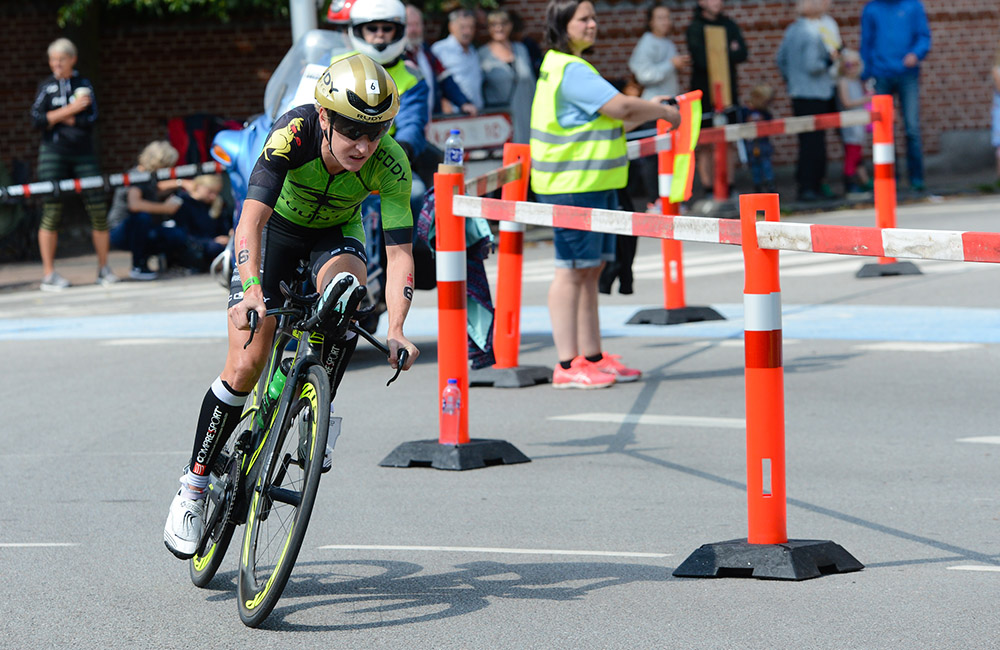 Comfort is the key in bike set up, says Mel Hauschildt.
Are there some specific workouts you'd suggest for runners?
Jared: "We like to touch all bases with hill reps, fast riding, long riding, tempo riding, and spiking watts during a group ride. None of them are more important than the other because you really need to get endurance and you really need speed and you need the power.
"We do five minute efforts that are way above 70.3 power to get used to going really hard. Then we do 20 or 30 minute efforts at 70.3 pace."
Melissa: "Then we do long slow rides that are all about getting the miles in the legs."
What's the goal with those above race-pace efforts?
Jared: "You can get to exhaustion quicker. If you want to practice the last 30 minutes of a 70.3 bike you can drill the legs with a few five-minute reps and be absolutely spent and think you have nothing left and then do a 20 minute time trial effort at race pace. In Ironman training you can do some big hill reps and destroy your legs and then ride 40 minutes at Ironman pace."
"The high intensity quickly takes you to the point where you think you can't ride another 10 minutes, rather having to reach that by riding 180 km every time."
"The same principle reduces injury risk in running: if you go out and run six 1 km reps really fast and then run at Ironman pace for 20 minutes you will all of a sudden be at that point where you are completely fatigued like at the end of a marathon. But you didn't have to do 20 km at race pace and risk injury to get there."
READ ALSO