Many photographers go to great effort for photos – but few go as deep (literally!) as Daan Verhoeven . His sport and photographic speciality is free diving – and he doesn't just talk the talk, he walks the walk. While most people shooting free diving would go the easy route and grab some SCUBA tanks, Daan dives right alongside his subjects.
Diving was something I'd always done.
As a kid, while swimming, I spent more time beneath the surface than above it. But my free dive obsession really started with a SCUBA diving trip in Egypt. During that trip I actually was snorkeling with a friend, and trying to get our depth gauge as deep as we could. Which is a stupid thing to do, by the way. But I was having so much fun, I took a course in freediving… and haven't been dry since.





My best was good enough for a Dutch National Record.
With fins to 60m, without to 55m, and free immersion to 65m. But I was a very average free diver during the time I was competing. At the time, 2011, the 55m was top 20. It's nowhere near that anymore.




I've had seals kiss my camera
Last year, here in Cornwall, we were swimming with seals. Really shy in the beginning, but after a while, one was interested in my fins. Then he got close enough to my camera dome that his whiskers touched it. That was an interaction where you feel someone looking back at you.
I get in the water with a different mindset than the diver.
We both dive, but they have to go within themselves – all I do is look outside of myself. I look at them, the environment, the light. The same actions with completely opposite goals.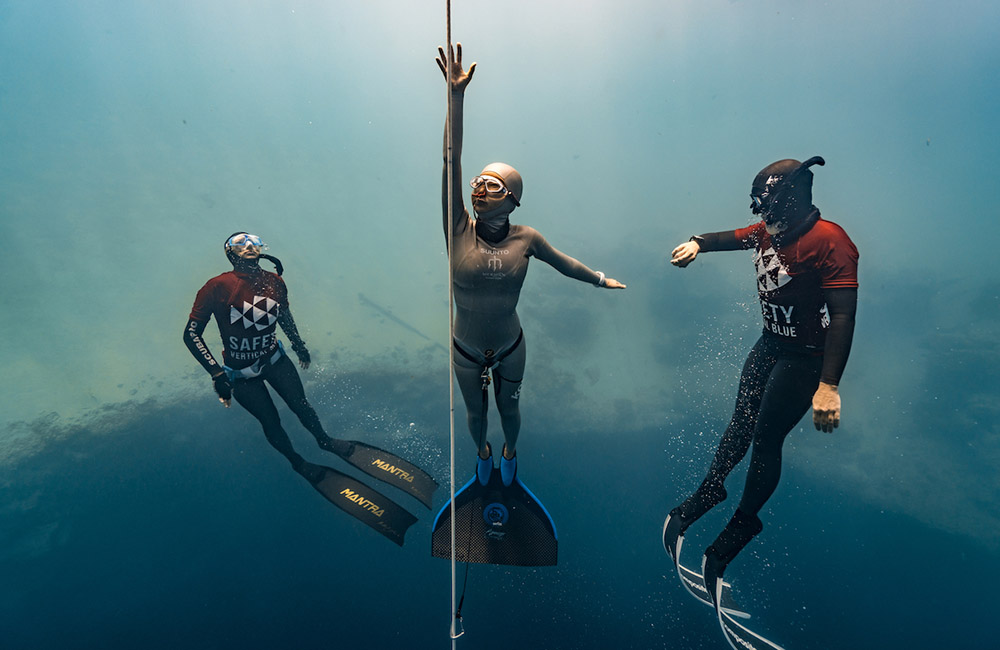 Safety dives helped me train.
At every comp, I did safety dives. There is a diver at depth and 30m. And because I did a lot of that, I knew I had a lot of stamina to do repeated dives. The deep guys go to 100m but do it once. The safety guys – and me – go to 30m, but we do it all day long.
I'm definitely, absolutely doing more work than the guys diving
I'm just not going as deep. I have to swim to 15m, see the diver, swim around him, get in front, crane your neck – and it's a bad position. They're going for maximum depth efficiency, I'm going for bursts of speed to get my shot. Totally inefficient as far as diving goes. I don't become a better free diver by being a free dive photographer.





I love Will Trubridge
I met him first in 2007, but it took me till 2012 to work with him. Now we're actually friends. He can be a bit shy. It took until I found out he had a wicked sense of humor for us to become friends. It's nice to work with him – he's a good delegator who tells you what he wants or expects, and he's really clear about what he can do.





At Vertical Blue, I do fifty dives a day
Mostly hanging out between 10 – 20m. That's my office, ten to twenty meters deep. That's a depth where the light is still good, the background is good, and it's easily achievable –I can do it on repeat all day long.
My dream dive is The Arch in the Blue Hole in Dahab
It's an opening in a natural reef. The arch is at 58m, and then there's a 30m overhang, then you have to go back up. To do the arch, with a camera, that would be spectacular.

All images © Daan Verhoeven / Vertical Blue
Read also 7 tips to help you make amazing diving videos and 10 tips to help you take amazing underwater photos
Learn more about Vertical Blue