Run with us around the world in our favorite cities!  
Keeping up your running routine while traveling can be challenging, but when it is the right route at the right time, it's rewarding in many ways. Whether it be an invigorating break from a hectic schedule, or a way to explore a new city, knowing where to go is everything. This couldn't be more apt than in a mega-city like London. The options are endless, but at the same time daunting; but don't worry we've got you covered.
We've highlighted three types of routes: the short and sweet tourist route with plenty of scenery; the locals run which is favorite and accessible route, and finally, a more adventurous, forested, single-track trail. Each route comes with the logistics to get you out and back with ease! Each of these routes share the same motivation – inspiring you to explore a new route and new city on the run!
To follow these routes with your Suunto watch or mobile device, please follow these instructions:
1. Press download GPX.
2. Go to Suunto app and press + button in app map and press 'import route'.
3. Find the route, press it. The app opens the route, press 'Done'.
4. You can modify name and details. The route is saved. Keep the 'Use in Watch' toggle on to have the route in watch. 
Note: If you are not reading this on a device with Suunto app installed, download the route file and save it in a location you can access on your mobile device. Then follow the guidance above
GOLDEN JUBILEE AND MILLENNIUM BRIDGE (4KM)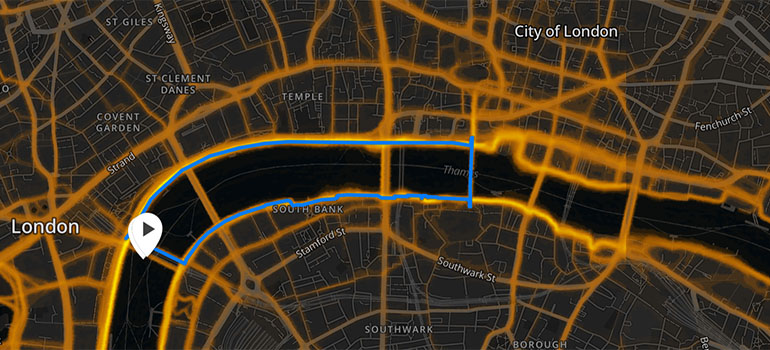 Who it is for:
Tourist Run/walk route taking in the cities best sights in less than 5km.
Description:
Simply the best route for visiting and photographing (if you choose) some of London's most famous landmarks. This short route is best done in the morning during a crisp sunrise.  The route takes in some of the most visited paths in London so it can be crowded during the day but soaking up that atmosphere can be part of the fun, if you are that way inclined.
Expect extremely "instagramable" shots from the two iconic bridges of Golden Jubilee and Millennium Bridge. Look out for the National Theatre, South Banks finest culture, London Eye, Tate Modern, HMS President, Big Ben, St Paul's Cathedral, The Shard and more, its a veritable feast for the senses!
Start point note:
Best access via London Charing Cross Station or Embankment
Finish Point note:
100m before the finish you will see Embankment Café. Perfectly stationed in Garden Pavilion, right next to the Thames River. This cafe will have something to quench your thirst or fill your stomach at any time of day. It could be coffee and a Traditional English Breakfast in the morning or even quintessentially British Fish and Chips in the evening. 
Run extensions and alternatives:
Instead of finishing back at Embankment, continue to run past it keeping the River Thames on your right. After 800m you can take a right up Richmond Terrace which leads you to the famous Downing Street and into St James Park. Continuing a bit further along the Thames (1km from Embankment) will have you finish at Westminster tube station and next to Big Ben. Here you will be a stone's throw from St Stephens Tavern, a real ale pub known as the 'politician's hangout.'
MULTI ROYAL PARKS ROUTE (8.1KM)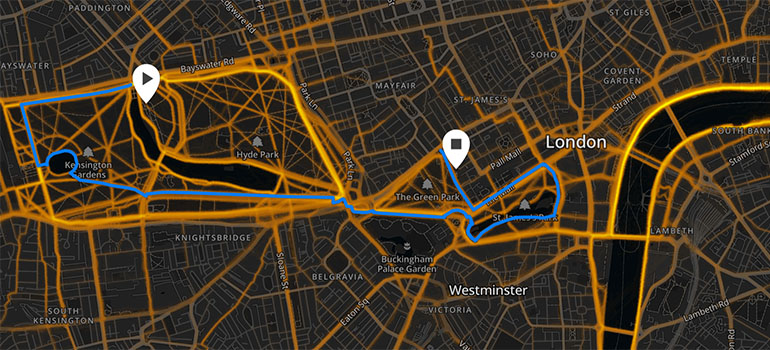 Who it is for:
The "locals" running route in the heart of London. Maximum greenery, maximum sightseeing.
Description:
An absolute must for locals and anyone over for a short stay. The Royal Parks are a thing of wonderful British heritage so with this route you can hit 4 in one run. Starting from Hyde Park (the home of one of London's most famous running clubs) you will run around and through the park taking in Kensington Gardens and The Round Pond. Green Park will have you running directly past Buckingham Palace. Finally, through St James Park and past Horse Guards Parade and down The Mall. Beauty.
Start point note:
Lancaster Gate tube on the Central line. Paddington Station is only a 3 minute walk too.
Finish Point note:
Green Park tube. It's worth taking the time to visit Shepard Market which is full of independent shops, pubs and restaurants.
Run extensions and alternatives:
Doing a full lap of Hyde Park before heading out is very popular with locals. Similarly, you can add in full loops of Green Park or St James Park. Another option is continuing the Green Park loop to get back to your initial entry point and heading back into Hyde Park to finish at the Café in the centre of one of London's biggest Green spaces.
RICHMOND PARK AND WIMBLEDON COMMON TRAILS (16.3KM)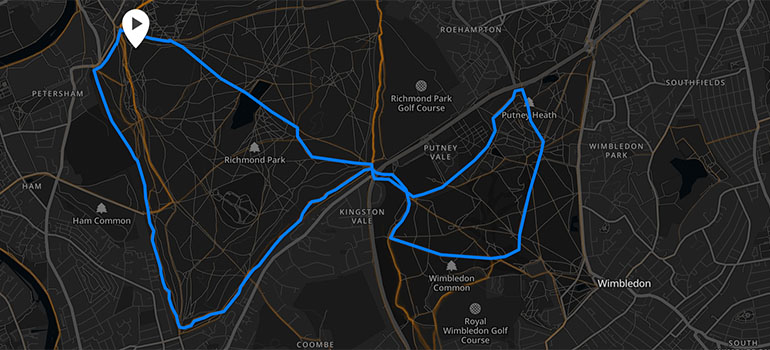 Download the GPX file here. 
Who it is for:
The adventurous type of runner seeking something more than just concrete blocks
Description:
London's worst kept trail running secret. A beautifully scenic route taking in Richmond Park which is teaming with deer, ponds and wildlife. Richmond has its own unique London Culture with constant pop-ups and riverside events. Crossing over into Wimbledon Common you'll be  running through some fantastic single track path in a forest-like environment. Keep in mind, if it rains expect it to get muddy! There are a couple of short sharp hills along the way, they are not long but at 12–15% grades they will certainly get your lungs going.
Start point note: 
10 minute walk from Richmond Station. A straight forward walk up the high street (left out of the station) will get you up to Richmond gate and the start point of the route. However we also recommend walking down the Thames River path into Richmond Park. It is an extra 5 minute walk but if it's a clear day then start your route on the towpath for lovely views and waterside activities.
Finish Point note:
The route does a figure of 8 to finish back at the same start point. Walking or running back to Richmond tube will take you past copious amounts of cafes, bars and restaurants. For something different, and extremely British, we'd recommend the Tea Box for gourmet teas and cake in a cosy corner café.
Run extensions and alternatives:
At the top of Wimbledon common you will see the A3, run parallel to this, beside Putney heath, for a few hundred metres before taking a left turn down the A219. This will have a running down a big hill straight towards Putney which is another South-West London hotspot. In Putney you can still get both tube (Putney east or Putney Bridge), Trains (Putney Station) and Buses outside Putney station to most parts of London.
Another option is to do a full loop of Richmond Park instead of crossing into Wimbledon common. Following the Tamsin Trail which hugs the outer parameter is a glorious run that is extremely popular with locals. A full loop is 11.5 km.

Lead image: © Max Willcocks

Discover new routes with heatmaps. Heatmaps show the tracks frequently used by the Suunto App community all over the globe, based on millions of moves. You can plan your own route with the help of rich, topographic maps, transfer it to your compatible Suunto watch and start exploring. 

With Suunto 5 and Suunto 9 watches, you can add these routes directly to your device and track your progress.