Run with us all around the world in our favorite cities! 
Paris. The City of Light could also be known as a runner's delight! It is a feast for the senses, it's true, but there's also a special view of Paris known only by those who run her cobbled streets and pristine parks in the early morning, or twilight hours. We've added some rich detail to each of these routes, not only about the route, but the character of the surroundings. After all, it's not just about where you run, but also what makes it truly memorable.
In Paris, all runs are scenic, so we'll just take that as a given; but each of these, beginning with a short, walkable route, to a local's run that will show you a perspective of Paris will make you believe you were made to run here. To finish, we've included a little adventure off the beaten track. Each run has a distinctive personality and quirks, full with their own highlights and history, you won't want to miss adding any of them on your must-run list. 


To follow these routes with your Suunto watch or mobile device, please follow these instructions:
1. Press download GPX.
2. Go to Suunto app and press + button in app map and press 'import route'.
3. Find the route, press it. The app opens the route, press 'Done'.
4. You can modify name and details. The route is saved. Keep the 'Use in Watch' toggle on to have the route in watch. 
Note: If you are not reading this on a device with Suunto app installed, download the route file and save it in a location you can access on your mobile device. Then follow the guidance above.
Run, walk & chill (4,9 km)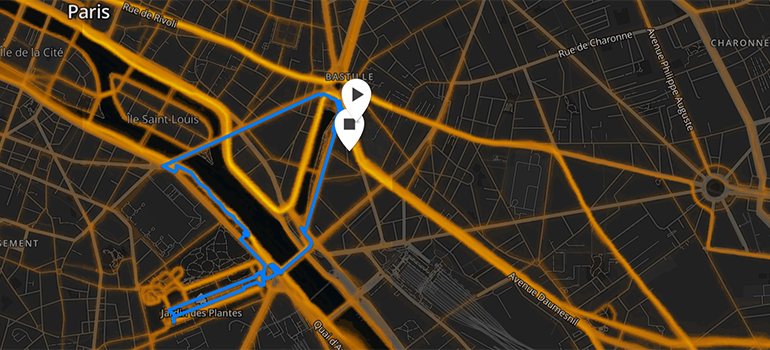 Download the GPX file here.
Who is it for
Tourist run/walk jammed to the rim with spectacular sights and culture.
Description
Beginning at the Boulevard de la Bastille, you'll enjoy having space to run and probably have a chance to see some local Parisians playing the famous French sport of Pétanque. As you follow the boulevard towards the right, you'll see notice a beautiful harbour, Port de l'Arsenal. You'll arrive at the Seine at Quai de la Rapée metro station, cross here by the bridge and you'll be in front the entrance of Jardin des Plantes, one of the most beautiful public gardens in Paris. Its worth a lap, if you like gorgeous things.
A special tip: on the right side of the garden, there is a zoo hidden to the crowd. It's definitely worth a peak.
Once you've finished your lap(s), leave by the main entrance and proceed left. Crossing the street, you'll be back at the banks of the Seine. This is one of the best spots to experience Paris in the summer, always packed people and full of atmosphere. You'll run into (not literally, hopefully) Parisians dancing, enjoying some Aperitif, and playing music. Cross the next bridge you see and the Boulevard Henri IV will bring you back straight to Bastille.
Starting Point Note
If you are taking the Metro, the station is "Place de la Bastille." If you are staying in Le Marais, you can use the 5 minute walk east along Rue de Rivoli/Rue Saint-Antoine as a warm up.
Finishing Point Note
For an enjoyable recovery, stop at the Café de la Presse, and have a coffee on the terrace. Its located perfectly at you start/finish point: 36 Boulevard de la Bastille. If you're walking back West, Places des Vosges is mere blocks away (the oldest planned square in the city, and one of the most beautiful).
Alternatives/extensions
When you're leaving the Jardin des Plantes, keep running to the left until the 4th bridge. You'll arrive on the Île de la Cité, and at the Notre Dame de Paris. It is always busy around here, so be prepared. Then follow Rue de la Cité and Port Notre Dame until you see Hotel de Ville, Paris City Hall. Run straight to the Port de l'Arsenal and finish strong back to the Bastille.


Canal Saint-Martin (8,7 km)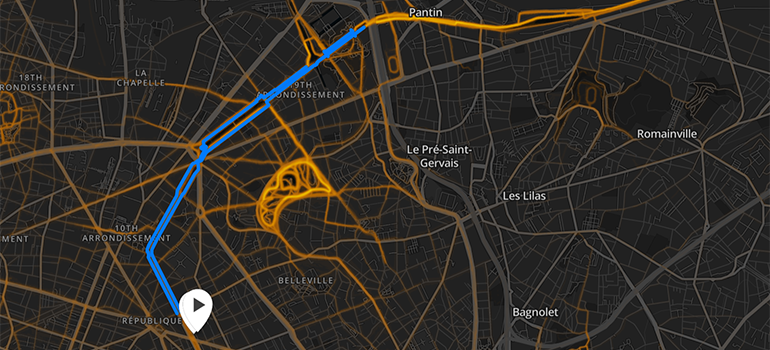 Download the GPX file here.
Who is it for
Runner's looking for the go-to route from those 'in-the-know.'
Description
Easy run, Tempo or Fartlek- whatever you're up for will work here. The are wide lanes, few turns, and no cars; its all you (and your legs. Follow the Canal Saint-Martin and Canal de l'Ourcq until the Parc de la Villette. Then come back by the other side. You'll see runners passing, and pushing intervals. The best time to run here is on Sundays as the road is fully closed to cars. The atmosphere is very cool all along the route. While it's the best path along through the 10th, 11th and 19th arrondissements, its generally only locals you'll see running here.
Starting Point note
The Metro Station Republique is a couple blocks southwest from you starting point, which is the northern tip of Le Marais and easily accessible from/to many parts of the city.
Finish Point note
As a happy ending, stop for brunch at American Bistro, located at 75 rue de la Folie Mericourt in Oberkampf. It's very close from the finish line run and it's delicious.
Extensions/Alternatives
If your legs are still up to it, after the Canal, you can turn right when you pass by Rue Louis Blanc, then follow Avenue Mathurin Moreau until Parc des Buttes Chaumont. You won't be disappointed as the park is just stunning, full of unexpected wonder. It's a big park with a good amount of runners and… a lot of hills. You'll definitely earn your time here; the good news is, it's great training for that upcoming race!


Bois de Boulogne (16,3 km)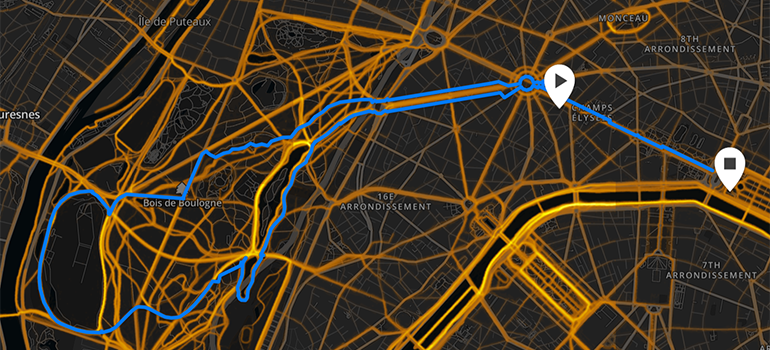 Download the GPX file here.
Who is it for
Runners wanting quiet and green.
Description
This urban-trail run takes you to the Bois de Boulogne, the most popular location for Parisians runners getting in their long training runs. This is also the end of Paris Marathon so lot of runners prepare for the big race here. Sunday mornings are pretty cool as locals and visitors are running with dream marathon finishes in their mind.
From the Arc de Triomphe, take Avenue Foch for one kilometre (west). The path veers to the right and arrives at one of the entrances to the 'forest.' Following that direction, you'll come across a pair of small lakes. A common loop is to circle these lakes, building tempo, but you can also go further in the woods. On your way back, we recommend you run back along Avenue Foch, past the Arc de Triomphe and down the Promenade des Champs-Élysées.
Starting Point Note
Arc de Triomphe, the Metro station is "Charles de Gaulle Étoile" and trains in every direction connect here (1,2,6).
Finishing Point Note
Finally stop at Place de la Concorde, you are now in the beautiful heart of Paris; just steps from the Jardin des Tuileries and Musée du Louvre. Metro stations "Louvre-Rivoli" and "Palais-Royale-Musée du Louvre" to take you where you need to go (should you even want to leave!).


Discover new routes with heatmaps. Heatmaps show the tracks frequently used by the Suunto App community all over the globe, based on millions of moves. You can plan your own route with the help of rich, topographic maps, transfer it to your compatible Suunto watch and start exploring. 

With Suunto 5 and Suunto 9 watches, you can add these routes directly to your device and track your progress.