Weerindicators
Naast de barometergrafiek (zie Profiel Barometer gebruiken), heeft Suunto Ambit2 twee weerindicators: weertrend en stormalarm.
De weertrend-indicator wordt weergegeven als een weergave in de modus Time, waardoor u snel weersveranderingen kunt bekijken.

De weertrend-indicator bestaat uit twee lijnen die een pijl vormen. Elke lijn vertegenwoordigt een periode van 3 uur. Een wijziging in barometrische druk van meer dan 2 hPa / 0,59 inHg in drie uur, activeert een wijziging in de richting van de pijl. Bijvoorbeeld:
| | |
| --- | --- |
| | druk daalt sterk in de afgelopen zes uur |
| | druk was constant, maar steeg sterk in de afgelopen drie uur |
| | druk steeg sterk, maar daalde sterk in de afgelopen drie uur |
Stormalarm
Een aanzienlijke daling in barometrische druk betekent normaliter dat er een storm aankomt en u moet schuilen. Wanneer het stormalarm actief is, geeft Suunto Ambit2 een alarm, en geeft knipperend een stormsymbool weer wanneer de druk 4 hPa / 0,12 inHg of meer daalt gedurende een periode van 3 uur.
OPMERKING:
Het stormalarm werkt niet als u het hoogtemeterprofiel hebt geactiveerd. Zie Profielen instellen.
Activeren van Stormalarm:
Houd
ingedrukt om het optiemenu te openen.
Scroll met

Alti-Baro

en open dit met .
naar
Druk op

Stormalarm

te selecteren.
om
Stel het stormalarm in op

Aan

of

Uit

met of en bevestig met .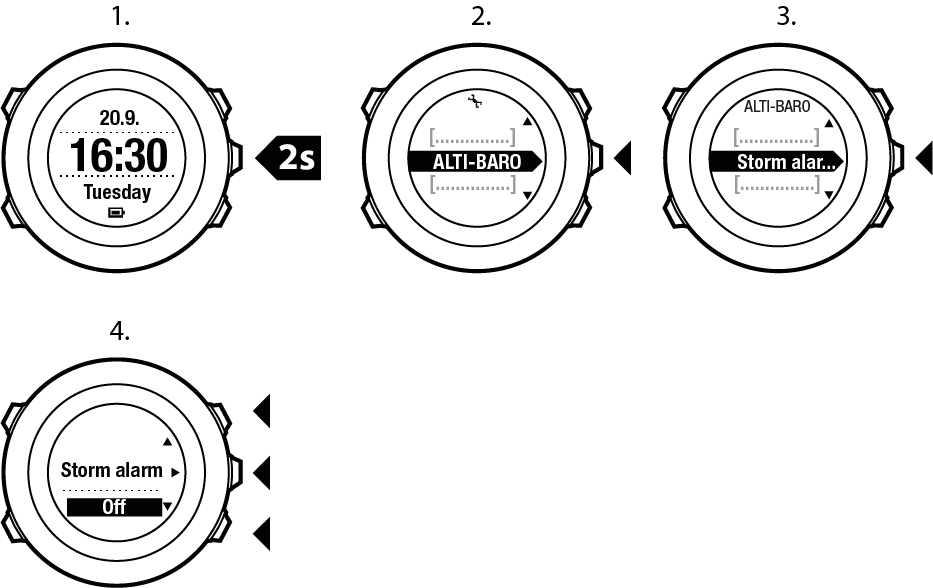 Wanneer een stormalarm optreedt, wordt het alarm beëindigd door op een willekeurige knop te drukken. Als niet op een knop wordt gedrukt, wordt het alarm eenmaal herhaald na vijf minuten. Het stormsymbool blijft aanwezig op het scherm totdat de weersomstandigheden stabiliseren (druk daalt minder snel).
Een speciale ronde ('stormalarm' genaamd) wordt gegenereerd wanneer een stormalarm optreedt tijdens het opnemen van een training.
TIP:
U kunt het stormalarm tevens activeren of deactiveren via het optiemenu in een sportmodus.