Hartslagband omdoen
OPMERKING:
De Suunto Ambit2 is compatibel met de Suunto ANT Comfort Belt.
Pas de lengte van de band aan zodat de hartslagband strak maar comfortabel zit. Maak de contactgebieden vochtig met water of gel, en doe de hartslagband om. Zorg dat de hartslagband midden op uw borst is geplaatst en dat de rode pijl omhoog wijst.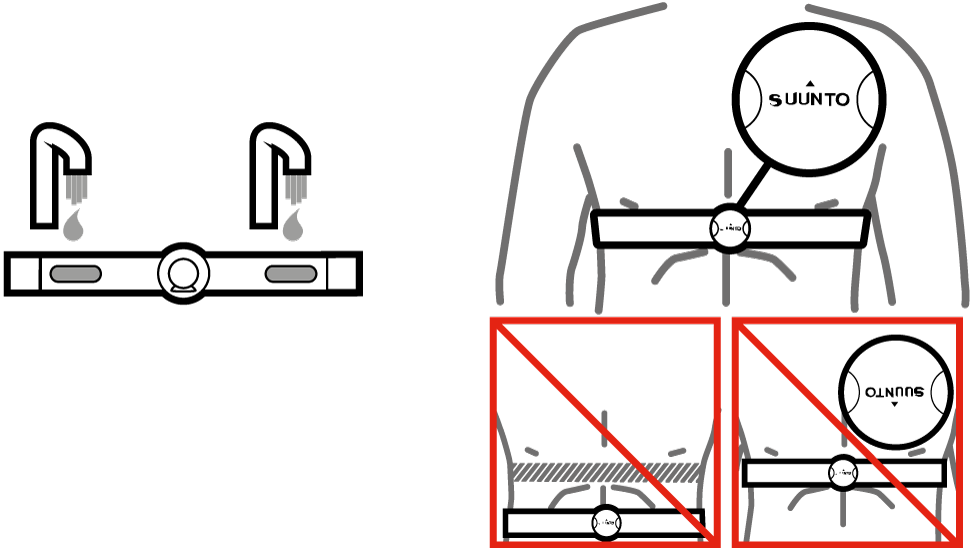 WAARSCHUWING:
Als u een pacemaker, defibrillator of ander geïmplanteerd elektronisch apparaat hebt, gebruikt u de hartslagband op eigen risico. We raden u aan een inspanningstest uit te voeren onder toezicht van een arts voordat u de hartslagband gaat dragen. Zo kunt u de pacemaker en de hartslagband veilig en betrouwbaar samen gebruiken. Training kan risico's met zich meebrengen, vooral voor diegenen die enige tijd niet actief zijn geweest. Wij raden ten zeerste aan om met uw dokter te overleggen voordat u aan een geregeld trainingsprogramma gaat beginnen.
OPMERKING:
De Suunto Ambit2 kan het signaal van de hartslagband niet onder water ontvangen.
TIP:
Was de hartslagband na gebruik regelmatig in de wasmachine om onaangename geuren te vermijden en te zorgen dat de gegevenskwaliteit en functionaliteit op peil blijven. Was alleen de band van textiel.
Suunto Ambit2 ANT+ wordt ondersteundTM compatibele hartslagbanden en bepaalde POD's. Ga naar www.thisisant.com/directory voor een lijst van compatibele ANT+ producten.