Customize watch faces
Suunto 7 comes with a set of pre-installed watch faces to choose from. You can also download many others from Google Play Store. All watch faces designed by Suunto are optimized to use a minimum amount of power to provide you with the best possible day-to-day experience with your watch.
Suunto watch faces
Suunto 7 comes with four watch faces by Suunto – Heatmap, Original, Marine and Rose – to celebrate the history of Suunto and the community of passionate athletes and adventurers around the world.
Heatmap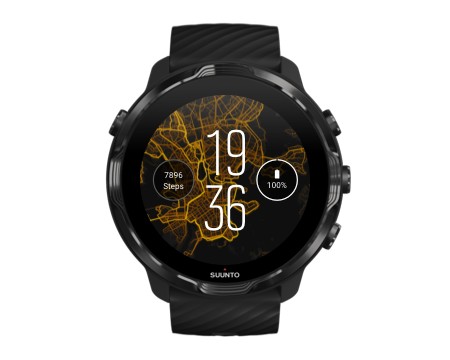 To inspire and encourage you to explore the outdoors around you, the Heatmap watch face shows where other passionate Suunto athletes have been exercising in your area.
By default, the heatmap will show popular running routes in your area. If running is not your thing, you can go to the watch face settings and choose another sport for your heatmap. Suunto 7 has 15 different heatmaps to choose from.
The heatmap on your watch face is automatically updated based on your location. If you do not see a heatmap or the map does not update based on your location, check these:
On your phone, allow location sharing for Wear OS by Google.
On your watch, allow location sharing in Connectivity settings settings and in Suunto watch faces application permission settings.
Make sure your watch is connected to the Internet.
You have moved more than 2 kilometers (1.25 miles) from your previous location.
Try a different heatmap – maybe there is no heat for the sport you chose yet.
Original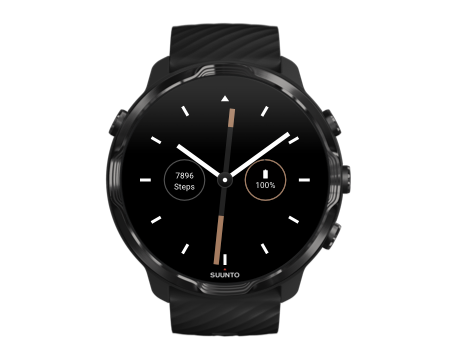 In 1936, Tuomas Vohlonen founded Suunto to mass-produce stable and accurate compasses after he had long been bothered by the inaccuracy and lack of steady needle operation of traditional dry compasses. Ever since, the Suunto compasses and connected Suunto method have provided essential tools for navigation for outdoor enthusiasts, athletes, and professionals. The Original watch face design is inspired by the very first Suunto marching compass, M-311.
Marine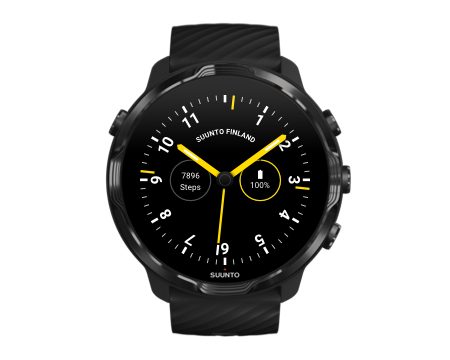 Between 1953 and 2011 Suunto was in the marine compass market. The Marine watch face is inspired by the popular Suunto K-14 marine compass, which became a standard in a large number of sail and powerboats around the world due to the stable and easy to read compass card and the smart mounting into the vessel.
Rose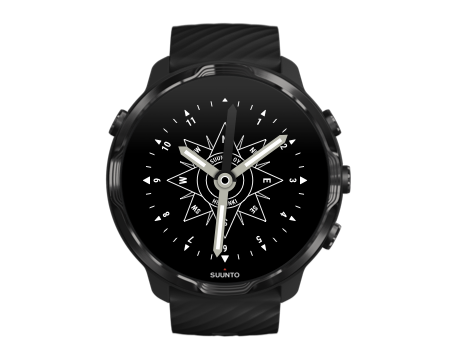 The Rose watch face is inspired by the Suunto pocket TK-3 compass which was inspired by old marine compasses with compass roses. TK-3 compass was a tribute to the endeavors of explorers filling out the whites of the world atlas using a compass, the stars and ropes as their main means of position finding.
Change your watch face
You can change your watch face at any time to match your goals, needs, and style.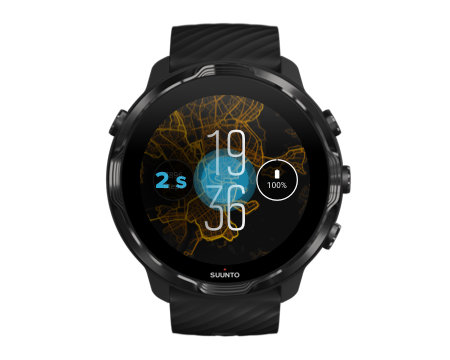 While on the watch face, touch and hold the middle of the screen to see a list of watch faces.
Swipe left or right to browse watch faces.
Tap to select a watch face you want to use.
NOTE: 
You can also go to 
Settings
 » 
Display
 » 
Change watch face
 or change your watch face in the Wear OS by Google app on your phone.
Add functions (or 'complications') to your watch face
With most watch faces, you can add additional functions to your watch faces, such as shortcuts to apps, weather information or daily steps. Different watch faces may have a different set of complications available.
While on the watch face, touch and hold the middle of the screen to see a list of watch faces.
Tap Settings at the bottom of a watch face.
Tap the 'complication' on the watch face design that you would like to change.
Browse the list and tap to choose which complication you want to see on your watch face. (To add a shortcut, tap 

General

 » 

App shortcut

.)